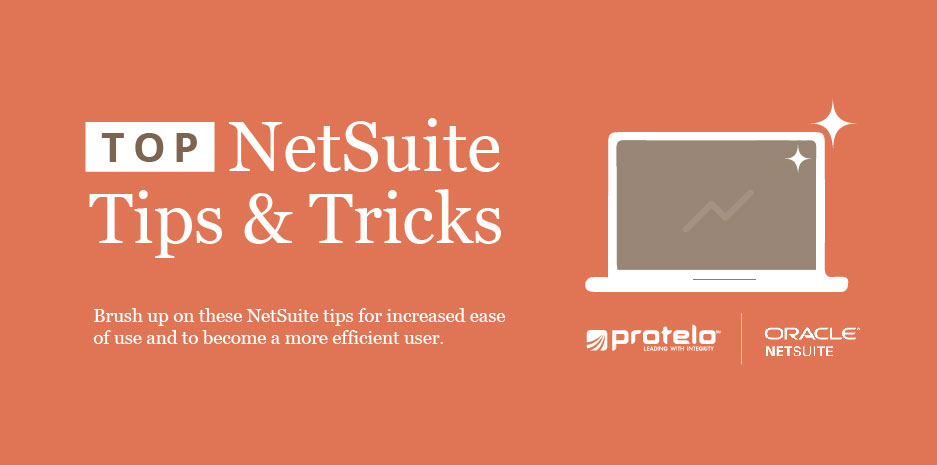 Top NetSuite Hacks, Tips and Tricks
Common NetSuite FAQs
NetSuite users report that they are drawn to the cloud ERP platform because of the deep customizable functionality the software offers. With this software freedom can come hesitation or confusion, especially in newer NetSuite users.
When first learning NetSuite or brushing up on new skills for better productivity on the platform, there are a few common themes. Here are the most common NetSuite FAQs that we hear as a NetSuite Services provider. Brush up on these NetSuite tips, tricks, and hacks for increased ease of use and to become a more efficient NetSuite user.
Get NetSuite Support & Services
1. Emailing Multiple Addresses (Extending NetSuite Transaction Email Address List)
NetSuite can send automatic emails for the following popular transactions:
• Purchase Orders
• Item Fulfillments
• Customer Invoices
• Sales Orders
To email multiple people any of the above action items, take the following steps:
1. In the message body recipient field: Enter the name of the recipient, only entities (customers, vendors, employees) existing in NetSuite can be selected.
2. Enter the "Copy Others List:" Enter additional names of the recipients who should receive the emailed report or copy emails separated by semicolons into the "to" field.
3. If you need the email process for NetSuite to be automated, Protelo can write a custom SuiteScript to do so,
talk to us now.
Related NetSuite Tips:
Choose What Notifications To Send To Your Customers or Vendors
Adding Client Scripts on "View" of Record
2. Aesthetic: Change the Color Scheme of NetSuite
Did you know you can improve the aesthetic user experience of NetSuite? Maybe you want your theme to match your company colors, or maybe you've read that certain colors like blue and green can increase productivity, or maybe you just want NetSuite to match your favorite sports team.
Simply click on the house ("home") icon on your dashboard and navigate to "Set Preferences." There, you will be able to change your color scheme on the "Appearance" menu.
Related NetSuite Tips:
NetSuite Dashboard FAQ: Publishing, Permissions, and Updates
Learn NetSuite: Top NetSuite Training Resources For Self-Teaching
How to create, edit and manage custom KPIs
3. NetSuite Workflows
NetSuite workflows are the individual pieces that complete the NetSuite puzzle. Workflows bring your specific business processes into the NetSuite system. Stop using manual processes. With NetSuite, you can build a custom business process tailored to your unique company needs inside your NetSuite account. Workflows allow for a point-and-click graphical interface with no SuiteScript required; in other words, any one of your staff members could help create this process in your system.
Workflows are an extensive topic and one of our most frequently asked questions, so we've covered them in greater detail here.
Related NetSuite Tips:
NetSuite SuiteFlow Fundamentals and Enhancements
How to Define, Customize and Access a Saved Search
Choose what notifications to send your customers or vendors
4. Customize, Customize, Customize
Most actions in NetSuite can be customized or automated for better business efficiency, that's why our clients trust Protelo to not only provide the top NetSuite consultants, but to provide business guidance and expertise. Our consultants have an average of 20 years' experience each in business and technology. Finding a NetSuite partner with the right mix of business acumen and technical expertise is critical to getting the most value out of your NetSuite investment.
Related NetSuite Tips:
Customizations in NetSuite: What to Know
NetSuite How-To: Dynamic Fields on Saved Searches
NetSuite Search Formulas & Methods Overview

The NetSuite platform contains untapped potential.
If you see a tedious, manual process in your NetSuite instance, Protelo can help you figure out an automated and efficient solution to solve it. Talk to one of our senior NetSuite consultants today.
Our NetSuite team of experienced consultants is available and happy to assist right away.
We work on-demand when you need us. No long-term commitments or retainers. We are not your typical NetSuite partner. Our services come with no minimum hours per month, no up-front costs, on-demand access to experts and a fully U.S.-based team with extensive NetSuite experience.
We are leading NetSuite experts that can:
• Build Custom Workflows and SuiteScript
• Set-up Advanced Searches and Reporting
• Customize NetSuite & Automate Processes
• Provide Implementation Support
• Augment your NetSuite Team
• Build Custom Reporting
• And More
Contact Our Expert NetSuite Team Today
Check out more NetSuite tips, tricks, and how-to blog posts from our experts!
We can help you to implement, service and support NetSuite today.
Follow us on Social for NetSuite tips, tricks and ERP fun:
YouTube, LinkedIn, Twitter, Pinterest, Instagram, and Facebook