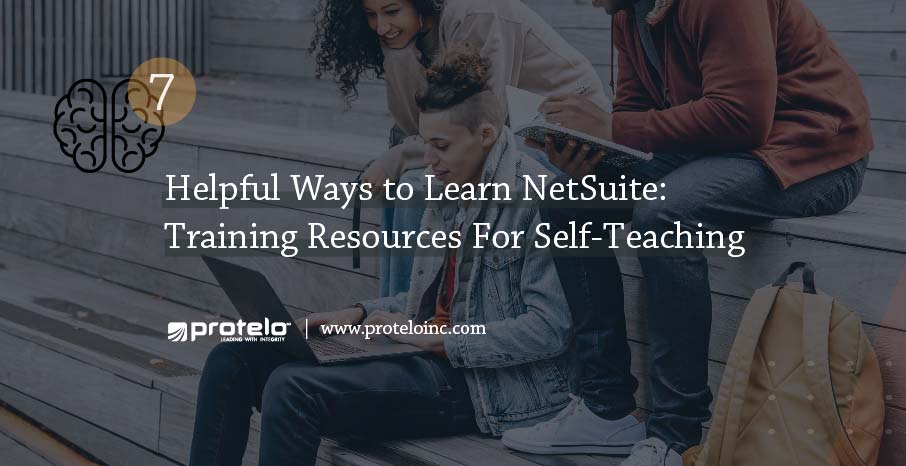 Learn NetSuite: Top NetSuite Training Resources For Self-Teaching
Whether your company has just decided on a NetSuite purchase, you have taken a new position that requires NetSuite experience, or you just want to brush up your NetSuite skills…
There are many ways to self-teach for little or no cost.
Why teach yourself NetSuite as an end-user? It is invaluable to be able to configure NetSuite, create workflows or troubleshoot if there are underlying issues that could be hindering the efficiency of your NetSuite instance on your own. Troubleshooting smaller problems and configuring business processes in-house can save your company time and money.
Using a NetSuite consulting partner or NetSuite direct will still most likely be necessary for larger customizations or full implementations, but you can cut down on the costs of using an outside vendor by utilizing these resources for self-training on basic NetSuite skills.
SlideShare
SlideShare is like having your own personal professor in the room. Well, not exactly. But it is a content hub for amazing PowerPoint-like presentations and how-tos. SlideShares are usually more visual and less text-heavy than traditional software documentation, so absorbing the information may be easier. Here are a few of our favorite NetSuite how-to SlideShares.
Guide for a Successful NetSuite Implementation
Top Four NetSuite Hacks, Tips and Tricks
Creating Custom Fields in NetSuite
Check out Protelo's NetSuite Tips and Tricks Blog
NetSuite offers a wide range of search tools and customizations to define important information, filter criteria, and retrieve the real-time data you need from your business. Learn the latest NetSuite tips, methods, formula restrictions, and the importance of using NetSuite's tools to quickly find information. Our blog features a wide variety of how-to topics to launch your training and set your business up for success.
Attend a NetSuite User Group or Join a Forum
NetSuite user groups are a mixture of online networking, in-person meetings and training sessions. The groups are either "officially" sanctioned by NetSuite, or a more informal group of professionals with interest in NetSuite. You can find these groups on LinkedIn generally by geographic area (Protelo runs one for Northern California NetSuite users), most will also have their own NUG (NetSuite User Group) website searchable via Google.
The official online forum/group for all NetSuite users can be found on Oracle's website via your Oracle NetSuite
login here.
Reddit also has an unofficial NetSuite forum here.
SuiteAnswers
This one is obvious—but there is more to SuiteAnswers than just articles. Embedded in many of the articles are how-to demos and videos, as well as flowcharts, infographics and more. If you're new to SuiteAnswers, just click the "Help" tab on the top menu bar of your NetSuite screen. SuiteAnswers corresponds to the page you are already on in NetSuite, opening help articles for that topic, but you can also search for a word or a phrase just like in Google.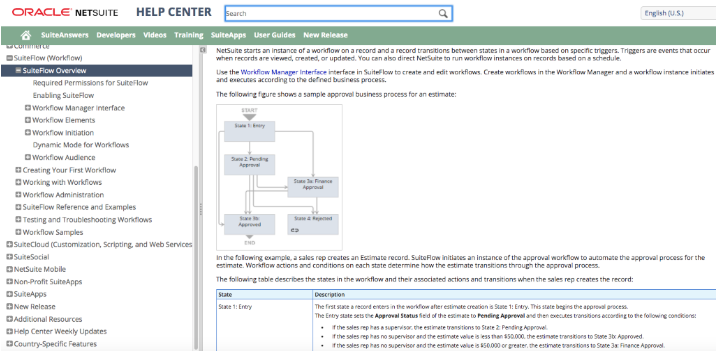 YouTube
While NetSuite has their own YouTube channel, there are many NetSuite provider community channels as well that show step-by-step videos, how-to's and general discussion on NetSuite. Here are some good resources:
Full NetSuite Free Training YouTube Playlist
Attend SuiteWorld
Although usually not free, reduced rate "early bird" passes are available for SuiteWorld. There are ways to score a free or reduced-cost pass though. If you're a NetSuite user already, you may be able to apply for a speaking session or breakout session that will guarantee you a free pass to SuiteWorld. There is also a lower cost "Discover" pass available that affords you expo access with access to NetSuite help stations and many, many expert vendors—though it doesn't include the speaking sessions.
Never been to SuiteWorld? SuiteWorld is a conference where you can "hear from peers, product experts and partners about the latest NetSuite features and tools, and network with the NetSuite community." It will occur on Tue, Sep 27, 2022 – Fri, Sep 30, 2022; there's a newsletter available to sign up for here to learn about early bird discounts and speaking opportunities. The Protelo team will be there! Meet up with us at the event for one-on-one discussions and to talk about any services needs your company may have. We are here to assist.
NetSuite Learning Cloud Pass
NetSuite learning cloud pass can be added on to your purchase of NetSuite at any time. Although this is a paid subscription, multiple people in your company can share the trainings (one user at a time, however), making it a cost-effective way to train a team or take a "train the trainer" approach to NetSuite.
What's in the NetSuite Learning Cloud Pass?
Pre-recorded presentations
Student workbooks
One demo account per course with 90 days of full access
Instructor email support within one business day
How do you get the Learning Cloud Pass? Talk to your NetSuite sales representative, or your NetSuite solution provider/partner to purchase this module.

Got a Suite question? Protelo's expert NetSuite consultants have the answer!
We understand that customer success means business success. That's why Protelo is here to assist questions and resolve your issues quickly and effectively. Let's talk!
Protelo's direct-to-expert access means that there are no call centers or chat lines to go through to access our NetSuite consultants. Whether you need an expert that's just a call away—or a NetSuite team to help you reach the go-live finish line smoothly—it's a fully on-demand service
We can help you to implement, service and support your NetSuite project today.
Working with Protelo, you will receive:
Direct access to experts
On-demand service
Pay-as-you-go-billing
No upfront costs or minimums
United States-based team
Our award-winning NetSuite consultants can assist your team in the implementation, configuration, customization and services of NetSuite solutions to work for your unique business processes. We provide support, administration and process optimization to ensure organizations get a return on their investment.
Whether you are looking for a one-stop-shop for all things NetSuite, or simply need answers to your questions, our NetSuite experts are here to make your business better.
Written by, Karah Finan, Marketing Manager