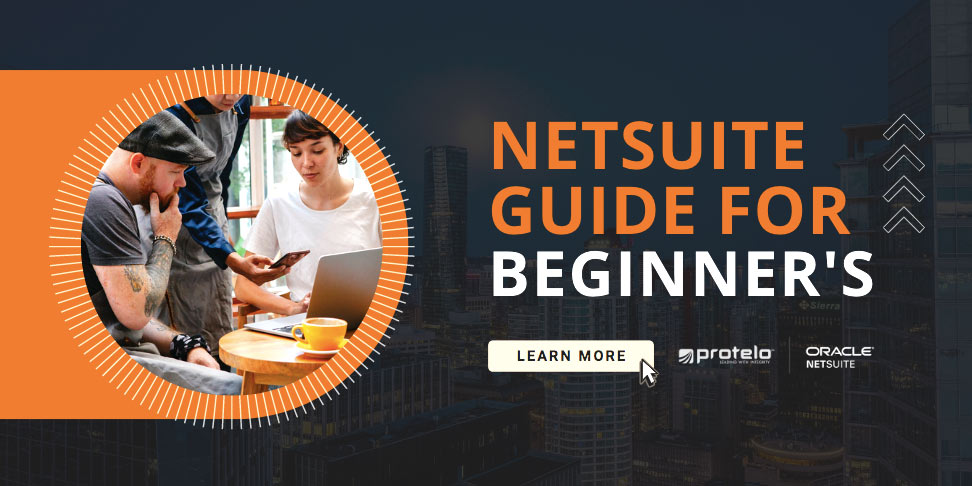 NetSuite Beginner's Guide
The NetSuite Beginner's Guide for 2023
NetSuite Pricing, Licensing, Implementation & Customization
Whether you are in the starting point of your business software research or ready to purchase NetSuite – we want to give you all the information you need to know!
When you search NetSuite ERP on the web, the amount of information that appears can be overwhelming. If you've been doing your due diligence, you know there are countless ways to purchase and implement NetSuite for your business.
How do you get it all working for you?
Whether you're a large company wanting the entire product offering of NetSuite, or a small company only seeking NetSuite CRM, we'll highlight the different options of pricing, purchasing, implementation, installation and services for your business. Here is your quintessential guide to getting started.
Protelo is a full-service team of trained NetSuite development experts based in the United States and throughout the globe. With 250+ NetSuite customers and more than 100,000 hours of NetSuite consulting under our belts, we are in a unique position to offer you insights to purchasing, best business practices and information to consider when purchasing the NetSuite ERP platform.
Get A NetSuite Price Quote Today

Why businesses are moving to NetSuite
As you already know, NetSuite is the world's leading provider of cloud-based business management software helping companies manage core business processes with a single, fully integrated system from ERP, Financials, CRM, Ecommerce, Professional Services Automation, inventory, and more. NetSuite is fast to deploy, easy to use and flexible enough to support all aspects of your business.
There's a reason why thousands of companies worldwide use NetSuite ERP to:
• Optimize and manage operations, information and processes.
• Achieve visibility across the enterprise in one single source.
• Scale for business growth.
• Achieve enhanced business planning and productivity.
• Eliminate information siloes and other business inefficiencies.


How to know if NetSuite is right for you
Questions to ask yourself:
1. Is your organization experiencing rapid growth?


2. Is your current business system struggling to scale for future business requirements?


3. Would your business benefit from real-time data to make more accurate decisions?


4. Are you reliant on spreadsheets and outdated information?


5. Do you have plans to grow into new markets?

If you have answered YES to any of these, NetSuite is the answer!
As global adoption of the cloud is accelerating, NetSuite successfully continues to deliver the best cloud ERP / financial suites to businesses around the globe. NetSuite is highly scalable, customizable, minimizes costs and is designed to grow as your company grows.
What is NetSuite Pricing?
How much does it cost to buy NetSuite? Will NetSuite fit into the budget? Understanding the long-term cost savings by moving your business to NetSuite's Cloud ERP will benefit your organization. There are many factors to take into consideration with NetSuite pricing including configuration, complexity, modules, overall user count, contract span and the scope of the project.
NetSuite is more than just software and according to IDC Marketplace, it is also a worldwide leader in Enterprise Saas (Software as a Service). NetSuite operates on a subscription model with flexible payments monthly, annually or over longer durations. Typically, most of the basic NetSuite product licensing prices start at a lower cost. As with most companies, the longer you commit to a subscription, the better pricing and renewal security you'll gain. Every employee in your organization can benefit from NetSuite.
Contact Protelo for a customized NetSuite quote today. Pricing may vary depending on your requirements, user count, and the modules your business needs. Protelo is here to give you the most competitive pricing available and the expertise your business needs through out the implementation and go-live process.
Get a customized Per Month Quote
NetSuite Pricing & Licensing Overview
NetSuite Pricing Licensing Levels
NetSuite Limited Edition: NetSuite Limited Edition is the perfect fit for small businesses with a single entity, less than 50 employees and requiring 1-10 users.
NetSuite Mid-Market Edition: NetSuite Mid-Market Edition is excellent for companies that have 2 or more legal entities, require 11-1,000 users and need the ability to perform consolidated financial reporting across multiple currencies.
NetSuite Enterprise Edition: NetSuite Enterprise Edition is designed for 1,001+ users.
*Limited pricing per-user licensing fees: If a few of your employees will be doing small tasks in NetSuite, such as daily time-clocking, they don't need to be classified as a basic, routine user.
Request Custom NetSuite Price Level
How NetSuite Pricing Models Work
NetSuite is adaptable to every industry. NetSuite provides options to pick and choose various NetSuite products (such as CRM) for your business, or you can request that everything is bundled together. To get a better NetSuite price, purchase the entire suite, rather than just licensing one or two of NetSuite's products. As an experienced NetSuite partner, our team at Protelo can help you purchase and customize each NetSuite product to fit your exact needs. NetSuite can do it all!
EDUCATE:
You can trust Protelo to discuss requirements and tailor NetSuite to your exact business needs and have a direct line of communication to expertise.
Purchasing a NetSuite license is a collective process and we aim to understand your goals and put together an effective software plan for your business.
PURCHASE:
Our experts understand that the decision to implement NetSuite is a huge step in a forward-thinking commitment. Protelo commits to giving you the best possible pricing, services, and help with financing available on the market.
FINANCE:
We want to set your business up for success. Our NetSuite consultants will work with you to finance NetSuite the way it makes sense for your business. Whether you are paying up-front or spreading the cost over a period of time, our goal is to make NetSuite affordable and get NetSuite up and running. Our partnership with NetSuite allows us to negotiate the lowest costs for your business and give you the best price scenario.

NetSuite Out of the box features
NetSuite ERP
Acceptance of Credit Cards, ACH, EFT
Accounts Payable
Bank Management and Reconciliations
Employee Center (Time and Expense management)
General Ledger
Item and inventory management
Multi-Currency / Multi-Language
Order Management
Project Management
Purchasing
NetSuite CRM
Case Management
Customer Service Management
Marketing Automation
Partner Relationship Management
Sales Force Automation
Opportunity Management
Multi-Currency / Multi-Language
Order Management
How to buy a NetSuite license
NetSuite is crucial to building a successful business today and for the future. No matter how great your products are, working with reliable business management software to run the day-to-day business is vital.
If you want perks that you can't get from NetSuite headquarters, Protelo's experienced consultants can get you more bang for your buck. We have assisted hundreds of organizations with everything from huge implementation projects to small integration features and have your long-term business goals in mind from the start.

Why Buy NetSuite From the Experts at Protelo
Protelo is a top-tier award-winning NetSuite reseller and all-inclusive NetSuite shop with expertise in the evaluation, implementation, configuration, customization, and services of NetSuite. Recently, Protelo received Oracle NetSuite's Growth Solution Provider Partner of the Year. Protelo is passionate about our customers, committed to success, and strives to earn your trust beyond the go-live date.
Always receive a direct line to our skilled IT consultants for NetSuite support, with the ability to ask for help and discuss best practices, buying options, pricing, products, and more. Whether you are looking for NetSuite assistance or simply have questions, our NetSuite experts are here to meet your specific business needs.
Try, Buy or Consultation?
Contact Protelo today and receive all of the following:
A full pricing matrix for all NetSuite add-ons, modules, software, and costs.
A personalized 14-day trial of NetSuite ERP. No commitment necessary.
A free product tour and consultation from a NetSuite expert.

NetSuite pricing & full project quote for your business.
How to implement NetSuite
Purchasing an ERP is one of the most important investments businesses take, so it's crucial to implement the tools successfully. Selecting the right NetSuite implementation partner is just as important as selecting the right software for your business. According to Gartner research, more than 75% of all ERP implementation projects fail without the right support, training, and resources in place. Set your organization up for success by connecting with a strong team of NetSuite experts. From NetSuite implementation and everything in between, Protelo's team is on-demand and ready to assist you in short-term or long-term projects. We understand the business acumen, best practices and technical expertise necessary for a successful NetSuite ERP implementation.
A solid implementation strategy consists of planning and preparation, configuration and data migration, testing, and training for your go-live date, all following NetSuite best practices. New software implementations are an extremely important undertaking for every growing business.
To fully provide the scope of each project, Protelo provides:
• Evaluation of alternative approaches to integration options, retrofits, and new modifications.
• An extensive, US-based team of business process and technical expertise.
• Competitive NetSuite pricing.
NetSuite Services & Support
Protelo provides large-scale NetSuite services, support, and top-notch customer service. Receive direct access to our consultants on-demand, with no contracts, no fees and no call centers to go through.
SERVICES for NetSuite Users:
• NetSuite licensing
• Assessment of System Configuration and Go-Live Readiness
• Implementation Best Practices
• Expert Guidance, Troubleshooting and Support
• Assessment of System Configuration and Go-Live Readiness
• Training
• System Health Checks and Audits
• Technical Assistance for Saved Searches, Reports, Workflows & Scripting
• Assistance for SuiteScript, SuiteFlow, SuiteTalk, SuiteCloud, SuiteBuilder, SuiteBundler, SuiteAnalytics
• Assistance building CSS, HTML, JavaScript and Other Programming Languages
• Enhanced SuiteSuccess Support for Go-live, Best Practices, Consulting and Customizations
SUPPORT for NetSuite Users:
• Go-live / Post-go-live support
• NetSuite administration assistance
• Troubleshooting of application and business process issues
• Questions and answers regarding application functionality and/or business processes
• Work sessions to refine or re-engineer business processes
• Training (train the trainer or end-user training)
• Adjustments to existing system set-up and configuration
• Customization – requirements, design, development, testing, approval, and installation
• Integrations to other software solutions
• Workarounds to bugs in the system

The Protelo Difference
For every project, Protelo works hard to understand your daily operation, core business needs and provide tailored solutions to achieve your goals. Our consultants are experienced, open, and honest. We drive the right conversations and get remarkable results. Want to know why clients love working with our NetSuite consultants? Check out our client page for reviews and feedback.
For more information about NetSuite, or for a Free NetSuite Consultation, contact Protelo today!

Learn More About Protelo
Follow us on Social for NetSuite tips, tricks and ERP fun:
YouTube, LinkedIn, Twitter, Pinterest, Instagram, and Facebook