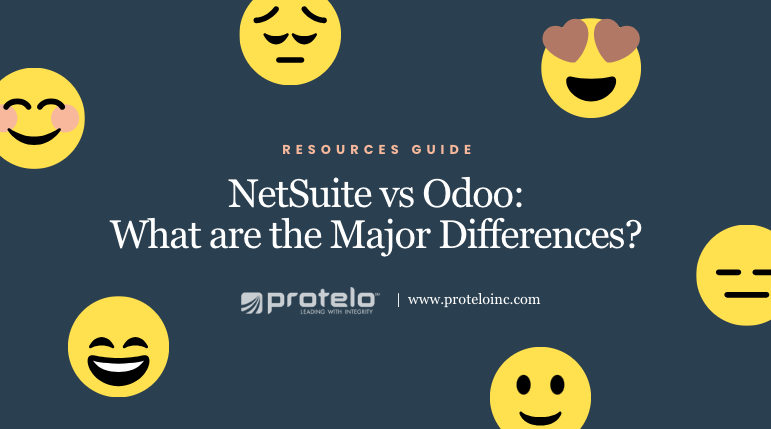 NetSuite vs Odoo
Odoo Versus NetSuite Side-by-Side Comparison Guide
As an organization grows and business complexity increases, entry-level software comes with a long list of limitations.
Managing business challenges with spreadsheets and handfuls of disparate applications constrains potential and often compels businesses to upgrade their software solution. If you're interested in upgrading your current ERP solution, you need to understand how both Odoo and Oracle NetSuite meet your business requirements. If you want to automate key business processes, increase productivity, and lower operational costs, consider which features and functionality can both increase efficiency and scale with your business.
Both Odoo and NetSuite offer solutions created to help businesses scale, grow, and manage their entire business, but there is a substantial gap in the depth of features. Below, we highlight NetSuite vs. Odoo to help businesses decide which integrated ERP software is right for them today and in the future.
What is NetSuite?
"One unified business management suite, encompassing ERP/Financials, CRM and ecommerce for more than 37,000 customers."
NetSuite is the #1 cloud ERP system on the market. It is a cloud-based ERP software that helps businesses run more efficiently and cost-effectively. NetSuite Enterprise Resource Planning (ERP) can deliver significant benefits with real-time insights, streamlined processes, and a 360-degree view of performance across the business.
NetSuite is the world's leading provider of cloud-based business management software helping companies manage core business processes with a single, fully integrated system from global ERP, Financials, CRM, Ecommerce, Professional Services Automation, inventory, and more. NetSuite is fast to deploy, easy to use, and flexible enough to support all aspects of your business. With two complimentary software updates a year, customers are always on the latest version of the technology with the latest and greatest features and functionality.
NetSuite Software Highlights:
37,000+ customers
203 countries
#1 Vendor of ERP Cloud Software
27 supported languages
190 different currencies
24/7 support | Live courses
SuiteSuccess Implementation
A proven track record for growth year-over-year
Real-time information at your fingertips
Implementation and customization ease
Founded in 1998
What is ERP | NetSuite Demonstration: Enterprise Resource Planning is a business management tool that integrates all functions and departments into one single system to streamline information, synchronize reporting, and automation across the entire organization. Learn how NetSuite, the leading cloud ERP solution, can change connect and unify accounting, HR, inventory, order management, CRM, and much more.
Protelo is a top-tier NetSuite partner fueled with NetSuite experts who understand your business.
Contact our NetSuite team today for:
A customized demo from a NetSuite expert at Protelo.
A personalized 14-day trial of NetSuite ERP, if necessary.
What is Odoo?
"Grow Your Business"
Odoo ERP, formerly known as OpenERP, is a fully customizable open-source business suite of apps to help manage your business. Odoo is available in three versions – Odoo Enterprise, Odoo Community, and Online Edition, two of which are local while the other is hosted in the cloud. With Odoo, business functions are carried out by 30 different certified apps allowing businesses to start with the apps they need and add on more as their needs change. Odoo helps businesses easily manage materials and warehouse management, HR, finance, sales, and many other enterprise features.
Odoo Software Highlights
32 languages
4.9 million users
Available on premise (self-host), online, and with different editions
Monthly or annual cost
A full suite of apps, choose what you need as you go
Headquarters in Belgium
Founded in 2005 with major growth in 2010
Disconnected business systems and outdated on-premise software versions leave businesses behind with patchwork solutions. NetSuite's cloud business management suite can enable you to streamline key processes, boost productivity and be more competitive. Run your business in one complete cloud-based system.
Download the Odoo vs NetSuite data sheet
Common Odoo Comments
Not 100% cloud or SaaS
Third parties are your only option for eCommerce tools
No unified ERP platform – not a one-stop shop
No on-demand reporting options
No customer, vendor, or employee portals
Users don't have easy-to-use personalized dashboards
Customizations are hard as coding is complicated and expensive
NetSuite vs Odoo Comparison
A True Multi-tenant Cloud Solution
NetSuite: Every NetSuite customer is utilizing the most up-to-date version of the software with its automatic bi-annual software version updates.
Odoo: Many Odoo Online clients are on different versions of the solution. Odoo upgrades must be requested and tend to be expensive and complex. This version-locked software can leave many businesses with postponed and delayed updates.
Customizations are Flexible
NetSuite software is versatile and offers customizations, whether simple or complex, that can be carried out with only a few clicks.
Odoo Online offers very basic pre-configured customizations only via a module. Those customizations are often not sufficient for the unique and different needs of each business. More complex customizations, which are very basic in NetSuite, can require heavy coding and IT skills and may include extra costs for maintenance.
Extending Value with Applications
NetSuite extends the platform value through SuiteApps, which includes applications written by best-of-breed partners that are then certified by NetSuite.
Odoo offers third-party apps, there is no partner certification process so customers risk getting poorly designed solutions that may conflict with future upgrades.
Supporting Growth and Business Expansion
NetSuite promotes business growth as it allows organization to expand in size and location without the need to move to a new platform.
Odoo Online does not have the ability to support more than 50 users or effectively support international businesses with its basic consolidation capability.
Gartner Magic Quadrant Award
NetSuite has been ranked multiple years in a row as a leader in the Gartner Magic Quadrant for Cloud Core Financial Management Suites reports. Learn more about the latest award.
Odoo has never been listed in the unbiased Gartner ERP reports, and does not have enough midsized customers to be considered a proven solution amongst top competitors.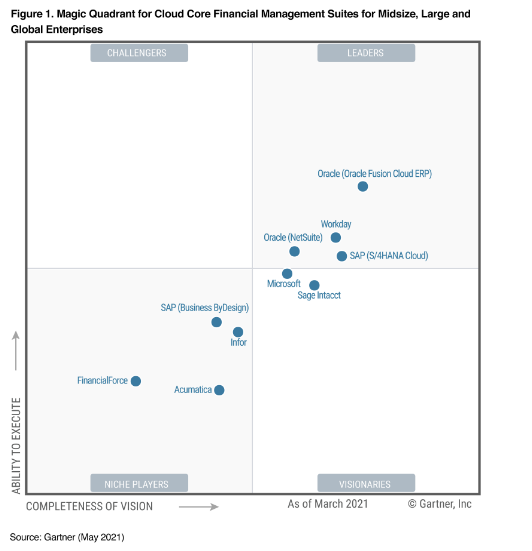 GAIN BUSINESS VISIBILITY: Improve business performance with real-time metrics and role-based dashboards.

CONFIDENTLY CLOSE: Accelerate the financial close while maintaining compliance with accounting standards.

STREAMLINE IMPORTANT BUSINESS PROCESSES: Eliminate errors with seamless integration between financials, CRM, and e-commerce.

ACCURATELY REPORT INFORMATION: Drill down into the underlying details to understand the impact on your business.
What to Expect From NetSuite
Streamline and automate business processes with integrated ERP, CRM and more
Cut financial close times and quote-to-cash cycle times by up to 50%
Drive down invoicing costs by up to 75%
Run your business anytime, anywhere with real-time visibility across the organization
Eliminate IT hassles, and reduce total cost of ownership by up to 50%
Increase efficiency with cloud delivery
Access your business information from anywhere and without version lock
Global intelligence scales with you as you grow.
Transform your business with NetSuite, the #1 cloud ERP system on the market. NetSuite has achieved many awards for being the leader in ERP, helping some of the most innovative, fast-growing companies in the business world today! NetSuite continues to improve and strengthen its software with every update and is the #1 Cloud ERP business management suite on the market. With more than 37,000 customers running on NetSuite, NetSuite is 10 times larger than the next largest competitor in the ERP market.
NetSuite believes in the power of an integrated suite of functionality that spans the whole of the business, linking both the back and front offices together. A suite approach allows the whole company to view operations as a single version of the truth.
Have additional questions about NetSuite vs Odoo? Our team is here to provide the information you need. On the other hand, NetSuite has achieved many awards for being the leader in ERP, helping some of the most innovative, fast-growing companies in the business world today! Take advantage of a few complimentary downloads about NetSuite for Mid-market businesses:
Is your business considering NetSuite software in 2023?
If you are looking for a one-stop-shop for NetSuite expertise, our NetSuite experts are here for your business from software evaluation, licensing, customizations, implementations, and services.
Get NetSuite Pricing – NetSuite Pricing Calculator Learn More About NetSuite