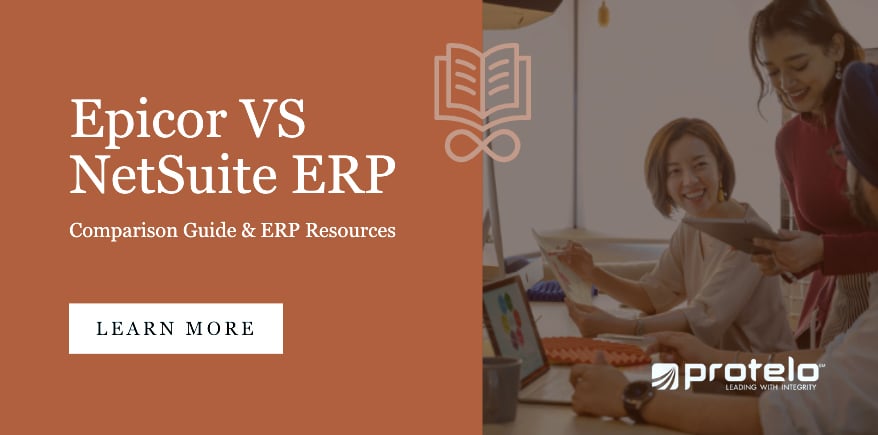 Epicor vs Oracle NetSuite ERP Comparison Guide
Why are businesses switching

from

Epicor

to

drive b

usiness

Growth?




Learn the benefit

s

and the

major

difference

s

of a true cloud

ERP.
Many businesses are constrained by outdated legacy systems that are not only too slow and disconnected to capitalize on opportunities, but in many instances, prevent them from advancing altogether. Business owners are indicating a demand for true cloud-based Enterprise Resource Planning solutions to adapt quickly to change, remain competitive, satisfy customer expectations, and have the ability for technology to scale with the business as it grows.
Discover the reasons behind the growing movement of businesses transitioning to a true cloud ERP and the tangible advantages they have gained by making the switch from their on-premises "ERP" systems. Both Epicor Kinetic and NetSuite are sold as top competitive ERP business systems, but what are the major differences? Learn which software is best for your industry and business requirements.

What is Epicor ERP?
Epicor is a strong manufacturing rival with impressive capabilities on the shop floor, although it falls short in other areas. In June 2021, Epicor launched a new version of its manufacturing solution called "Kinetic." Essentially, Epicor Kinetic is the company's existing Epicor ERP product hosted on Microsoft Azure, with a cloud-based interface that enables users to access it through a web browser and offers some additional contemporary features.

Epicor Kinetic is mainly geared towards manufacturing and distribution companies. It includes features for quoting and sales, pre-production materials planning, scheduling, manufacturing, manufacturing execution (MES), inventory control, human resources, and accounting. Epicor launches new versions of its software every year, which can include security updates, bug fixes, and added features to enhance functionality. However, updating to a new version of Epicor Kinetic is not an automatic process and requires businesses to carry out a deliberate effort.
Epicor Kinetic Software Overview:
• 8,700 customers are running on Epicor Kinetic ERP
•
150
countries
• 10 supported languages

• Epicor University offers live Instructor training, documents, and courses
• Real-time information
• Released in 2018 and reconstructed to Kinetic ERP in 2021
• Many customers remain version locked due to time and expenses associated with the upgrade process.




What is Oracle NetSuite?
NetSuite is the world's leading cloud-based business management software that helps businesses run more efficiently and cost-effectively. NetSuite Enterprise Resource Planning helps companies manage core business processes with a single, fully integrated system from global Financials, CRM, Ecommerce, Professional Services Automation, inventory, and much more. Gain the benefits of real-time insights, streamlined processes, and a 360-degree view of performance across the business.
NetSuite is fast to deploy, easy to use, and flexible enough to support all aspects of your business. With two complimentary software updates a year, customers are equipped with the most modern version of technology available without manual effort or time-consuming processes.

NetSuite Software Overview:
•
36
,000+ customers
•
203 countries

• #1 Vendor of ERP Cloud Software
• 27 supported languages
• 190 different currencies
• 24/7 support | Live courses | SuiteAnswers and Trainings
• SuiteSuccess Implementation
• A proven track record for growth year-over-year
• Real-time information at your fingertips

• Large partner community and SuiteApp availability to extend NetSuite
• Founded in 1998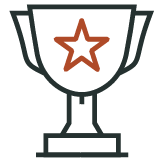 NetSuite vs Epicor ERP: The Differences

TRUE CLOUD ERP:
NETSUITE is a true cloud solution and the leading ERP software across the globe. NetSuite was built for the cloud from Day 1 and all customers are currently living in the cloud on the same product and version. NetSuite is built on its own proprietary cloud platform, which is designed to provide a fully integrated suite of business management applications. NetSuite cloud infrastructure is highly scalable and offers a range of customization options, allowing users to tailor their ERP system to their specific needs.

EPICOR ERP was not originally built for the cloud but was rearchitected from their on-premises software. Epicor ERP is built on top of the Microsoft Azure cloud platform, which offers a wide range of tools and services for building, deploying, and managing cloud-based applications. Epicor Kinetic users can choose to run their systems on either public or private cloud infrastructure, depending on their needs.
Real Cloud vs Fake Cloud ERP:

What is True Cloud ERP? How to tell a true cloud solution from a fake one and why it matters. Not all hosted software offerings marketed as "cloud" are true cloud solutions. To determine if a cloud ERP software is not true cloud software, one should look out for the deployment model, scalability, automatic updates, accessibility, integration, and data security. If the software is not deployed in a multi-tenant architecture, lacks scalability, requires manual updates, requires specific software or hardware to access it, does not easily integrate with other cloud applications, and lacks advanced security features, then it may not be a true cloud software. It is important to thoroughly research any cloud ERP software before using it and to be cautious of any software that raises red flags or seems too good to be true.

True cloud-based ERP systems provide businesses with superior flexibility in adapting to market dynamics, in contrast to imitation cloud or on-premises solutions. They offer quick scalability, accessibility for remote workforces, and real-time insights into organizational performance, from anywhere.


AN INTEGRATED SUITE FOR THE ENTIRE BUSINESS:
NETSUITE is a scalable business software suite that offers a range of integrated applications in a single suite designed to help organizations in any industry manage their financials, operations, and customer relationships.
What is included in the NetSuite business suite? The NetSuite business suite includes Financials, inventory management, Order Management, Human Capital Management, Procurement, HR, CRM, supply chain management, and eCommerce. NetSuite enables seamless communication and data sharing across all functions of the business, providing a unified view of the company's operations. This provides decision makers with the information they need to make quick and accurate decisions. NetSuite improves efficiency, productivity, and decision-making abilities by providing real-time data and insights. NetSuite core strength is in its integrated suite of applications, which allows businesses to streamline their operations and avoid the need for multiple systems.



EPICOR ERP, is a more traditional ERP system that is designed for mid-sized to large businesses in manufacturing and distribution and can be deployed on-premises and in the cloud.
What is included in the Epicor Kinetic business suite? Kinetic business suite includes modules for financial management, supply chain management, production management, project management, and more. Epicor's core strength is in its ability to manage complex supply chain processes, including production planning, materials management, and logistics. Epicor has functionality through partner provided solutions or in separate add-on modules that are not cloud based. Epicor's CRM module uses a separate database and is not widely adopted.


EXTENDING THE SOFTWARE VALUE TO MEET BUSINESS NEEDS:

NETSUITE offers a wide range of functionality out of the box, but businesses often have specific needs that require additional features or customizations. SuiteApps and Add-on modules are two ways that NetSuite extends the platform.
SuiteApps are third-party applications built on the NetSuite platform and available for use by NetSuite customers. These apps are designed to provide additional features, integrations, and customizations to meet individual business needs. Certified SuiteApps can be found on the NetSuite SuiteApp Marketplace. Add-on modules are pre-built, plug-and-play solutions that extend the platform's functionality and add value for businesses. Check out a list of the most popular add-on modules here.

EPICOR ERP lacks a cloud development platform for scripting, workflow, and application extension. Instead, Epicor prefers to handle any required development in-house or through partners or professional service hours.

Major Reasons Why Businesses Choose A True Cloud ERP
1. The software is modern and designed for growth and change
2. It provides the flexibility businesses need with its all in one, built –in platform
3. Top-notch business intelligence with a unified data model
4. A fully integrated Omnichannel Commerce experience
5. Built and tailored to your industry

Your company's software should be flexible enough to adapt to your changing business; your team should not have to spend hours thinking about how a bolted-on solution will fit with your software. Instead, your software should be adaptable enough to always help your team achieve their business goals.
How to know if NetSuite is a good fit for your business:
If y

our company is f

ast

growing.

If you want to embrace a true cloud technology.

If you require customizations and the

ability to tailor the platform to meet your specific needs.

If you would like software to accommodate your business as it scales

from small startup to global enterprise.
How do you know which ERP software is right for you?
Ultimately, the best software for your business depends on your business size, industry, specific business needs, deployment options, security, pricing, scalability, and growth potential. We recommend evaluating both solutions based on your specific requirements, requesting demonstrations, asking for references, and comparing them before planning. How to choose the right ERP: A Guide
Are you ready to break free from today's business constraints?
Looking to modernize your business systems and leave behind the burdens of outdated software? NetSuite helps businesses reduce expenses, optimize essential processes, improve productivity, and gain a competitive edge. With NetSuite, you can manage all core aspects of your business with a single, integrated suite, eliminating the need to juggle multiple software applications and devote resources to maintaining and upgrading on-premises software.

Interested in learning more about NetSuite?
NetSuite for Beginners
The Benefits of NetSuite ERP
Legacy On-Premise vs NetSuite


Take advantage of a few complimentary downloads about NetSuite Cloud ERP VS Epicor:
8 ways legacy ERP harms your business
Why Executives Express the need for true cloud ERP
Customer story: Switching from Epicor to NetSuite


Close Competitors and Alternatives to Epicor & NetSuite
• SAP
• Microsoft Dynamics
• Acumatica
• Sage


Our team of industry & software experts is here for your business.
Protelo – Top-notch NetSuite Experts moving businesses to NetSuite ERP
Protelo is an award-winning NetSuite partner and reseller. W and we're passionate about making sure our clients get the best NetSuite implementation, services and solutions possible. Our consultants have deep experience across all industries and understand the constraints of Legacy ERP software. Protelo can take you to the next level with one-on-one support and implementation expertise.
Calculate NetSuite Pricing Today

Follow us on Social for NetSuite tips, tricks and ERP fun:
YouTube, LinkedIn, Twitter, Pinterest, Instagram, and Facebook