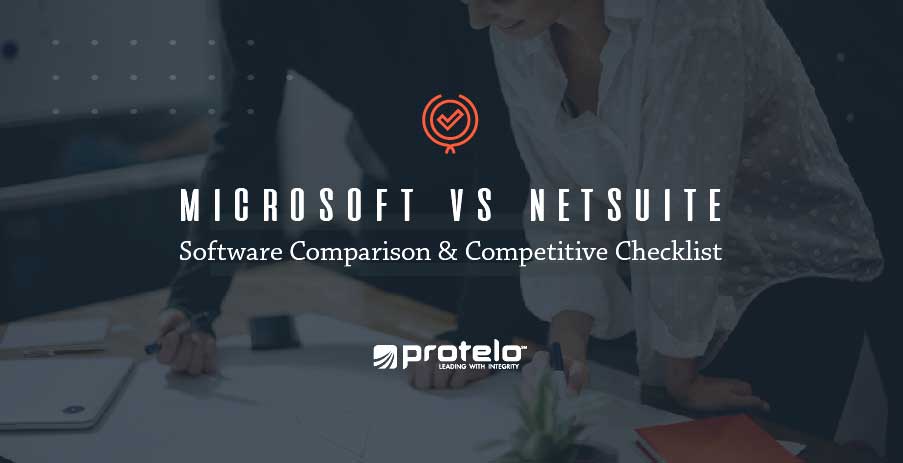 Microsoft vs NetSuite Software Guide
Microsoft vs Oracle NetSuite – Software Guide & Competitive Checklist
Microsoft: How do I narrow down so many options?
NetSuite: How do Microsoft's product offerings compare?
The right cloud ERP investment is one of the most important decisions a business can make for future success. With so much competitive information available, how do you know which software solution is right for your business?
Find the answers you have been looking for as we compare Microsoft and NetSuite, two of the top ERP vendors that claim they are built for the modern business with advanced cloud functionally. Learn about the many different options that Microsoft and NetSuite have to offer and access resources, checklists, and demonstrations along the way. It is our goal to provide the most information possible to assist in your business software evaluation process.
Cloud is the most important standard for a modern business.
Cloud computing has become one of the most relevant trends, as millions of companies have reconfigured the way they conduct and operate their business to adapt and thrive in a disconnected world. Everything from remote working, delivery, services, meetings and overall business operations have been revolutionized by cloud ERP.
Cloud-based ERP is hosted and managed by the vendor and accessible on any browser on the internet, instead of locally on your computer. This provides the software in an "as a service" model through the cloud. The vendor is responsible for the application, data storage, the underlying operating system, servers, the physical data center infrastructure, and installing security updates and feature upgrades.
What is the true cloud vs a fake cloud?
Not all cloud systems are true cloud systems. True cloud solutions are built and operate in the cloud with a multi-tenant environment, are always on the current version, and continue to scale with your business as it grows. Fake cloud solutions tend to be more expensive, inadequate, and are less flexible to scale or expand as the business grows.
HOSTED CLOUD:
Single/Hosted Tenant SaaS
Not Scalable / inefficient
Delayed or Costly Product Upgrades
Inflexible / Version Locked
Pre-internet / Inadequate security and support
Expensive integrations and customizations
Financial viability of hosting firm
Fake cloud providers are trying to blur the lines between true cloud systems and hosted offerings. The advantages they mention for their own systems are those listed by on-premise vendors. When it comes to speed of upgrades, deployment, performance, value, customization, and service, it is simply not much of a comparison. Want to know if your "cloud" software is holding your business back? Download the checklist below:
TRUE CLOUD:
Multi-Tenant SaaS / all customers access the same cloud.
Versionless / Effortless upgrades
Built from the ground up for the cloud.
Designed for the Internet.
Flexible & Adaptable to your exact business needs.
Scalable as your business changes and grows.
More value for your money.
Easily integrate with other applications.
Up-to-date technology for customizations and integrations.
True cloud vendors build their software solutions for the cloud as a fully hosted solution and focus their energy, talent, and expertise around hosting, maintaining, and managing the software across multi-tenant cloud environments. This may allow for faster updates, easy fixes for data redundancy, and real-time information at your fingertips from anywhere at any time.
When a company implements software with a hosted cloud framework, the following struggles are inescapable:
Deferred upgrades
Expensive modifications
Undetermined integrations
Overbuying software licenses
Insufficient security
Excessive downtime
IS YOUR CURRENT SOFTWARE HOLDING YOU BACK?
Download: Microsoft vs NetSuite Comparison
Cloud Technology Statistics for Business Software in 2023:
Cloud technology is the leading choice for fast-growing competitive businesses as statistics show the dramatic growth of cloud applications as well as the trend to move away from on-premise technology. The cloud is already a big deal and it's only going to keep growing! By 2023, more than half of global enterprises already using the cloud today will adopt an all-in cloud strategy.
Global cloud services infrastructure spending grew to $41.8 billion, a 35% year-on-year (YoY) rise and 5% quarter-on-quarter (QoQ) increase. – VentureBeat
More than $1.3 TRILLION in IT spending will be affected by the shift to the cloud by 2022. – Gartner
The public cloud service market is expected to reach $623.3 billion by 2023 worldwide. – PR Newswire
SaaS will remain the largest cloud market segment by revenues, growing to $117.7 billion at the end of 2022 and increasing by at least 20% in 2022. – InfoWorld
This year alone, the public cloud infrastructure is projected to grow by 35% – Garnter

According to IDC, the three sectors that plan to spend most on cloud computing services are manufacturing ($19.7 billion), professional services ($18.1 billion), and banking ($16.7 billion) – Forbes
NETSUITE VS MICROSOFT
What are the differences between the many software options that Microsoft has to offer, and how are they compared to NetSuite?
MICROSOFT DYNAMICS:
Microsoft Dynamics was released in 2006 as a line of ERP and CRM software applications. Dynamics offers solutions for all-size businesses and focuses on industries surrounding retail, services, manufacturing, finance, and the public sector. It also offers a network of reselling partners who provide specialized services and solutions to tailor and configure the system. Dynamics encapsulates all of the below versions and provides many options based on your business needs, but how do you know what's best for you?
Microsoft Dynamics 365 Business Central
Microsoft Dynamics NAV
Microsoft Dynamics GP
Microsoft Dynamics SL
Microsoft Dynamics ERP Cloud
Microsoft Dynamics Finance
Microsoft Dynamics NAV (currently Dynamics 365 Business Central):
Microsoft Dynamics NAV was developed by a Danish software company called Navision. NAV was later acquired by Microsoft and was the most widely deployed legacy on-premise ERP solution from the Dynamics family. NAV morphed into Dynamics 365 and future investments will be going into their business central and finance products. NAV shares the same codebase as Dynamics 365 and is a legacy solution built for on-premise deployment or hosted on Microsoft Azure.
Important to note: NAV has limited training services or access to online support.
Microsoft Dynamics GP (formerly known as Great Plains):
GP is a mid-market accounting solution offered to customers across the globe with cloud and on-premises options. Microsoft GP was created in 1983 as the first windows-based accounting software and is the best fit for companies in the small to medium size. Dynamics primarily targets SMBs for retail, supply chain management, accounting, and payroll. Great Plains offers both cloud (hosted on Azure) and on-premises solutions with core financials and distribution.
Important to note: Microsoft GP is not a pure cloud solution as it was originally built for on-premises deployment. GP does not include CRM functionality or customizations. Dynamics requires batch processing, manual consolidation, and suggests manual reporting options so data isn't real-time. Microsoft GP is a closed platform with limited customization and integration options.
Microsoft Dynamics 365 Business Central:
Microsoft Dynamics 365 Business Central (BC) is an immature yet evolving, dirt-cheap yet robust ERP solution that offers broad functionality for the SMB market. It is a single-tenant cloud solution that was re-architected from Microsoft Navision (NAV), a legacy ERP originally designed for on-premises deployments. BC is a siloed solution and has limited consolidation capabilities, expensive customizations, and weak reporting capabilities.
Important to note: BC was launched in April 2018 and is a relatively young product. The solution was not built for the cloud and instead was rearchitected from NAV, an on-prem solution. BC is hosted by Microsoft on Azure. As the product is still new, immature, and evolving, the number of live customers using the solution is estimated at around 6,000.
Microsoft CRM:
Dynamics CRM is a server-client web application that supports extensive web service interfaces. Clients access Dynamics CRM either by using a browser or by a thick client plug-in to Microsoft Outlook. Dynamics CRM has a seamless integration to all four of the other products in the Dynamics product family but is a separate system.
Important to note: Microsoft D365 Business Central lacks Sales Force Automation and offers separate modules requiring integrations at additional costs and services to strengthen the system. Request a NetSuite vs Microsoft CRM comparison guide today
Microsoft Dynamics Finance:
Microsoft Dynamics 365 Finance was developed by IBM and Danish software company DamGaard as the Axapta ERP. It was acquired by Microsoft and became known as Dynamics AX. It is the most complex ERP in the portfolio, targeting large enterprises. The on-premise solution has been deployed by over 20k customers worldwide and the cloud version was launched in 2016.
Important to note: Dynamics Finance was built on a solution that was originally designed for on-premise deployment. This solution is hosted on Microsoft Azure, but is still available on-premise. Since CRM and HCM are separate modules requiring integration on the Microsoft platform, Dynamics Finance is not a unified platform.
As Microsoft has been acquired by different firms, modules may have different databases and code bases. Even though Microsoft markets its software migration between versions as a straightforward process, it's actually more difficult than users expect. According to Microsoft, it is a 12-step complex process requiring significant IT resources and cost. Dynamics upgrades are complicated in the overall architecture.
Dynamics NAV, GP, SL, and AX, were developed separately by different (Great Plains, IBM/Damgaard Data and Navision and Solomon Software) later acquired by Microsoft. With the acquisition, Dynamics added these products to their portfolio, but they remained separate solutions.
Cloud-based instances of Dynamics 365 are hosted on Azure, Microsoft's web services platform, which allows programs and services to be built and managed from a network of managed data centers located across the globe.
DOWNLOAD THE NETSUITE VS MICROSOFT WHITEPAPER
NETSUITE
NetSuite: NetSuite was established in 1998 providing software solutions to manage the entire business through operations, finances, and customer relations. NetSuite is customized for businesses of all sizes (small, medium, and large) with modules for ERP, CRM, Finance, PSA, and e-commerce. Acquired by Oracle in 2016, NetSuite continues to push its competitive position in the cloud with technical advancements, capabilities, and bi-annual software version updates to stay ahead of the cloud market. NetSuite has 31,000+ customers, 203 countries, and translations in over 20 different languages. NetSuite is an entire suite wrapped into one.
ERP Software That Grows With Your Business
From start-up to global corporation, NetSuite's cloud-based business software solution scales to meet your growing needs every step of the way. This award-winning software allows you to start small, establish a foundation and effortlessly scale and grow into the future.
Check Out Protelo's NetSuite Beginners Guide
NetSuite highlights:
NetSuite is ranked as a top leader amongst a large market of competing software solutions.
NetSuite is the ONLY leader that serves businesses of all sizes across all regions.
NetSuite has more customers using cloud financials than any other solution in the quadrant.
NetSuite extremely scalable and easily deployed with industry-leading practices, and over 31,000 customers.
NetSuite has dedicated partners and service teams for support.
User-based pricing keeps costs predictable through business change.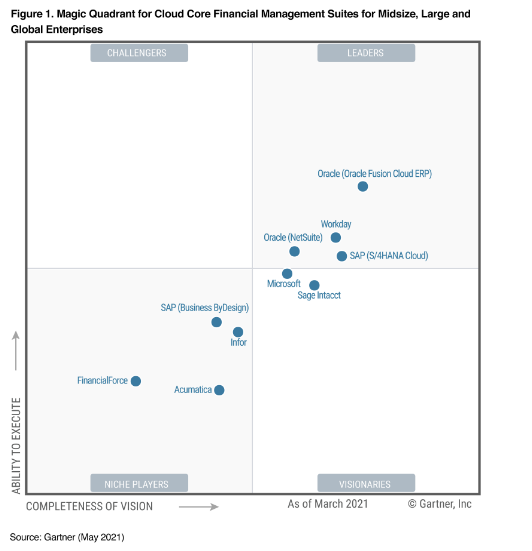 NetSuite has been ranked multiple years in a row as a leader in the Gartner Magic Quadrant for Cloud Core Financial Management Suites reports. Learn more about the latest award for in 2019, 2020, and 2021.
Are you ready to super-charge your business? Say goodbye to separate software applications, expensive IT costs, upgrades, and maintaining disconnected software applications. NetSuite's true cloud solution allows businesses to become more competitive, lower costs, streamline business processes, and increase efficiency.
With one integrated business suite for all your core business processes including ERP, PSA, HCM, CRM, e-commerce, and Global Financials your business may have an on-demand, up to the minute, real-time reporting capabilities and visibility.

RELATED NETSUITE PAGES
Switching from Microsoft Dynamics to NetSuite is hassle-free. Are you looking to make a software change to enhance your business's future? Don't let your outdated software hold you back. Whatever your business size, whatever solution you are using now—you'll benefit by switching to NetSuite's true cloud solution. We can help you to evaluate, purchase, implement, and support NetSuite today.

Working with Protelo, you will receive:
Customized NetSuite pricing
Direct access to experts
On-demand services
Pay-as-you-go-billing
No upfront costs or minimums
United States-based team
Get NetSuite Pricing – NetSuite Pricing Calculator Learn More About NetSuite