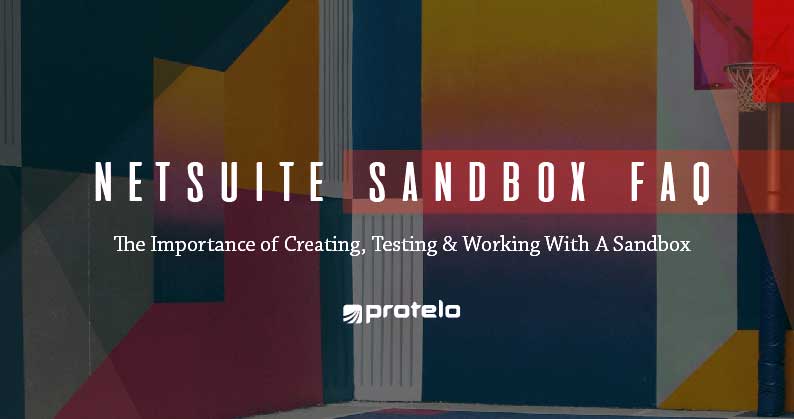 NetSuite Sandbox – Frequently Asked Questions
NetSuite's dynamic platform enables developers to utilize an exact replica of their live production account as a testing environment.
Without affecting production, a Sandbox account allows users to create customizations, experiment with integrations, train users, find errors, and build new enhancements in a safe and secure account. This guide reveals the importance of a Sandbox and the steps to creating, accessing, testing, and working with a Sandbox to meet your individual business needs.
Why is a Sandbox necessary?
NETSUITE SANDBOX BENEFITS:
Mitigate the risk of making changes to a live system
Develop, customize and test features before publishing
Optimize environments and fix issues
Revise scripts, searches, and forms
Bypass costly implementation alterations
Create fixes to your system
Educate and train end-users on best practices


Try third-party integration features


Does your business need a Sandbox Account?
QUESTIONS TO CONSIDER:

1. Does your organization have a large number of third-party integrations?





2. Do you train a large number of employees at a time?

3. Are you experiencing time-wasting costly application rewrites?



4. Do you have a place to test new features and functionality before deployment?
Top Sandbox FAQ's – Things You Need to Know
What are the different Sandbox account options?
SANDBOX ACCOUNT: The Sandbox account is an exact replica of your NetSuite customizations and business configurations designed for the cross-functional testing of your production data. Within this account, your company can specify a date, refresh the data from your production account on-demand, and experiment with your system.
DEVELOPMENT ACCOUNT: The Development account covers your production account's SuiteApps and features but does not contain customizations or production information. This allows you to insert the data you need for development testing and lets outside partners work within the system without viewing your critical business information. NetSuite development accounts ensure access to both the current and new versions of the software when it becomes available twice a year.

Learn More About Sandbox Accounts
Can you work with multiple NetSuite accounts at the same time?
Sandbox accounts are configured with an alternative account ID than your production account. With your production credentials, you have the ability to switch from Sandbox to production within the roles menu dropdown. Because NetSuite uses browser sessions to manage logins, you can be logged into your production and Sandbox account at the same time, in two different browsers.
What features are available for testing in a Sandbox?
CTI Integration (8×8, Five9)
Currency Exchange Rate Integration
Email Campaigns (less than 25 recipients)
Email Notifications and Outgoing email
Token-based Authentication
UPS/FedEx Integration for Rate querying
When does a Sandbox expire?
Every Sandbox account comes with an expiration date. Administrators will be notified by email one month before it expires and on a weekly basis thereafter. If the Sandbox expires and is not renewed the account becomes inactive and users will not have access. Expiration dates can be found on the Sandbox account page. NetSuite offers a 30-day deferment after expiration for an inactive account to be restored. If not, the data will be lost, and the Sandbox will be deleted.
When is a Sandbox upgraded?
Your Sandbox account will systematically be updated with your NetSuite production account without the need to refresh your account.
How do I know if I am in my production vs Sandbox account?
When you are properly logged in, the Sandbox logo will be in the header of the page. You can also access Sandbox accounts from the account type column on the choose role page so you can differentiate it from your production account.
How do I log into my Sandbox account?
New accounts are accessible only by NetSuite administrators. If you don't have access to a Sandbox account contact your administrator. You can log into your Sandbox account the exact way that you enter into your NetSuite account at netsuite.com. Upon logging in, you have the ability to change roles to switch to a Sandbox role on the dropdown list.
Can I move customizations from Sandbox to production?
With the SuiteCloud Development and SuiteBundler framework, you have the ability to move custom searches, fields, and lists into production with the bundling process.
What is a Sandbox refresh?
A Sandbox refresh produces a duplicate of your live production account the moment the command was received copying all data and customizations from production into the Sandbox account.
Do I have the ability to refresh at any time?
You have the ability to refresh your Sandbox account regularly. This capability can be managed by the account administrator on the Sandbox accounts page.
During a Sandbox refresh, what data is not copied from the production account?
• Inbound single sign-on mappings
• SAML Configuration
• OAuth 2.0
• Token-based Authentication (TBA)
• System Notes on records
• SuiteFlow history logs
• Customer center role assignments for customer users
• Websites and web store domains
• DomainKeys Identified Mail (DKIM)
How do I purchase a Sandbox account? You can add a NetSuite Sandbox account at any time. Contact your NetSuite Account Manager for specific pricing and details today.
Get A NetSuite Sandbox Quote

Save time, talent, and money on error-prone mistakes by utilizing NetSuite's Sandbox capabilities.
It is imperative that businesses grasp new technology to reach their goals, expand into new marketplaces, and satisfy customers. NetSuite Sandboxes help organizations prepare, train and configure information to streamline business processes before production.
Protelo is a top-tier NetSuite partner and reseller here for your business. Our United States-based team can help your company get the most out of NetSuite or clean up a project that is over budget, over project timeline, or needs expert support. We work on-demand when you need us, without long-term contract requirements or minimum costs.
Whether you are looking for a one-stop-shop for all things NetSuite, or simply need answers to your questions, our NetSuite experts are here to make your business better.