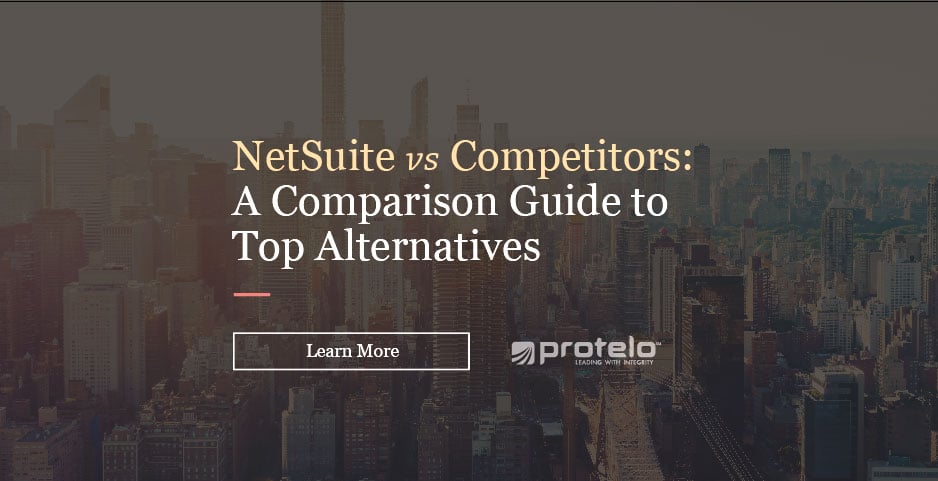 NetSuite vs Competitors: A Comparison Guide to Top Alternatives
Choosing the right ERP system is crucial for long-term business growth and success.
An ERP system provides real-time access to critical business information, enabling businesses to quickly identify and respond to market trends, opportunities, and challenges. When deciding on an ERP system, there are several factors to consider, such as the system's functionality, cost, deployment model, and the vendors who will be involved in the process. Conducting a thorough evaluation may take some time, but the benefits in terms of increased operational efficiency, streamlined data integration, and informed decision-making make it a worthwhile investment.
Check out the latest list of top ERP and financial management systems that compete with NetSuite or are commonly replaced by it. It is our goal to help you in the evaluation process and find the best fit for your organization.

Gartner Analysis & 2023 Software Review



Acumatica:


Acumatica is a cloud-based enterprise resource planning (ERP) software platform that is designed to help businesses manage their operations, including financials, distribution, manufacturing, and project management. It was founded in 2008 providing cloud and web-based ERP software for small and medium size businesses, and can be utilized on-premises, in the cloud, or in a data center.


Acumatica vs NetSuite: The Major Differences
NetSuite and Acumatica are leading providers of cloud-based ERP software, offering businesses the convenience of accessing and managing their enterprise resource planning systems through the cloud. However, Acumatica isn't 100% built-for-the cloud, as it also has an on-premises option.
If your business is experiencing growth and requires enhanced international business capabilities, NetSuite is the recommended choice over Acumatica. NetSuite offers features like multi-subsidiary consolidation, multi-currency support, multi-language capabilities, and compliance with international regulations and taxes. Another advantage of NetSuite is its user-friendly approach to custom report building, making it accessible even for non-developer users.

How do you know when your company has outgrown Acumatica?
1. Limited functionality with inventory management or project management tools
2. Performance Issues
3. Manual Processes or data entry
4. Integration challenges
5. User limitations
6. Lack of integration with other business systems


Learn more about NetSuite vs Acumatica
Free Download: Acumatica or NetSuite for your business in 2023

Microsoft Dynamics:

Microsoft Dynamics is a suite of applications for financial management, supply chain management, project management, human resources, and customer relationship management. The software is designed to help businesses optimize their workflows and enhance their operational effectiveness. Microsoft Dynamics can be deployed on-premises or in the cloud and can be tailored to meet the individual requirements of a business.


Dynamics vs NetSuite: Major differentiators
When it comes to cloud-based ERP solutions, NetSuite takes the lead. Built from the ground up with a cloud-native architecture, NetSuite offers unparalleled flexibility, scalability, and universal accessibility. On the other hand, Dynamics has its roots in on-premises systems, with cloud capabilities incorporated later.
NetSuite stands out with its extensive suite of integrated functionalities. From financial management and CRM to inventory management, order management, and e-commerce, NetSuite covers it all. Microsoft's ERP solutions, such as Dynamics 365 Business Central and Dynamics 365 Finance and Supply Chain Management, may require additional modules or integrations to achieve a similar breadth of functionality. For businesses seeking a comprehensive cloud-based ERP solution, NetSuite emerges as a top choice. Its seamless integration of key functionalities sets it apart from Dynamics. Explore the detailed comparison of NetSuite and Dynamics to make an informed decision for your business's software needs.
Learn More About NetSuite vs Dynamics: Comparison Guide

How do you know when your company has outgrown Microsoft Dynamics?
#1 | Increasingly complex business processes that require more customized solutions
#2 | Inability to handle high transaction volumes or increasing amounts of data
#3 | Need for more advanced analytics and reporting capabilities
#4 | Expanding global operations that require support for multiple languages, currencies, and regulations
#5 | Lack of flexibility and scalability to adapt to changing business needs

Free Download: Dynamics vs NetSuite Features List
Odoo:

Odoo is a fully customizable business suite of apps to help manage your business and is available on-premises or hosted in the cloud. With Odoo, businesses have the ability to start with the apps they need and add on more as their needs change. Odoo helps businesses easily manage materials and warehouse management, HR, finance, sales, and many other enterprise features. Odoo is available under an open-source license, it is recognized for its cost-effectiveness since businesses can either use it for free or opt for paid versions that offer extra features and support. It is essential to consider the trade-offs of low-cost software. As a business changes and grows, so does complexity.

Odoo vs NetSuite: Major differentiators
Despite offering support forums, user guides, and documentation, the level of support provided by Odoo may not be adequate for more intricate issues. NetSuite offers an extensive partner network and support ecosystem provide growing companies with personalized services, customizations, and the necessary assistance for ongoing success.

While Odoo ERP software offers some level of customization, it has limitations that can restrict full software tailoring to specific needs. These limitations include restricted source code access and the inability to modify core modules. Implementing third-party customizations can also introduce complexities.
While Odoo ERP software offers numerous advantages, businesses should be aware of its potential limitations. These include limited functionality, scalability challenges, complex configuration processes, integration difficulties, and potential issues with support.
How do you know when your company has outgrown Odoo?
There are several signs that Odoo software may be limiting your business growth.
#1 | Business Complexity & Growth Limitations: As your business scales and workflows become more complex, Odoo may not be able to handle your growing needs, leading to performance issues and slower operations.

#2 | Customizations: Odoo may not provide enough customization options, forcing you to adapt your processes to fit the software.

#3 | Lack of Reporting: If you need more advanced reporting capabilities to analyze your data and make informed decisions, Odoo may not be able to deliver.
#4 | Integrations: If other software applications used in your business do not integrate well with Odoo, it can lead to inefficiencies and errors. In such cases, it may be worth considering a more integrated and customizable solution to support your business growth.


Odoo ERP and NetSuite ERP Software Review & Comparison
IT Executives Express Need for True Cloud ERP

Consolidating the feedback from IT executives on why they switched from various SAP systems to NetSuite's true cloud-based ERP, highlighting the pitfalls of fake cloud and on-premise deployments and how these challenges impacted their business.

Download Now
SAP:

SAP Business One is an ERP software solution that can be deployed on-premise or in the cloud and integrates with other SAP applications and third-party software systems. SAP Business One is a powerful tool that can help businesses streamline their operations and improve their overall efficiency and profitability.











SAP VS NetSuite – Major Differences:
NetSuite and SAP Business One are both top competitors in the ERP software space but offer different solutions for businesses. NetSuite, being a true cloud-based platform, offers a simplified implementation experience with pre-configured industry-specific settings and standardized workflows for a faster implementation process. SAP offers the flexibility of choosing between cloud-based and on-premises deployment options.
SAP Business One is a perfect example of legacy software that has been reverse engineered for the cloud. When upgrading to newer versions, any customizations made to the software may not be compatible and will likely require additional systems to handle various functions like support, sales, warehousing, ecommerce, and professional services.


With disparate processes running on multiple systems it becomes challenging to:
• Diminish the dependence of spreadsheet-based accounting.
• Scale with the business as it grows and changes.
• Gain business data visibility and transparency across all departments in the organization.
• Align or reconcile different versions of data.
• Combine or merge front-end and back-end operations.
• Maintain a transparent audit trail.
• Gain real-time insights into the business.


True Cloud Platforms, like NetSuite, Simplify Business Processes by:
• Reducing IT infrastructure and lower total cost of ownership through economies of scale.
• Increasing business agility and automatic compliance.
• Removing spreadsheet-based accounting and providing real-time financial and operational visibility.
• Gaining Self-service and mobility with access to the software anywhere and anytime.
• Offering Prebuilt user roles with SuiteSuccess.
• Selecting a software that scales and changes with you.


SAP and NetSuite: Which one is Right for Your business?
SAGE Intacct

:






Sage Intacct is a financial management solution focused on accounting and finance functions. Intacct is known for its strong financial capabilities, including sophisticated multi-entity and multi-dimensional accounting, making it a great option for businesses with complex financial needs.

NetSuite offers a comprehensive suite of business management functionalities that go beyond finance. Its broad range of capabilities allows businesses to effectively manage multiple aspects of their business on a single integrated system. NetSuite's versatility makes it suitable for businesses of all sizes and industries, from small and medium-sized enterprises to large corporations. Its scalability and flexibility ensure that businesses can easily adapt and grow with the system. Delve into a comprehensive exploration of the differentiators and benefits of NetSuite compared to Sage in 2023.

How to know when your business has outgrown Sage Intacct:
Common Sage Customer Complaints:
Lack of Full Cloud or Software-as-a-Service (SaaS) Functionality

Third parties are your only option for eCommerce tools

No unified ERP platform – not a one stop shop

No on-demand reporting options

No customer, vendor, or employee portals

Users don't have easy-to-use personalized dashboards

Customizations are hard as coding is complicated and expensive

Epicor

:






Epicor ERP provides a versatile software solution for businesses, available on-premises, hosted, or cloud-based as a Software-as-a-Service (SaaS) model. With a modular approach, Epicor ERP aims to enhance efficiency, cost reduction, and customer responsiveness throughout the organization. While they have a substantial customer base in manufacturing and wholesale/distribution industries, many of their customers are still using older on-premises versions of Epicor. While Epicor boasts a significant customer base in the manufacturing and wholesale/distribution sectors, it's worth noting that a portion of their customers still rely on older on-premises versions of the Epicor software.


NetSuite vs Epicor: The Major Differences

#1 | NetSuite is a true cloud-based solution, while Epicor ERP 10 underwent on-premises rearchitecting, resulting in separate versions for each customer.
#2 | NetSuite offers a consistent global experience, while Epicor requires multiple instances, leading to data inconsistencies.
#3 | NetSuite has integrated modules for a unified user experience, whereas Epicor's interfaces vary across modules.

#4 | NetSuite extends its platform with SuiteApps, while Epicor lacks a cloud development platform.
#5 | NetSuite supports customers with SuiteSuccess and dedicated account managers, while Epicor lacks a similar program.
QuickBooks

:






QuickBooks is an on-premises or online accounting software solution that is popular among small and medium-sized businesses due to its ease of use for accounting functions and requirements. It was developed and is marketed by Intuit, and it is designed to aid companies with managing their financial operations, such as invoicing, expense tracking, payroll processing, and generating financial statements.


QuickBooks vs NetSuite Financials: Major differentiators
Functions & Features: NetSuite seamlessly integrates all departments into a single system, providing real-time data and insights. In contrast, QuickBooks is primarily an accounting solution designed for small to medium businesses.

Customization: NetSuite offers businesses a significant advantage in terms of customization, with a wide range of options such as advanced reporting, analytics, custom roles and permissions, scripting, and custom code. These features enable businesses to tailor the software to meet their specific requirements. In comparison, QuickBooks provides more limited customization options, primarily offering basic custom fields, reports, integrations, and workflows.

Scalability: NetSuite is a highly scalable solution that can grow with businesses, providing the flexibility and customization needed to meet evolving requirements. In contrast, QuickBooks Online may not be able to keep up with the needs of larger businesses as they expand and their accounting requirements become more complex.

Integration & Business Complexity: NetSuite's seamless integration capabilities allow for the integration of a diverse range of business software. QuickBooks has limited integration capabilities primarily focus on accounting functions. NetSuite is better suited for larger businesses with complex needs, while QuickBooks is a better fit for smaller businesses with simpler accounting requirements.

How do you know when your company has outgrown QuickBooks?
#1 | Difficulty managing data
#2 | Lack of scalability
#3 | Limited reporting capabilities
#4 | The need for customization
#5 | Time-consuming manual processes:
#6 | Lack of integration with other business systems




Is ERP software necessary for business growth and competitiveness?
When is the right time to make a business software change? The decision to move to ERP software depends on the size and complexity of your business, industry requirements, and plans for growth. Without the proper ERP in place, outdated software may impose limitations on your business, hindering scalability, impeding data accessibility, and inhibiting seamless integration with other cloud-based tools and services. Additionally, maintaining on-premises infrastructure can be costly and time-consuming, requiring dedicated IT resources.

Industry & software experts, here for your business.
Our ERP software experts will discuss your requirements, address your business needs, answer your questions and provide a FREE product demo tailored to your business. We want the licensing purchasing process, implementation, customization and training process to be seamless and collaborative with direct access to our knowledgeable team. We are here to make your business even better with the #1 cloud ERP software on the market.

GET 2023 NETSUITE PRICING | REQUEST A DEMONSTRATION | EVALUATE NETSUITE




Why work with an award-winning NetSuite Solution Provider to learn more about NetSuite?
Protelo, Inc. provides Oracle NetSuite services, support, training, design and development that is matched by top-notch customer service. Check out our client page for more featured customers and learn about the 10 reasons why companies like to work with our team of NetSuite experts. Our NetSuite team has assisted hundreds of small, mid-market and enterprise companies in achieving their business goals.