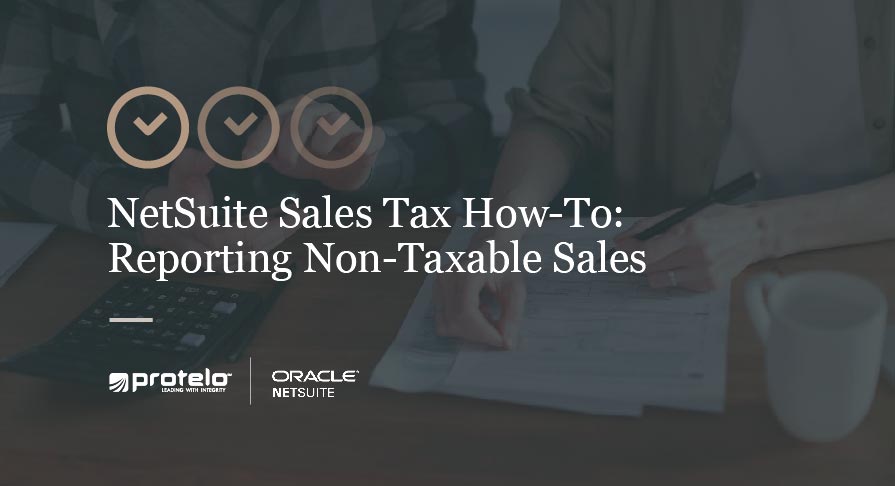 NetSuite Sales Tax Reporting: Reporting Non-Taxable Sales
Filing sales tax returns are becoming more complex in recent history than it has been in prior years.
Tax entities in various states are becoming savvier to the online sales market as a neglected revenue stream, and the laws have been changing to keep pace with the states' demands for collecting on lost opportunities. As a result, the requirement for physical presence within a state to qualify for nexus and sales tax liability is rapidly diminishing.
There are several companies conducting business in a single state that have enjoyed the simplicity of filing one sales tax return on a monthly or quarterly basis to comply with their state's reporting requirements. If the customer is lucky enough to be conducting a brick-and-mortar business in a state like New Hampshire or Delaware with the simplest sales tax reporting requirements, there's not much complexity involved in the returns when one is required. That won't be the case for most businesses that have an online presence and/or ship their merchandise anywhere outside of their home state.

NetSuite includes a built-in sales tax module that will accurately calculate the sales tax liability for transactions based on nexus, and provide a decent method for generating reports for sales tax liabilities by state, county, city, etc. NetSuite tax tables are currently provided by Avalara, the owner of AvaTax, so barring any math mistakes in the calculation process, the liability amount for sales tax should be as accurate as possible providing nexus, customer, and item setup are correct.
NetSuite for Reporting Non-Taxable Sales
Where NetSuite has a gap in sales tax liability reporting is in non-taxable sales. Several states with very complex sales tax laws (the big four are California, Florida, New York, and Texas), require that the business not only report sales tax liabilities but all sales within the state, taxable or non-taxable. NetSuite's method for recording non-taxable sales is to use a single generic code for non-taxable sales. It is a very simplistic approach that works as advertised.
If a transaction or transaction line should not be taxed, it will not be taxed. This works well for collecting the appropriate tax, and even for reporting the sales tax liability. It does not, however, offer a method for reporting non-taxable sales revenue by state, county, city, etc. For those businesses that file returns in states with this requirement built into their complexity, a solution must be deployed to maintain compliance.
There are a few integrated third-party tax solutions available to NetSuite that will handle the sales tax complexities by subscription, Avalara's AvaTax and TaxJar come to mind. Depending on the size of your business, one of these solutions could very well make fiscal sense, and they provide methods for filing your returns for you, for a fee of course. In an ever-growing online world where users will navigate to the shopping cart and checkout page multiple times during a single session, or the multiple changes to orders that might be required for your internal processes, however, the "transaction" count can escalate quickly.
Depending on the design of your website, a single sales order could theoretically count as three or more "transactions" against your monthly usage before the order is even placed in NetSuite. This may be an acceptable trade-off to simplify the taxation puzzle that faces every business responsible for collecting and reporting sales tax.
Protelo's expert NetSuite team has also come up with a method to track and report all taxable transactions by taxable and non-taxable revenue by state, county, city, etc., and it does not require a third-party integration to accomplish the task.
Using NetSuite's native sales tax module with Advanced Taxes enabled for tax schedules, we have developed a method to collect all of the relevant information required for complex sales tax return filing. It offers a real-time check and balances to NetSuite's native tax calculations and the ability to see by transaction the liabilities and non-taxable revenue by transaction grouped by tax code.

With the solution in place,
each G/L impacting
taxable
transaction has a new tab
with two subtabs showing the native NetSuite taxation lines, and
Protelo's
Right Tax lines.
In the example below, NetSuite has determined that the entire order is non-taxable. The order, how
ever, falls within a nexus state. NetSuite records a single tax line
using the tax code "
-Not Taxable-
"
, which is also how it will be reported in the native tax liability reports.


Protelo's Right Tax solution has assigned the appropriate tax codes for the transaction with a zero-dollar tax liability for each, and assigned the total amount of non-taxable revenue for the transaction to each line to ensure that the tax reporting application will accurately report the non-taxable sales that should be reported for each taxable jurisdiction required the state tax return:



Included in the solution is a reporting application that can serve as a replacement for the native sales tax liability reports to make filing your complex sales tax returns more efficient than ever possible with the NetSuite native solutions: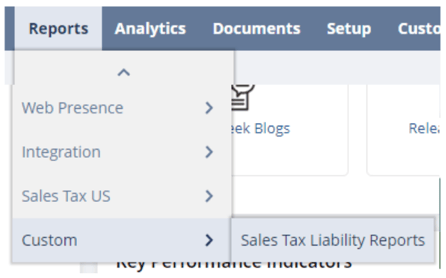 Why work with an award-winning NetSuite Solution Provider to learn more about NetSuite?
Take advantage of our flexible service offerings, and benefit from an in-depth knowledge of business applications that will ensure you get the solution, licenses, services, and support that's right for you. For more information about NetSuite, a Free Product Tour, or NetSuite custom pricing, contact Protelo today!
Why Protelo? Out of the many options your business has online, NetSuite customers choose to work with our expert NetSuite team because of the personalized business guidance and one-on-one support. Whatever industry or sector you are in, our highly skilled NetSuite team at Protelo understands your business challenges and the solutions you need to succeed. Our NetSuite team has assisted hundreds of small, midmarket and enterprise companies in achieving their business goals.
Written by: Tom Armbruster, Senior NetSuite Application Consultant