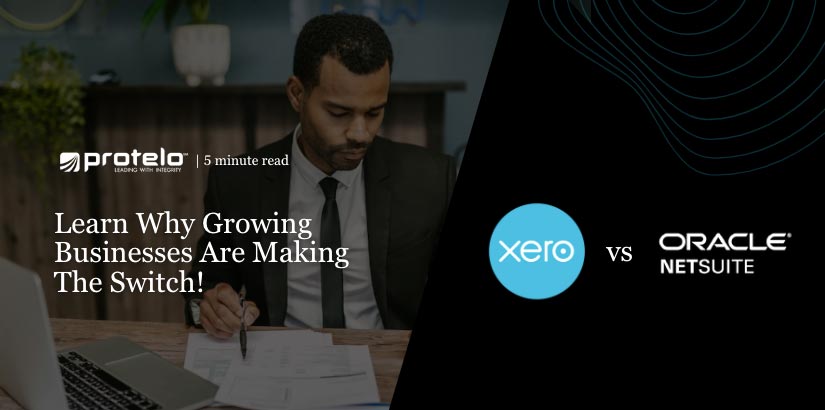 NetSuite vs Xero: Why Growing Businesses are Making The Switch
In today's digital economy, your business is only as productive as the system you run it on.
As your business expands and your accounting complexities grow, basic financials will only lead to endless limitations. Don't let limited software hold you back. Learn the reasons why businesses are making the switch from Xero to NetSuite.
Are you trying to overcome the business challenges that emerge with disconnected applications, manual data entry and unsustainable spreadsheets? If your business is evaluating an alternative accounting/business management system, consider how NetSuite and Xero compare to meet the needs of your business today and in the future.
Both NetSuite and Xero were developed to handle finance and accounting processes but there is a considerable gap in terms of features and scalability to support increased efficiency.
Entry-level software can be essential to getting small businesses off the ground. Pre-customized systems make administrative tasks manageable for small teams who just need to master the basics. But as businesses grow, adding more and more platforms to keep processes running, and coordinating data between different software becomes more work than it's worth.
Boost your efficiency
by switching to an accounting solution that integrates with every department

from day one.
About NetSuite
NetSuite is the leading integrated cloud business software suite that encompasses ERP, financial management / accounting, CRM, ecommerce, inventory/warehouse management, and more. NetSuite is a cloud-based software solution that unites all aspects of your business into one system, accessible on any browser, anywhere, anytime. With NetSuite, data is automatically integrated and shared between every department, eliminating any need for separate software and allowing your team to focus on what you do best.
With 31,000 customers, NS is growing and continuously advancing. NetSuite's solution helps businesses of any size thrive. NetSuite works with your unique business requirements to meet your needs and fit your business processes. Real-time dashboards provide engaging graphical reports, insight into forecasting, profit, inventory, and more customizable functionalities.
About Xero
Xero is a cloud-based software for small businesses with tools for managing invoicing, payroll, inventory, purchasing, expenses, and connects to a live bank feed. With its user-friendly interface, 3 million subscribers, relatively inexpensive pricing tiers, and its modern system allowing users to work from anywhere, Xero is many businesses' starter accounting software. Xero plans come with unlimited users and integrates over 1000 third-party apps to streamline data.
However, as Xero's capabilities are limited to accounting, entrepreneurs will have to work with other systems to fulfill essential business processes- doubling time spent on data consolidation.
NetSuite vs Xero Comparison
| | | |
| --- | --- | --- |
| Company | Oracle NetSuite | Xero |
| # Of ERP offerings | NetSuite is a single, unified system for CRM, accounting, operations and more. | Xero is an accounting software, not an ERP |
| R&D resources (dev staff & budget) | NetSuite has a large amount of resources and investment from Oracle | Xero has significant R&D resources and is investing heavily across the world |
| # Of customers | 31,000+ small and mid-market businesses. 100% Multi-tenant cloud | Over 3+ million subscribers in 180 countries for many micro businesses. 100% Multi-tenant cloud |
| Global Reach | NetSuite is deployed in 210+ countries, supports 27 languages, and has offices in 19 countries. | Xero is expanding to English speaking countries, including Australia, Singapore, USA, Canada, UK, South Africa. Xero is English only. |
| Platform | | |
| Mobile | Yes | Yes |
| Seamless Upgrades | NetSuite provides two automatic upgrades twice a year, without business interruption. | Updates are delivered continuously, but not to a fixed schedule. |
| Ease of Customization | Customize end-to-end business processes to your precise company and industry requirements. Build new functionality, workflows and processes your business demands. | Xero cannot be customized using developer tools. You can insert new fields into a template and edit or delete existing fields. |
| Financials | | |
| Financial Consolidation | NetSuite can support multi-currency, multi-country consolidation. | Xero cannot do consolidation and is designed for single entity businesses. |
| Revenue Recognition | Yes, module available | Requires a 3rd party add-on |
| Subscription Billing | Yes, module available | Requires a 3rd party add-on |
| Dashboards & KPIs | Yes, robust, customizable capabilities. | The Xero dashboard layout can be personalized with available Xero-built panels (portlets). |
| Native Customizable Reporting | Yes | Xero supports basic report customization, such as layout, adding columns or text blocks |
| Supply Chain Management | | |
| Order Management | Yes | No capability. Requires a 3rd party add-on |
| Inventory | Yes | Inventory capabilities are basic. It provides more inventory tracking than management. |
| Procurement | Yes | Procurement concentrates on the strategic process of product or service sourcing, negotiation and planning. |
| Production / Manufacturing | | |
| Warehouse Management Capabilities | Yes | No capability. Requires a 3rd party add-on |
| Customer Relationship Management | | |
| CRM Capabilities | Yes | No capability. Requires a 3rd party add-on |
| Professional Services Automation | | |
| Project Management | Yes | Xero provides simple project management capabilities. Xero suggests a customer look at Xero WorkflowMax, a more sophisticated tool that Xero acquired. |
| Project Accounting | Yes | Xero projects provides simple costs, billing and revenue but no planning, budgeting or forecasting. |
| Resource Management | Yes | No capability. Requires a 3rd party add-on |
| Timesheet Management | SuitePeople HR | Xero provides simple timesheet management. |
| Expense Management | Yes, time and expense users are available at a lower cost | Xero provides expense management as an extra module. |
| Billing | Yes, module available | Xero provides simple project billing / invoicing. Supports deposit, task and expense, project amount and accepted quote invoicing types. |
NetSuite and Xero are both top-of-the-line accounting systems, but where Xero falls short, NetSuite shines.
Xero Pain #1:
Limited Customizability.
NetSuite: NetSuite is extensively customizable and extends to meet the needs of your specific company and industry requirements for personalization and best practices.
Xero Pain #2:
Double Entry/Not good for subsidiaries/ Lacking Consolidation functionality.
NetSuite: NS automatically tracks and connects data across departments and across different offices as it adapts to the needs of the organization.
Xero Pain #3:
Not easy for goods-based companies with limited inventory management.
NetSuite: NetSuite offers extensive warehouse management and inventory management capabilities to optimize warehouse operations with receiving, item put away, inventory tracking, and pick, pack and ship.
Xero Pain #4:
Only English, multiple currency only available on most expensive tier.
NetSuite: NetSuite supports 27 languages and 190 currencies to make it easy to work with companies across the globe.
Xero Pain #5:
Not being able to adjust who can view certain content.
NetSuite: NetSuite creates different views for each employee class based on permissions and it's role-based system tailored to your position.
What can upgrading to an ERP system do for your company?
NetSuite Enterprise Resource Planning integrates all functions and departments into one single system to streamline information, synchronize reporting, and enable automation across the entire organization.
Xero's functionality is limited to what Xero as a proprietary company offers. To manage all parts of your business, you've probably had to use more than just Xero. And to make it work, you have to do a lota of duplicate data entry to keep everything in line. With an ERP- you get all the functions you need to run your business in one software.
What are NetSuite Customers Saying?
Customers like Lift, Snapchat, Groupon, LoveSac, Burt's Bees, School of Rock, Williams Sonoma, Land O' Lakes, and Go-Pro have transformed their operations with NetSuite's single integrated suite with powerful native features.
"NetSuite serves all of School of Rock's needs from billing to business intelligence on one unified platform. No other solution can provide a turnkey system that transforms our business like NetSuite." – Chris Catalano, CEO School of Rock
"We really established the foundation of our business with NetSuite, and the reality is we could not have scaled the business as quickly as we did without NetSuite in place." – Stephen Baumer, CTO of GoPro
Are you interested in learning more about NetSuite? We're here to invest in you.
Here at Protelo, we're more than just an award-winning NetSuite partner; we are an extension of your business, committed to your growth and success. Our expert NetSuite consultants are dedicated to using their experience, ingenuity, and integrity to support clients in achieving their business goals. We are small enough to care, yet big enough to deliver- and it shows.
RELATED NETSUITE PAGES