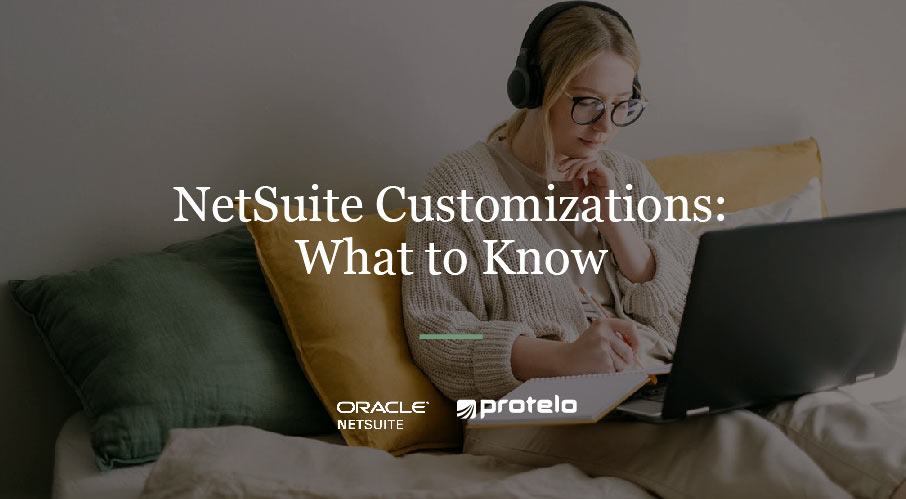 Customizations in NetSuite: What to Know
Traditionally, application customization in on-premise or hosted cloud applications can be synonymous with high costs and long development times. Additionally, there is the very real fear that heavy customizations to an application can lock a company on the version the customizations were developed on because upgrading could break the code the customizations were built on. Learn the many reasons why NetSuite customers prefer to work with a reliable NetSuite partner to customize and support their software.
Customizations in NetSuite
True cloud platforms like NetSuite use a unified data model—the entire system and all elements are built on a single source of code. The "one source of truth" approach that the NetSuite platform is built on, in a true cloud, makes customizations and developing add-ons to the systems more secure and simplified.
NetSuite upgrades should not negatively affect or break any customizations in NetSuite that were done using NetSuite Leading Practices. To ensure your enhancements or custom code follows best practices, work with your in-house certified NetSuite expert or a NetSuite Solution Provider with experience in NetSuite customizations.
How Upgrades work in NetSuite:
There are two major upgrades per year – learn about the latest 2022.1 release.
Every single NetSuite customer account on the same version, 100% of the time.
Ongoing minor upgrades throughout the year.
Release preview environment to test all new features before they go live.

NetSuite Customer Support & Customization
We can help you to implement, service and support NetSuite. Are you looking for top-notch customer service and on-demand NetSuite help? The benefit of working with Protelo is that we are small enough to care yet big enough to deliver. Let Protelo be your contact for NetSuite expertise with direct access to our experts, quick interactions on our daily livechat, join our NetSuite User Group, and partner with a team that is focused on your business success. Learn how to choose the right NetSuite Implementation team & on-going NetSuite services team for your business.
Working with Protelo you will receive:
• Top-Notch Customer Service & NetSuite Expertise
• On-demand Service & Solutions
• Pay As You Go
• No Upfront Costs or Minimums
• United States-Based Team
Calculate NetSuite Services Pricing
The SuiteApp Store
SuiteApps are applications that extend NetSuite for your industry and business needs, natively within the system, there are hundreds of SuiteApps available within the marketplace.
Most SuiteApps run completely inside NetSuite, hosted on the same servers and living in the same database as your NetSuite data. Some SuiteApps are integrations with other SaaS systems like marketing platforms, sales platforms and other business tools. Others are native applications that run inside of NetSuite for everything from CPQ to ticketing systems.

You can search for SuiteApps by vertical, business need or how the app works within NetSuite (natively or within another application).
Check out Protelo's latest SuiteApps: RingCentral for NetSuite and RightSupply Purchase Planning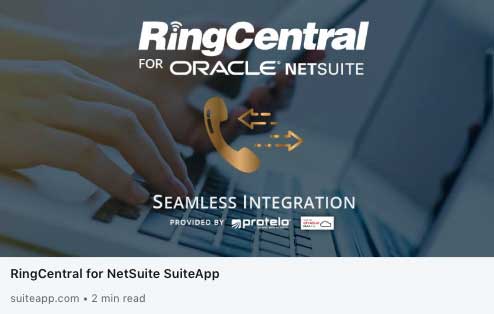 Examples of Common Customizations within NetSuite
Every business has their own unique set of business processes. NetSuite services a wide variety of industries and verticals, which means that sometimes businesses need to enhance the out-of-the-box system to fit their needs.
Common customizations to NetSuite that Protelo has implemented for our clients include:
SuiteScript: Build new functions, processes, and entire applications and host them in NetSuite.
SuiteTalk: Seamlessly extend NetSuite to legacy systems and third-party vertical applications.
SuiteBuilder: Personalize and configure NetSuite with easy-to-use, point-and-click tools.
Benefits of Customizing NetSuite:
Tailor NetSuite to meet your exact business requirements
Customize end-to-end business processes to your precise company and industry requirements
Build new functionality, workflows and processes your business demands
Connect to legacy and third-party applications and content providers
Personalize roles to optimize individual and team productivity
NetSuite customizations done by a reliable NetSuite partner will have the same secure infrastructure backed by Oracle with guarantees to keep working through the bi-annual version upgrades.
NetSuite Flexibility
ERP Software That Grows With Your Business From start-up to global corporation, NetSuite's cloud-based business software solution scales to meet your growing needs every step of the way. This award-winning software allows you to start small, establish a foundation, and effortlessly scale and grow into the future.
A recent Forrester study shows that 50 percent of ERP customers are two or three releases behind the latest version of the software they're currently using. If your software is holding your business back, consider a change. Every business has a different projection for growth, but what separates a successful business is how they utilize the latest technology to support and accelerate their evolution. According to a recent Gartner report, analysts name NetSuite a Leader and a top solution for businesses to run their cloud financials, Enterprise Resource Planning, and omnichannel commerce operations.
Check Out Protelo's NetSuite Beginners Guide Learn More About NetSuite
NetSuite Customization Tips & Tricks:
1. NetSuite Custom Fields
2. How to Define, Customize and Access a Saved Search
3. How to Create, and Manage Custom KPIs
4. NetSuite Dashboard FAQ: Publishing, Permissions and Updates
5. NetSuite Workflows Guide
5. Additional NetSuite Tips, Tricks and Customizations
Want to talk through a NetSuite customization? Are you Interested in learning more about NetSuite for your business?
Protelo is a full-service team of business, technology, and development experts based in the United States. We are experts in all areas of NetSuite including Enterprise Resource Planning (ERP), Customer Relationship Management (CRM) and SuiteCommerce Advanced.
We can help you to implement, service and support NetSuite today.
Whether your company wants to make sure best practices are followed or requires additional customizations ahead of go-live—our award-winning NetSuite team is here to assist.
Contact Protelo's NetSuite Experts Today