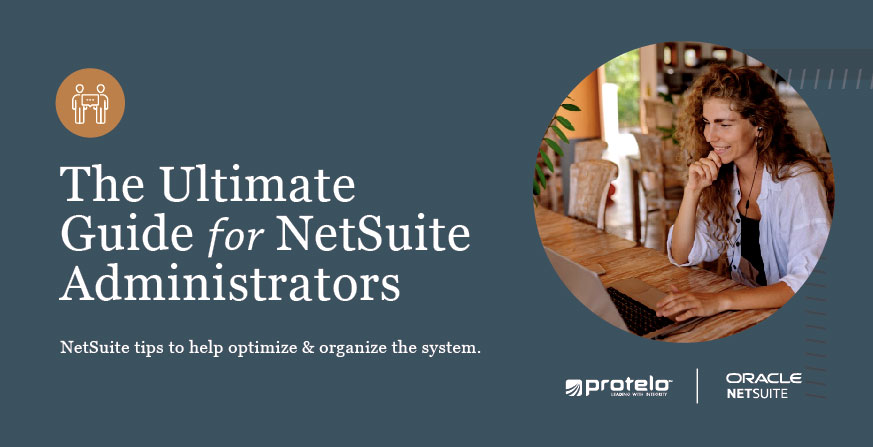 The Ultimate Guide for NetSuite Administrators
A NetSuite Administrator is a very important part of the business as they are responsible for managing data, customizing the platform, monitoring security, solving system issues, providing training, support, and much more. Administrators are inundated with requests from various departments within an organization, so it's crucial to work efficiently to meet demands.
Whether your team has a full-time administrator, or a team member that is juggling the role; our team is here to offer quick NetSuite tips for success. Learn the steps and tasks to help a NetSuite Administrator optimize the system and perform daily and monthly tasks efficiently.

What is the role of a NetSuite administrator?
The role of a NetSuite Administrator requires a diverse set of skills encompassing technical proficiency, business acumen, and financial expertise. With NetSuite's leading cloud-based ERP software in place, its crucial to have a seasoned NetSuite Administrator managing and maintaining the system.
On-Demand NetSuite Administration Assistance
Quick T
ips to Become a Successful NetSuite Administrator
K
eyboard Shortcut Tricks
:
Make your daily NetSuite tasks easier with these useful shortcuts and tips. Discover a plethora of quick shortcuts that can reduce the time spent on searches and enable you to swiftly retrieve the information you need. Boost your productivity and adaptability within the NetSuite system by implementing these valuable hints.

Launch Multiple Tabs Using the CRTL Key:
Instead of the right-click method to open a link in a new tab, you can accomplish this by simply holding down the CTRL key while clicking on the link. This feature comes in handy when you need to open a series of transactions in separate tabs. All you need to do is hold down the CTRL key and click on each link in succession.

Searching All Data in Your Account:
Press Alt+G to move the cursor directly to Global Search.

Entering Data and Completing Forms:
Use these shortcuts to finalize and modify information on forms and records:
Navigating subtabs:

If you are using tabbed pages, navigating between subtabs can be expedited by using shortcuts. Every subtab in the title is denoted by a singular underlined letter. By holding down the Alt key and pressing the corresponding letter, you can effortlessly transition to the desired subtab. This action will direct the cursor to the first field of that subtab.




Quickly save transactions

by pressing Enter in

transaction headers.

Save transaction lines by pressing Enter on a

transaction line

and go to the next line.




To move the cursor between buttons and fields

Press Tab.




Enter numbers into Amount fields

to calculate in addition, subtraction, multiplication, and division to get a total amount.




Select multiple choices on a list

by Pressing hold Ctrl and click with your mouse.





Date Fields:
In date fields, use the following keyboard shortcuts to change dates:
T

= tomorrow's date.

p =

the end of the current period.

l

(Lowercase L) = the end of the previous period (if you use accounting periods).

t

= today's date.

Y =

yesterday's date.

M =

last day of the month.

(+) to increase one day.

(-) to decrease one day.
Multi-Choice buttons
For transactions and records containing buttons with popup lists, it is possible to select a non-default button option. To go to the list button, use the tab key. To expand the drop-down arrow, use the down arrow key. Select Enter to choose the desired action. Use the up arrow to collapse the list and return back.



Viewing Reports
When viewing reports, you can do the following:
Press

Page Up

to go to the previous page of a report.

Press

Page Down

to go to the next page of a report.

Press

Home

to go to the first page of a report.

Press End to go to the last page of the report.
Filtering Search Results
:
Use the following shortcuts when working with search results filters:
Navigate between filters using the

Tab

key.

Filter any dropdown list using the

up and down arrow

.

As you write a value into a filter field, use the

Tab

key to apply the value.
NetSuite Saved Search Tips
How to Define, Access, and Customize Saved Search

Tips to Optimize NetSuite Performance:
Quick ways to help NetSuite Administrators enhance the performance of their NetSuite application and address performance issues that their NetSuite users may experience.



How To Enhance NetSuite Preferences
How do you optimize NetSuite for better performance? NetSuite offers a ton of preferences that can allow users to configure the system for peak performance. Check out the available preferences by hitting Home > Set Preferences.

NetSuite users can modify the listed preferences to increase page loading:
Head to the

Centers & Dashboards

section. On the Appearance subtab set the

Landing Page

preference to "open NetSuite to a page other than the Home page". This allows NetSuite to open on a popular page that a user visits most inside the system.



Go to the General subtab. Locate the Optimizing NetSuite section:

Select

Delay Loading of Sub Lists

to load the NetSuite pages without data on subtabs. The data on each subtab will only load as the subtab is clicked, shortening the initial page loading time.




Lower the

Number of Rows in List Segments

to increase the loading speed of the pages containing long lists. If a page has lengthy lists of records, the list is split up, and only a segment is loaded at a time. Reducing this preference will result in smaller segments for each section. Please note that a segment size of 50 is considered optimal.




Make sure to set the

Maximum Entries in Dropdowns

field to a smaller number, to increase the page loading speed of dropdown lists. 50 is also ideal for this. For lists more than 50, results will pop up instead of the dropdown option. With a drop down, all values are loaded when a user accesses a page. Popup lists are not loaded until the user searches for an item or clicks the list icon.

Tip: To quickly search for an item, enter the first few letters and press the tab key.
How To Improve Search & Performance:









NetSuite provides powerful search capabilities that enable the location of exact information required from a large amount of stored data.
NetSuite Search Tips:
• Use scheduled searches (when possible).
• Perform searches and reports on a smaller timeframe.
• Avoid using system notes in your search.
• Additional NetSuite Search Tips

Avoid the Condition "Contains" in Searches
The condition "contains" is one of the most time-consuming search mechanisms. Replace this condition when you can to improve performance. Instead of "contains" use words like "starts with", "has keywords", or "keywords". If you are trying to locate customer records with the word "Bio" in their name, define the search to "Name/ID has keywords Bio".

How to Schedule Long Saved Searches & Reports
What are the benefits of scheduling a saved search or report? NetSuite provides the feature to schedule saved searches and receive search results via email to designated recipients, enabling you to avoid interrupting your work while waiting for particularly lengthy searches. On the Saved search definition page, go to the email subtab, and indicate the date and time you would like to run the search. The same feature is available for long reports.

To schedule a report, click Schedule in the footer of the report, and create a schedule to automatically send the report as an email. Both standard reports and saved reports can be sent.
How to Automatically Email Searches & Reports

Optimiz
ing Your
Firewall
A Firewall is a safeguard against unauthorized access over your network or computer by monitoring incoming and outgoing traffic and blocking unwanted sources. The main purpose of a firewall is to permit the passage of legitimate traffic while blocking illegitimate traffic. If your organization utilizes a firewall to oversee internet traffic, a NetSuite administrator may need to adjust the firewall settings to ensure seamless use of NetSuite. If you are currently facing slow page loading speed, performance issues, or time-outs, test your system by accessing NetSuite from outside the firewall.

Understanding NetSuite URLS:
Make sure to follow the best practices of ensuring that your NetSuite accounts and related integrations are not bound to a specific data center. Make sure that you are not hard-coding URLs that specify a particular data center and integrations should always use your account-specific domain for configuration obtain the correct URL.
Need to Know Information About Proxy Servers & NetSuite
If possible, refrain from accessing NetSuite through a proxy server. If your organization utilizes a proxy server to handle internet traffic, accessing a webpage on your computer triggers a request to be transmitted to the proxy server for that specific page. The proxy server acquires the page from the internet and then relays it to your computer.

The page can be stored or cached on the disk drive of the proxy server for potential utilization. If the same page is requested again, the proxy server may supply the cached edition of the page that is preserved on its drive instead of retrieving the latest version of the page from the internet. If cached pages are returned by a proxy server, it may cause complications when using NetSuite due to the need for viewing accurate and up-to-date company information.
NetSuite Log-In
Best Practices to Optimize Security
Enable IP Address Restrictions:
As an Administrator, NetSuite provides the ability to manage the IP addresses that have access to your account. In order to keep your business information as secure as possible, here are a few quick tips to ensure that best security practices are in place with your NetSuite login. To set up restrictions head to
Setup > Company > Enable Features. Click the checkbox under the Access header to enable IP address rules. Then head back to Setup > Company > Company Information and under time zone you can put in the IP addresses that can access your NetSuite account.

Two-factor Authentication:
Passwords alone are no longer enough because they can be easily compromised. 2FA adds an additional security layer to the authentication process, making it much harder for attackers to gain unauthorized access to important account information. Two-factor authentication includes a password following a text with a code or biometric identifier. NetSuite enforces Two-Factor Authentication (2FA) to enhance security for ALL NetSuite clients at customer login. Protelo's expert NetSuite team has come up with a few ways to set up a second authentication factor, speed up the process with an application and seamlessly allow you to log in to roles. Learn how to quickly set up a 2nd Authentication Factor


NetSuite Password Reset Tips:
Believe it or not, being locked out and unable to reset a NetSuite password is a daily help question that our team gets on our LiveChat. Many users do not know who their NetSuite administrator is, and who the point person is internally to help them reset to move forward. Is your company aware that you are the NetSuite point person for help on administrative tasks?

How to Reset a NetSuite Password
Quick Steps for Self-Service Password Reset & Administrator Password Reset
NetSuite Users will be locked out of the system for 30-minutes after five consecutive incorrect NetSuite password attempts. There are self-service actions users can take when they forget their password, need to update their personal security questions, or change their 2FA phone number in NetSuite. Users should try these self-service methods before requesting help from Administrators. There are occasions when an administrator must change a user's password. This could happen if a user forgot the answers to their own security questions. In this case Administrators can use the User Access Reset Tool to assist.
Self-service password reset:


On the NetSuite login page, a user can click the

Forgot Your Password l

ink. The NetSuite user will then be prompted through their email with a link to reset their password. This link will expire after 60 minutes on non-activity.


Administrator–initiated password reset:




Important note: An administrator must have access to all of the accounts to which a user has access to change that user's password. The User Access Reset Tools allows administrators assist users who are not able to reset a password, update security questions,
How to Change a NetSuite Password With the User Access Reset Tool
1. Tab to the Administrator role, click on Setup > Users/Roles > User Management > User Access Reset Tool.

2. On the User Access Reset page, write in the email of the NetSuite user requesting assistance.
3. Select the appropriate boxes (You can select as many boxes as you need, based on the user's requests for help).
4.
Initiate Password Reset
– Selecting this box will email the NetSuite user with a link for resetting their NetSuite password.
5.
Clear User's Security Questions
– Selecting this box will erase the user's current security questions. Users will immediately have the ability to create new security questions and answers with their next NetSuite login.
6.
Unlock the User's Access
– Selecting this box will enable NetSuite access for a user who is locked out of NetSuite after submitting five incorrect passwords consecutively.
7. Reset 2FA Settings
– Selecting this box will clear the user's 2FA settings. This will prompt the user to enter new 2FA settings with the next NetSuite login.
8. Press Save
Tech Super-User Password Tips:
It is important to establish a strong and lengthy password requirement for your team. According to GCF Global, an optimal password contains more than 6 characters (the longer the better), numbers, symbols, uppercase and lowercase letters, and should be a different password for all of your accounts. Additional tips include words that are not in the dictionary and passwords that do not use your personal information.

Having a different password for your accounts can create complexity if you are having to remember it off the top of your head. Utilizing a password manager like LastPass or Google Chrome's password manager helps to keep information stored quickly for a streamlined log-in process.
Tips for

Optimiz

ing

Dashboard Configuration

:
How to optimize a NetSuite Dashboard:
NetSuite offers exceptional adaptability for dashboard setup, allowing you to incorporate several portlets on each page as desired. However, it is important to note that the retrieval of real-time data for these portlets may lead to a delay in page loading times. This can particularly affect portlets such as Key Performance Indicators and custom saved search portlets, which may require additional time to load.

Tips to setting up a Dashboard for optimal page loading performance:
• If you would like access to a portlet's information and are not seeing it on a NetSuite dashboard, create a shortcut in the shortcuts portlet. In the Shortcuts portlet and shortcuts menu, it is possible to modify the order of shortcut links, as well as add or remove them. You have the option to create shortcuts that open linked pages in new windows. Any adjustments made will be applied to both the Shortcuts portlet and the shortcuts menu options.

• To incorporate portlets with extended loading times onto a dashboard, you can prevent their data from loading during the initial page load by minimizing them. If you would like to minimize the portlet, click on the portlet's title. The portlet will remain minimized until either you log in or refresh your dashboard. To display the data, click the title of the minimized portlet to view.

NetSuite Release 2023.1 Highlights
More information about the full release can be found here!
How to Set Up

Classifications in NetSuite


Records are identified and categorized using classifications such as departments, classes, and locations. Administrators can customize these classifications using custom segments features to meet the specific needs of their company. This helps to maintain data accuracy and organization.

Classifications impact how data is categorized and reported within the system. Here are some quick tips to ensure that classifications are effectively set up in NetSuite:

1.

Create a standard format for naming classifications:




"Dept-" for departments, "Class-" for product classes, etc.





2.

Keep classifications simple

: It will be tempting to produce large amounts of classifications to manage every scenario, but that quickly becomes difficult to manage. Instead, aim to create a small number of high-level classifications that are paramount to your business.





3.

Leave room for growth:

As your business grows, so may your classifications. Make sure to create a flexible hierarchy and add custom fields to classifications to prepare for future expansion.





4.

Assign default values:

Save time and reduce errors when entering data by setting up a default for department, product class and locations.





5.

Training and support:

Make sure that your company understands how to use classifications correctly by providing the training and support. By utilizing these tips, administrators can set up classifications in NetSuite that are well-organized, easy to use, and scalable for future growth.



NetSuite Tips for Auditing Data & Configuration



For auditing purposes, NetSuite's search capabilities enable you to retrieve system notes. System notes in NetSuite monitor various changes in data and configuration.

How to Search System Notes:
Filter a system note search by record type to limit the results to system notes for a specific record type. A general system note search can retrieve system notes for all record types. Each system note record stores details about a specific change made to a NetSuite record.
Make sure to use a simple search to locate system notes data filtered by the user, role, date and time, type of change, field, value, context and value after the change.

Tips for Defining a NetSuite Advanced Search:
The advanced search page comprises of two subtabs: Criteria subtab, which defines filters for searches, and Results subtab, which specifies display options for search results.



How to Run an Advanced Search in NetSuite

1. Click on Reports > New Search and select the record type that you would like to locate.

2. To switch to advanced search select the Use Advanced Search box.
3. Define the Criteria filters. Advanced filtering options can be specified for both advanced searches and saved searches. On the Criteria subtab's Standard and Summary subtabs, you can choose filter fields and specify their values.
4.
Define the
Results
display options. On the Results subtab, you can set the display options for search results for both advanced searches and saved searches.
5. Click
Submit
to run search

6. To clear the results select
Reset
.

7. Export results as .csv, .xls, or .pdf files.

8. Select
Personalize Search
to create a page to summarize results columns and available filters.
Select Create a Saved Search to create a page to save and modify a search within your indicated filters. Learn more about
Saved Searches
with our how-to guide.
Top Resources and Help Tools for Administrators:
What NetSuite support resources are available? NetSuite offers a wide range of resources for NetSuite administrators, encompassing NetSuite communities and educational services.

NetSuite Administrator Help Resources:
Suite Answers & Help Center:
An extensive online library of articles and solutions to common issues and questions. SuiteAnswers is the NetSuite self-service support site where you can view announcements, support articles, videos, help topics, and best practice documents for NetSuite. This option allows you to submit a question or issue by email. If you need on-demand support for your business, learn about Protelo's NetSuite on-demand administration options.


NetSuite Support Online:
Submit any question or issue to NetSuite's support professionals, click the Support tab, and click Go to SuiteAnswers. On the right side of the page, click the Contact Support Online button. You can send questions or comments by email 24 hours a day. This process takes time, if you would like to have direct access to a NetSuite expert contact Protelo's team of NetSuite experts.
With NetSuite, response times vary depending on the level of support you have purchased and the support team's current case load. To improve response times, please provide lots of information (more is better), and if applicable, include steps to reproduce the problem.

NetSuite User Group Communities:
Connect, ask questions and learn from other NetSuite users. LinkedIn and Facebook are full of wonderful NetSuite User Groups tailored to NetSuite professionals.


NetSuite System Status:
The NetSuite Service Status Page is here to provide full visibility into service interruptions, performance, and unplanned outages. This page includes the current status, the aggregate number of submissions made in real-time, and the average uptime. This is updated monthly for a rolling 12-month timeframe. Check it out: https://status.netsuite.com.

NetSuite Release notes:
NetSuite release notes help NetSuite users, administrators, and developers stay up to date with the latest features and improvements, enabling them to take full advantage of the platform's latest and greatest capabilities. Release notes help administrators prepare for upcoming changes and plan their workflows accordingly.

Check out the latest 2023.1 release note updates:
Oracle NetSuite Release 2023.1: Finance Enhancements
Oracle NetSuite Release 2023.1: Human Resources & Workforce Management
Oracle NetSuite Release 2023.1: Operations, Inventory and Supply Chain


Extend and Customize NetSuite with SuiteApps
NetSuite SuiteApps expand the functionality of NetSuite, enabling users to customize their workflows and processes to meet their specific business needs. Browse thousands of SuiteApps that you can install into your NetSuite Account.

NetSuite Certifications:
NetSuite offers education services that teach NetSuite administrators and users new skills needed to increase their productivity and efficiency. This service includes Learning Cloud Support, a variety of on-demand learning resources, educational plans and user support options from NetSuite experts. Learn more about NetSuite certification options.
On-Demand NetSuite Administration Assistance
NetSuite is constantly evolving and changing to make business better with every update. Staying up to date with the latest and greatest enhancements (technical and non-technical) is essential to maximize NetSuite performance, streamline your processes, and know the ins and outs of the system. If your business needs on-demand administrative or technical support, our team is here for you.

Protelo is a top-notch NetSuite Partner who understands your business! Our customer service and services options are on-demand, with direct access to our certified NetSuite consultants, and a dedicated group focused on your business success.
Get NetSuite Administration Services

RELATED PAGES:
How to Implement NetSuite ERP in an organization
Learn More About Protelo's NetSuite Services
Why Customers Choose Protelo
NetSuite Workflows Guide
NetSuite KPIS Overview & Help
NetSuite Dashboard Tips & Tricks