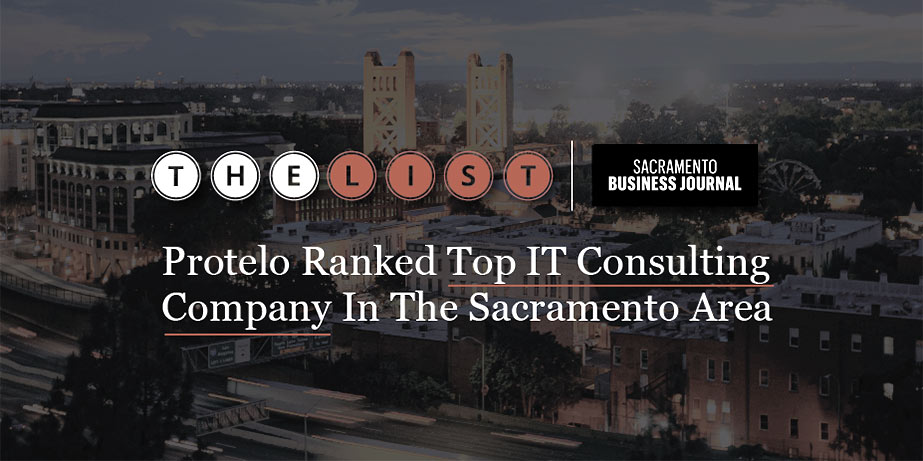 Protelo Ranked Top IT Consulting Company | Sacramento Business Journal

Every year, the Sacramento Business Journal compiles a list of the Leading IT Consulting Firms in Sacramento, El Dorado, Placer, and Yolo counties. According to the latest rankings as of March 31st, 2023, Protelo has secured the 12th position among the rapidly expanding Information Technology companies.

We are proud to be listed as a Top IT competitor since 2019 and continue to climb the ranks year-over-year with our Oracle NetSuite footprint. Our team of NetSuite ERP software experts have been servicing the Sacramento area and across the US with top-notch NetSuite services and solutions since 2011 and love to see businesses grow to get the most out of their business software. We are proud to make the list as one of the top NetSuite partners in Northern California.

It is our goal to help customers achieve what's possible through discovery and creation of solutions to meet their complex business challenges. Our team of technology experts have assisted hundreds of small, mid-market and enterprise companies across diverse industries and verticals in achieving their business goals. With an exceptional services ranking, we strive to surpass your expectations by delivering on-demand NetSuite services and support that go above and beyond for your business.


The Protelo Difference:
"At Protelo, we believe passionately in providing our clients with honest technology leadership. We understand our clients expect transparency and accountability in their relationships with us. Practicing openness and commitment ensures that our consultants meet our customer's expectations. In short, our clients trust us to say what we mean, and mean what we say."

Whether you are managing your business on legacy software, outgrowing your current applications and need a change, or searching for a modern platform built in the cloud like NetSuite ERP, we can help.
Learn More About Protelo & NetSuite


RELATED PAGES:
• NetSuite Services & Support
• How can ERP Benefit my Business
• Why NetSuite?
• Protelo Customer Feedback & Success Stories
• 8 reasons to work at Protelo
Easy, Direct Access To The Experts For Your Every Need
NetSuite Services: Whether you're looking for implementation, customization, optimization, or just simple answers to your questions, Protelo can help.
Legacy Services: If your business needs more tools, a small upgrade, or a big integration, please feel free to send an email to our software consultants. We'd love to talk with you about various ERP software options for your thriving business.