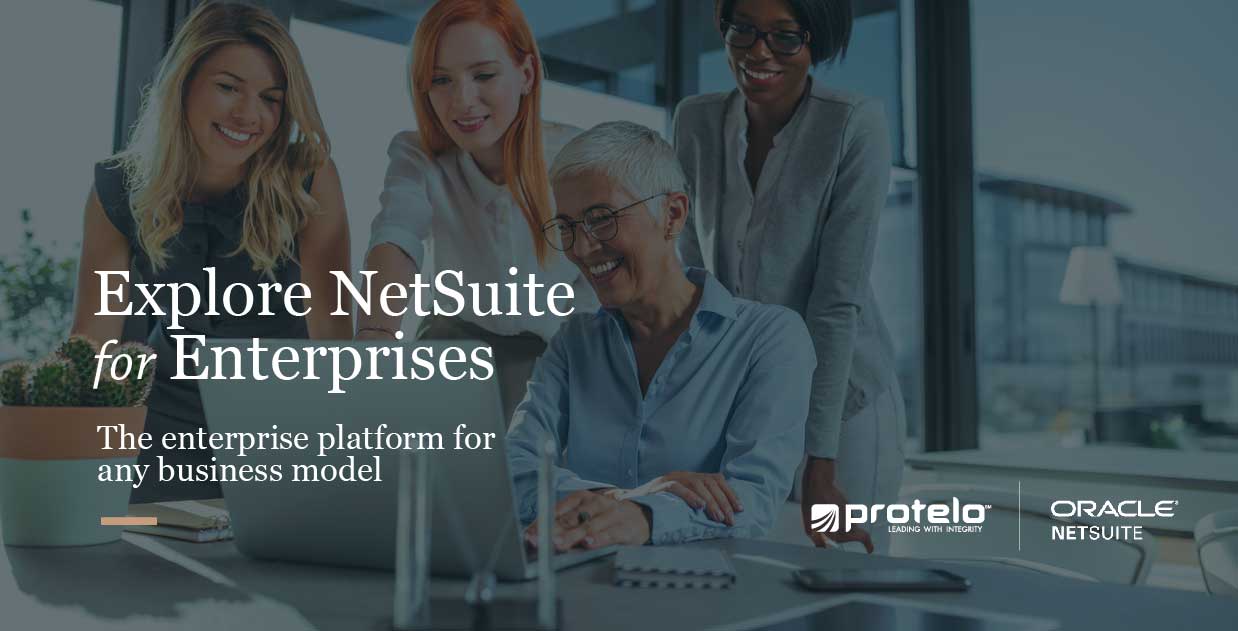 NetSuite for Large Businesses & Enterprises
Set your enterprise up for success with software that will support you as you grow.

NetSuite empowers the

world's largest

global

co

mp

anies

by

solv

ing

their most complex

challenges.
Agility, flexibility, and accuracy are critical to entering new markets, launching new products, expanding globally, and acquiring new business. Is your business equipped with the right technology to push you ahead of your biggest competitors? Large enterprises simply can't afford to waste time being burdened with outdated, disconnected, on-premise ERP.
What are the struggles of fast-growing Enterprises

and how can NetSuite help?
Pain point #1:
It is hard to get a complete view with different departments spread across different software, or perhaps your software doesn't work for subsidiaries.

NetSuite benefit: NetSuite was built on a single data source that provides business leaders a real-time, 360* view of their entire business to see which departments need attention and which areas are successful.

Pain point #2:
Legacy systems/on-premise ERP limits information sharing across multiple locations, requires an in-house IT team to keep running, and customizing the system for your business runs the risk of version lock.

NetSuite benefit: Between 50% and 90% or more of a typical IT Budget is spent on maintenance, not innovation. NetSuite's version-less cloud ERP can help you eliminate costly upgrades, reduce IT infrastructure management, and drive value. Download the 8 ways legacy ERP harms businesses.

Pain Point #3:
Audits can require tens of man-hours just consolidating data between different systems and departments.

NetSuite benefit: Audits present an opportunity for improvement and advancement to your bottom line. NetSuite's modern financial system will not only speed up the process but will provide your team live data, reports, the subsidiary, transactions and give auditors the confidence they need to get the right data.

Pain Point #4:
Expanding internationally brings a whole new host of compliance requirements, restrictions, supply chain management, and product strategies.
NetSuite Benefits: NetSuite gives you a real-time view into your international business processes, legal entities, and helps you manage multinational and multi-subsidiary operations NetSuite supports over 217 countries, over 190 currencies, and over 27 languages so your entire team can stay connected. Learn more about NetSuite OneWorld.





Pain Point #5: Running on outdated software that your company has outgrown.
NetSuite Benefits: From Startup to Enterprise, NetSuite grows with your business as it changes, expands, and acquires more demand. Learn more about NetSuite.


Pain Point #6: Concerns about adopting a cloud system due to security, compliance, and intrusion.
NetSuite Benefits: More than 1.3 trillion in IT spending will be affected by the shift to the cloud by this year! There is no doubt that businesses are curious about security and evaluating new platforms that fit their business best. NetSuite is one of the most secure cloud networks on the market. With 12 global data centers, password policy protection, database restrictions, intrusion detection systems, role-based access, and idle disconnect, you don't have to worry with NetSuite
Have additional pain points or questions on how NetSuite is different than its competitors? Our team is happy to help your enterprise evaluate the best solution and fit for your business. Contact our team today for a free product tour.

Customer Success Stories by Enterprise Companies Like You

NetSuite powers the most innovative top enterprises with powerful, advanced technology. NetSuite is highlight scalable, customizable, and designed for your growth with 31,000 companies like you, running on the cloud.
Get NetSuite ERP Pricing: 2-Minute Calculator





NetSuite ERP: A single, unified, cloud-based software platform for your entire global organization.
NetSuite ERP software is the world's leading provider of cloud-based financials/ERP designed to help global companies meet their complex industry requirements. NetSuite integrates all functions and departments into a single system to streamline information, synchronize reporting and provide automation across the entire organization. It also enhances day-to-day business activities such as compliance, accounting, supply chain, procurement, manufacturing, project management and helps to plan, predict, budget, and report important financial results.

• IT Executives Need a True Cloud ERP
• Important Indicators That Your Business Is in Need of Cloud ERP
• Contact Protelo for more NetSuite information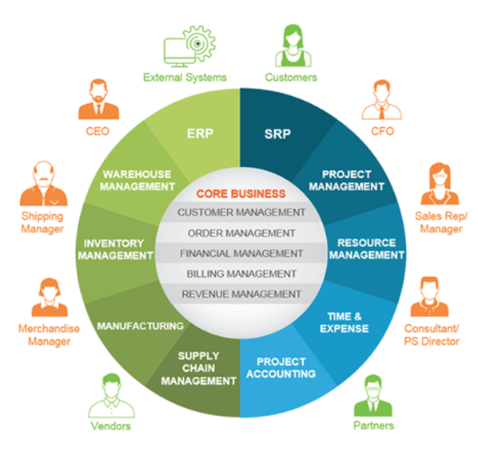 NetSuite unites all facets of your business into one customizable, flexible, and intelligent cloud interface. With over 650 integrations and a vibrant partner support network, NetSuite is extensively tailored to your business and its processes.
Why Businesses Choose Cloud ERP
Why work with an award-winning NetSuite Solution Provider to learn more about NetSuite?
Take advantage of our flexible service offerings, and benefit from an in-depth knowledge of business applications that will ensure you get the solution, licenses, services, and support that's right for you. For more information about NetSuite, a Free Product Tour, or NetSuite custom pricing, contact Protelo today!

Why Protelo? Out of the many options your business has online, NetSuite customers choose to work with our expert NetSuite team because of the personalized business guidance and one-on-one support. Whatever industry or sector you are in, our highly skilled NetSuite team at Protelo understands your business challenges and the solutions you need to succeed. Our NetSuite team has assisted hundreds of small, midmarket and enterprise companies in achieving their business goals.

RELATED NETSUITE PAGES

Follow Protelo on Social for NetSuite tips, tricks, and ERP fun:
YouTube, LinkedIn, Twitter, Pinterest, Instagram, and Facebook