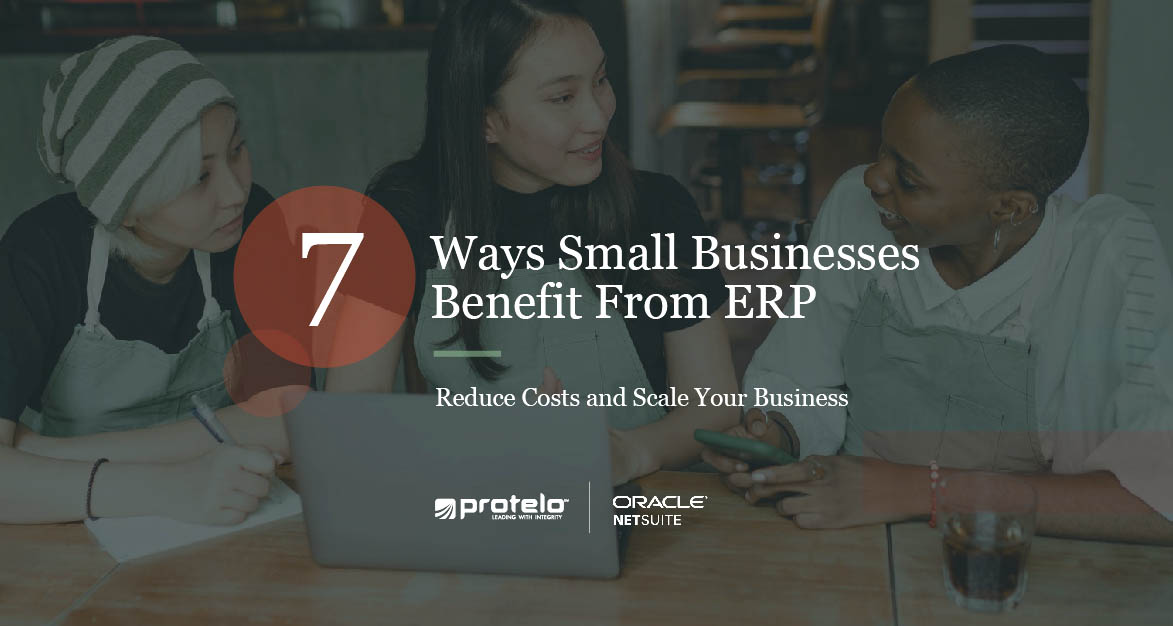 Why small businesses choose NetSuite
A cloud-based business software solution that scales to meet your growing needs.
Is ERP good for small business? Millions of growing businesses settle for a patchwork of entry-level software solutions such as Excel, QuickBooks, Sage, Microsoft, Intacct, Odoo, and email contact applications to run their organization. But as companies grow, a disconnected hairball of applications result in inconsistent, outdated data that can often become expensive to maintain. In a lot of cases, small to mid-size businesses assume that only large organizations need an ERP solution. The reality is, small businesses need to invest in ERP and they can't afford to wait.
Every small business has the possibility to become a fast-growing company. When businesses discover that they have outgrown their software and it no longer fits their expanding needs, it is easy for them to become held back from their true potential.
According to Boston Consulting Group, businesses today have a one-in-three chance of not making it in five years. It has never been more important for companies to match their vision with market dynamics and stay ahead of the competition. Regardless of the industry, growing businesses need a system that scales by design, is engineered for rapid growth, expands internationally, and future-proofs businesses to get ahead.
The Benefits of NetSuite for Growing Businesses
Achieving the perfect fit.
Break through manual processes with NetSuite ERP. NetSuite provides a way to adapt to market trends and scale rapidly as you grow, with proven results. NetSuite is the #1 software to run ERP, CRM, financials, and ecommerce in the cloud through it's modern system. NetSuite provides efficiency, visibility, and insight into the entire business. NetSuite empowers businesses to streamline the entire business and lower costs tailored perfectly to your business requirements and details.
7 ways small businesses benefit from ERP.

Cloud-based software helps small businesses make better, faster decisions in today's unpredictable business environment. Learn the key challenges that organizations are confronting right now and how a cloud-based software system can help them transform companies into resilient organizations.
NetSuite Solves Small Business Challenges
NetSuite is a powerful and scalable solution that allows you to focus on achieving your business goals by:

SPENDING LESS TIME THINKING ABOUT TECHNOLOGY.
Your company's software should be flexible enough to adapt to any change in your business and help the team make their goals.

REMOVING MANUAL PROCESSES.
If your people find themselves spending much of their day hand entering sales orders, invoices or budgets, it is time to consider an upgrade.

THE REWARD OF REAL-TIME VISIBILITY.
Today's business world requires up-to-the-second, real-time reporting and visibility to ensure your business thrives.
No matter the size, no matter the complexity, your business will hugely benefit from NetSuite's fully integrated ERP software system. NetSuite is the #1 cloud ERP for small businesses on the market that offers CRM, Financial Management, accounting, eCommerce, Inventory and warehouse management.
NetSuite has more than 36,000 customers around the world using their platform. With personalized real-time dashboards and the adaptability to easily customize the software to fit individual business needs, it's tough to find a superior product.

RELATED NETSUITE PAGES
Set Your Company up for Future Success
How can we help you? Protelo is the largest NetSuite partner and implementation expert in Northern California and we work nationwide. Our team of experts has an average of 25 years experience each helping businesses like yours achieve success with ERP. Many customers choose to work with NetSuite partners instead of NetSuite directly, because of the personalized approach and breadth of senior-level experience partners like Protelo can provide.
Take advantage of Protelo's flexible service offerings, and benefit from an in-depth knowledge of business applications that will ensure you get the solution, licenses, services, and support that's right for you. For more information about NetSuite, or for a Free Product Tour, contact Protelo today!
Want to learn how NetSuite can benefit your business?
Protelo's NetSuite consultants are premier implementation experts that provide tailored one-on-one support for all aspects of your NetSuite system. Are you interested in a NetSuite quote? Want to learn more about the software? From purchasing a NetSuite license, to fully customizing the platform for you, we can help your company pick and choose which features you need most.

Award-Winning NetSuite Reseller & Implementation Partner
Protelo is a NetSuite reseller, and we're passionate about making sure our clients get the most out of NetSuite possible. Our award-winning NetSuite consulting team would be honored to help guide you. Please feel free to contact us. What does a NetSuite ERP system cost for small businesses? Calculate now.
Request A Customized NetSuite Price Quote