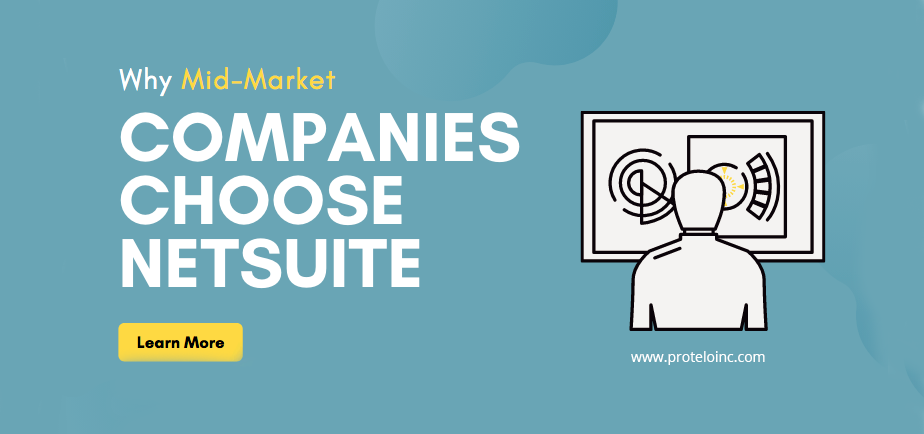 Why Mid-Market Companies Choose NetSuite
The only thing consistent in the business world today is that fast-paced change is inevitable.
It is mandatory for companies to operate on cutting-edge technology and keep up with emerging trends. Today's globalized business landscape means opportunities arise around the world and data is the key to running a productive global company. More and more companies are choosing to run their business in the cloud to achieve competitive differentiation with "work anytime, anywhere" capabilities.
Legacy Technologies: Driving Process Inefficiency
Most companies running on old technologies are stuck relying on disparate systems, are outgrowing their current platforms or are stuck with clunky legacy on-premise solutions. These common issues drive inefficiency and the manual processing of information becomes a major time-sink for administrative, finance, and operations departments.
Version-lock and outdated systems can be a thing of the past with a cloud ERP solution that is able to bring together all business unit operations in one single source. In this article, we will explore the reasons Gartner analysts name NetSuite as a top solution for mid-market businesses to run their cloud financials, ERP, and omnichannel commerce operations.
Gartner Names the Top Cloud Business Solutions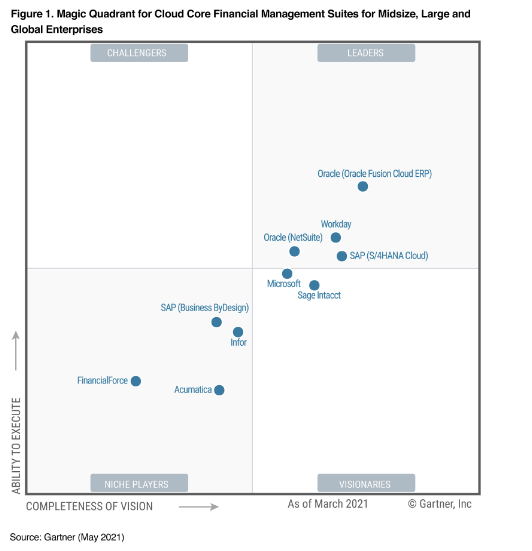 According to a new report from Gartner, NetSuite is the leading cloud ERP system and the world's fastest-growing financial management solution for the last three years. The report finds that NetSuite can deliver significant benefits with real-time insights, streamlined processes and a 360-degree view of performance across the business.
NetSuite Solves Mid-Market Business Challenges
NetSuite is a powerful and scalable solution that allows you to focus on achieving your business goals by:

SPENDING LESS TIME THINKING ABOUT TECHNOLOGY.
Your company's software should be flexible enough to adapt to any change in your business and help the team make their goals.

REMOVING MANUAL PROCESSES.
If your people find themselves spending much of their day hand entering sales orders, invoices or budgets, it is time to consider an upgrade.

THE REWARD OF REAL-TIME VISIBILITY.
Today's business world requires up-to-the-second, real-time reporting and visibility to ensure your business thrives.
More than 29,000 leading customers today are changing the dynamics of business and transforming industries with NetSuite.
The new generation of leading companies think, act, and operate differently. Middle market and enterprise companies around the world are transforming their view of business and harnessing the power of cloud ERP for growing midsize businesses.
On Premise ERP vs Cloud ERP Overview
NetSuite is the world's leading provider of cloud-based business management software helping companies manage core business processes with a single, fully integrated system from ERP, Financials, CRM, Ecommerce, Professional Services Automation, inventory and more. NetSuite is fast to deploy, easy to use and flexible enough to support all aspects of your business.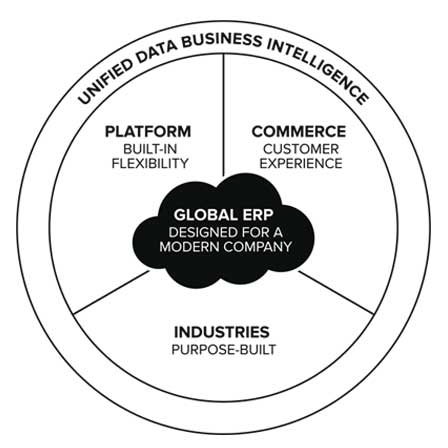 NetSuite Benefits for Mid-Market Businesses:
What are NetSuite's Customers Saying?
Customers like Lift, Snapchat, Groupon, LoveSac, Burt's Bees, School of Rock, Williams Sonoma, Land O' Lakes, and Go-Pro have transformed their operations with NetSuite's single integrated suite with powerful native features.
"NetSuite is helping us transform how efficiently and effectively our company is run. We now have 360-degree visibility into inventory and customer transactions across all channels, which is essential in providing a holistic omnichannel commerce experience and ensuring a high degree of customer satisfaction that drives loyalty and repeat business."
– Ryan Johnson, COO of Lovesac
"We really established the foundation of our business with NetSuite, and the reality is we could not have scaled the business as quickly as we did without NetSuite in place."
– Stephen Baumer, CTO of GoPro
"NetSuite serves all of School of Rock's needs from billing to business intelligence on one unified platform. No other solution can provide a turnkey system that transforms our business like NetSuite."
– Chris Catalano, CEO School of Rock
---
NetSuite Experts here for you
Whatever industry or sector you are in, our highly skilled NetSuite team at Protelo understands your business challenges and the solutions you need to succeed. Take advantage of our flexible service offerings and benefit from in-depth knowledge of business applications that will ensure you get the solution, licenses, services and support that's right for you.
Get A Free NetSuite Trial Today Calculate NetSuite Pricing Fast
---
Take advantage of a few complimentary downloads about NetSuite for Mid-market businesses: