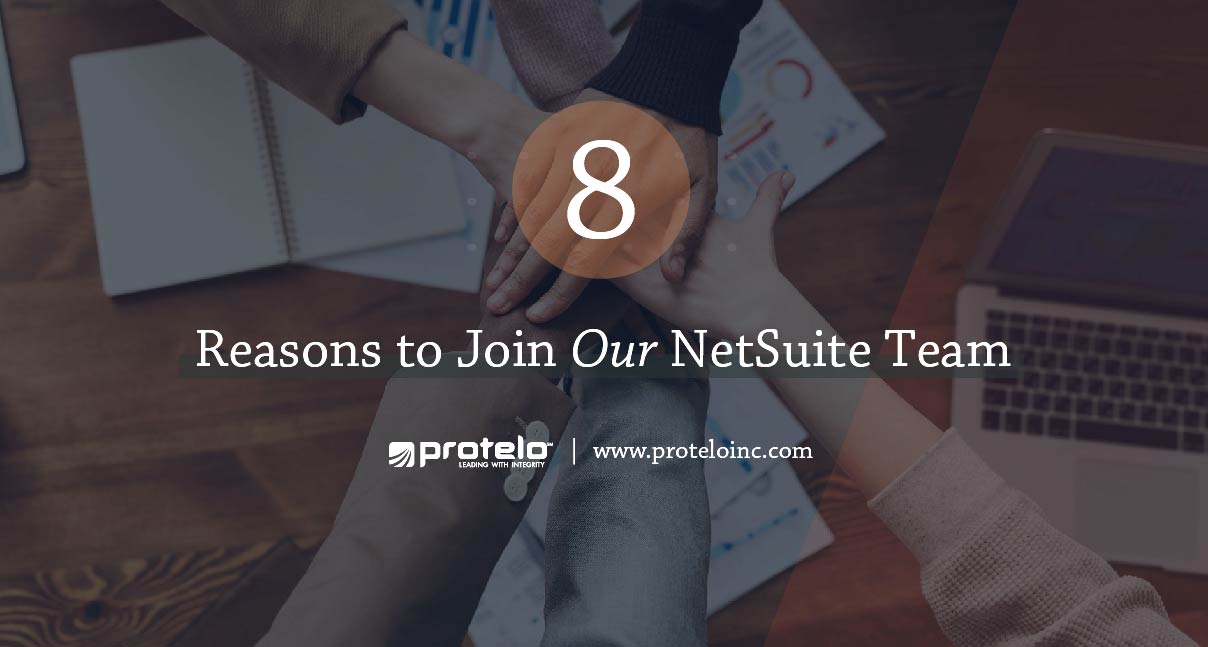 8 Reasons to Join our NetSuite Team | Protelo, Inc.
It's the unique contributions of all Protelo employees that drive our success—interested in joining an award-winning NetSuite team? Read on.
To put it simply, our employees are our greatest asset. Protelo is looking for talented individuals to join our fast-paced, steadily growing, established NetSuite consulting team. Quality is at the foundation of everything we do, through our seasoned employees, close customer relationships, daily interactions, and flexible work environment.
Get to know our team, learn why we're different than other NetSuite partners, and discover the ways Protelo will support your happiness and motivation while working here.
Over the past decade, Protelo has tripled in size and continues to push the NetSuite boundaries with SuiteApps, integrations, implementations, services, and consulting. Amongst an extremely competitive software environment, Protelo was awarded as the NetSuite Growth Solution Provider Partner of the Year.
If you are looking for an incredibly rewarding place to work and grow, let us help you in your job-seeking process. Learn the top reasons that set our team apart from the rest.

Our Growing Team
Protelo's 40+ person team is fueled with long-term, invested, and experienced individuals that make our company proud. From different industry backgrounds and education levels, our team comes together cohesively to bring our best foot forward. One of the best things about our team is that we feel like family and invest in our people. Protelo lets people be themselves, is open-minded, celebrates differences, and encourages hard work. Meet the Protelo team.
We're actively hiring & looking for great people to join our incredibly talented team. We are currently looking for experts in all areas of NetSuite from BDR all the way to technical, functional consultants. Join our team!

Inclusion & Open Communication:
As a growing and expanding team, it is our commitment to foster an inclusive work environment for local and remote employees. At Protelo, everyone is valued and respected. It is our goal to continuously provide tools, resources, and team interaction to invest in your success. In a virtual world due to the pandemic, we are continuously brainstorming ways to connect our team together. Learn more about Protelo.

Employee Satisfaction Matters
From C-level to entry level, it is our goal to attract, retain, and cultivate leaders at every level. As an organization, we pride ourselves on being a go-to NetSuite resource that customers can trust and believe in. We seek to serve our clients and our employees with open and honest communication, transparency, and integrity.
Here are a few reviews of employees about working for Protelo:
"A great work environment and family atmosphere."

"Protelo is a great company, with great people, and I plan to stay a long time."

"I love the daily opportunities that I get to work with extremely intelligent people."

"I appreciate the generous company benefits."

"I believe in Protelo and our direction."
At Protelo, we continuously seek to nurture employee relationships as our team spans across Portugal, Poland, California, Wyoming, Pennsylvania, Illinois, Ohio, Maryland, and more. While many are working from home, and many Covid restrictions, our team continues to push the boundaries for inclusion, fun in the workplace, and interaction in an easily disconnected work environment. Learn more about our team.

Companywide Benefits & Rewards
With a positive, synergy-fueled work culture, our company offers its employees competitive compensation packages, annual 401(k) contribution, healthcare benefits, annual trips to exciting destinations, team outings, bi-weekly lunches, celebrations for birthdays and random national holiday fun. Protelo's workplace environment is like family with genuine care and concern for each other, working as one close-knit, solid team.

Business Growth & Opportunity
Our team has worked hard to be recognized as the NetSuite's Growth Solution Provider Partner of the Year. Our success starts with our talented NetSuite team and a stellar level of service to our clients. We are proud to work as a supportive and cohesive team to attain these valued recognitions.
Protelo has won numerous awards and acknowledgments for our services both locally and nationally. "The Growth award is a true testament to our team at Protelo and at NetSuite," said Tom Victor. "Protelo prioritizes focused dedication to excellence in how we treat our NetSuite customers and projects—big or small."
Protelo has transformed hundreds of small, medium, and large size organizations into streamlined, integrated, efficient businesses with NetSuite ERP software. As we continue to grow, Protelo offers training opportunities, mentoring, certifications, and resources to help our consultants stay at the top of their NetSuite education goals.


Happy Customers
Our NetSuite team is small enough to care yet big enough to deliver. With 100k Consulting hours and 250 NetSuite customers, our employees get to work with some of the best companies in the world. It is our goal to maintain a high level of customer satisfaction, direct interaction, and quality.
We invest in long-term relationships with our customers and have worked alongside many of them for handfuls of years. They are given our undivided attention and know they can rely on us to deliver results. Clients are happy to come to us for direct support because they know we are going to act in the best interest of their business. Check out our client success stories.


Our Vision for Growth & Innovation
As we continue to grow year-over-year, Protelo works hard to stay at the forefront of business technology. Our team is constantly pushing to reach new levels of success with our customer satisfaction ratings, NetSuite integrations, and SuiteApps to sustain a competitive advantage over other NetSuite partners.
It is our goal to provide our consultants with the abilities to pursue their growth and create out-of-the-box solutions. We love to help companies and our employees grow. Protelo was just awarded the SBJ 2021 Fastest Growing Companies award for our growth in revenue, employee count, visibility in our local area and beyond.
Our Success is Your Success
We strive to be a cohesive team with employees that know their worth. Our team loves to work here not only because our clients are satisfied, but because our employees know and feel they are a part of every success. They are noticed and appreciate the acknowledgment and rewards of their contributions. Protelo's core values reflect in the way we conduct business with clients and vendors, and the way we value and respect one another in the workplace.
We have various social media outlets (Instagram, Twitter, Facebook, LinkedIn, YouTube, and Pinterest) that we use to share all of our company experiences, successes and milestones, so everyone can see how our organization truly is THE BEST PLACE TO WORK!