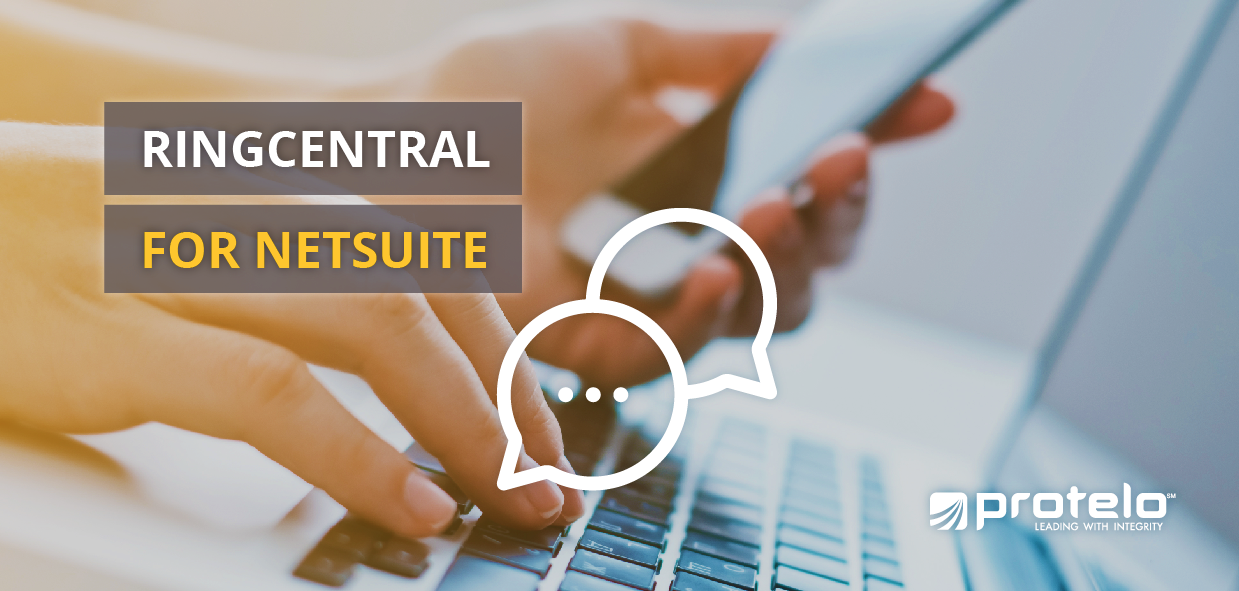 NetSuite and RingCentral Integration
Integrate RingCentral with NetSuite ERP
Looking to integrate NetSuite and RingCentral?
Frustrated with important information living in disparate systems?
The NetSuite and RingCentral Integration is a powerful tool to unify your phone system and ERP. For your sales force, marketing, accounts payable, accounts receivable and associates that speak with customers—the RingCentral and NetSuite integration can save valuable time and increase efficiency.


Why Protelo's RingCentral for NetSuite SuiteApp? RingCentral for NetSuite is a NetSuite-Certified SuiteApp, meaning the product has gone through a rigorous testing and certification process by Oracle NetSuite. Protelo's RingCentral for NetSuite product is updated and tested for every bi-yearly release of NetSuite and our developers maintain the integrity, safety, and security of the product.

There are "free" RingCentral connectors on the market that are not backed by Oracle NetSuite and it is not a recommended best practice for ERP to install bundles that may break during future releases.
NetSuite RingCentral Benefits
Increase efficiency across the sales force, accounting, operations and customer facing positions.
Track outbound calls across the enterprise.
Integrate RingCentral features into NetSuite for streamlined call management.
Inbound & Outbound Screen Pops
within NetSuite

Screen pops within NetSuite identify the caller and pull up their
contact record and relevant information before the call is answered.

Call Logging & Call Reporting

Track start and end time of calls, number of calls and who is calling.
Keep track of your customer-facing team.

One-touch Dialing

No more wasted time dialing numbers—enable your sales force or
customer-facing team to begin and track a call with one click.
RingCentral and NetSuite integration features:


What are the benefits?
Connect RingCentral to your NetSuite ERP system and manage calls within NetSuite
Click-to-dial / one-touch calling direct from the contact record to your VoIP phone or cell phone
Access global search from the phone call record / look up multiple contacts without leaving the record.
Call from a specific number or multiple numbers directly from the NetSuite contact record
Automatically trigger a pop up of the NetSuite phone call record from inbound calls
Easily log phone call notes for team access or future reference
Add calls to homepage reminders for follow up
About the integration:
Manage the integration in NetSuite's Telephony menu
Easy to install and configure
Unlimited number of users
Pay annually per number of users
Check out the RingCentral for NetSuite Integration at SuiteApp.com or contact us directly for a quick demonstration.
Expert Consultants Here for Your Business
Have questions about your NetSuite account?
Protelo can help ensure your NetSuite instance is aligned with the latest tools and release protocols and be a valued resource for your team.
Our award-winning NetSuite consultants can assist your team in the implementation, configuration, customization and services of NetSuite solutions to work for your unique business processes. We provide support, administration and process optimization to ensure organizations get a return on their investment.
Whether you are looking for a one-stop-shop for all things NetSuite, or simply need answers to your questions, our NetSuite experts are here to make your business better.
We want to help you find the right solution that fits your budget and your business.
Speak to a NetSuite integration expert today.
---

RELATED NETSUITE PAGES