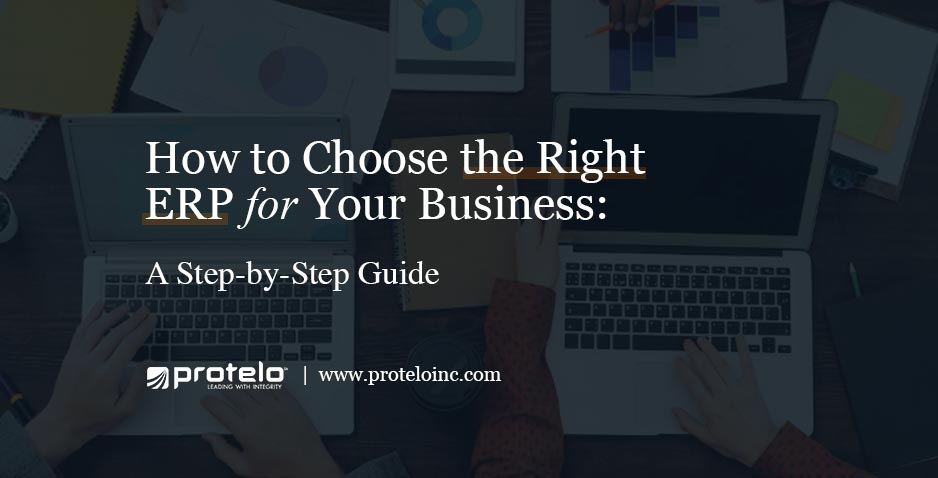 How to Choose the Right ERP for Your Business: A Step-by-Step-Guide
Expert advice on selecting the right ERP system for your business
How do you know which ERP is right for your business? Selecting an ERP system requires careful consideration and research. With 25+ years of experience in the software industry, our team has compiled a list of helpful steps to help you in the process of selecting an ERP system that best fits your business.
There is a lot of information about enterprise resource planning (ERP) systems and the benefits, but how does a businesses actually calculate the ROI of an ERP? As a business grows, so does the complexity of running on separate applications with error-prone, manual tasks, and inconsistent data. ERP integrates and automates core business functions into a unified platform to access data in real time and to make better, faster, business decisions. Having the proper ERP in place will reduce error, increase efficiency, lower complexity, and save your business money.



Follow these steps to find the right ERP:



STEP 1 | Pinpoint your business requirements:
First, you need to identify your business needs and goals. Analyze your current processes, establish the areas that need improvement, and highlight the functionalities you require to improve productivity and efficiency in your business.
STEP 2 |

Determine a budget:
Set an amount of how much you are willing to spend on an ERP system. Consider both the upfront costs, implementation, potential customization and ongoing services. Many successful companies look at ERP as a core investment with tangible ROI through increased efficiency and visibility. Companies that look at ERP as solely an expense risk choosing the wrong ERP solely based on price.
STEP 3 |

Analyze different ERP systems:
Do your research! Compare features, functionalities, and pricing of many different ERP systems to see what is designed for your industry and what fits your business requirements best. Many clients choose to do research on their own, but contacting a consulting firm that specializes in ERP software you are interested in is a great way to get hands-on help in your buyer's journey.




STEP 4 |

Choose a vendor

:



Select a knowledgeable partner or reseller who has experience implementing ERP systems for businesses in your industry. Make sure to reach out to their references to make sure they are a good fit for your business.


ERP BUYERS GUIDE: COMPARE ERP SYSTEMS

Don't see what you're looking for?
Contact our industry experts for additional software comparison guides.



STEP 5 |

Assess the implementation process:



Evaluate the implementation process to ensure it aligns with your timeline and objectives. Consider the support and training provided to your employees during and after the implementation.
• Tips for a successful ERP implementation



STEP 6 |

Set your business up for growth:



Make sure the ERP system can scale, grow, and evolve as your business changes to meet your needs now and into the future.



STEP 7 |

Walk through the system

:



Make sure to request a solution discovery session to gain a better understanding of the ERP system to see if it aligns with your requirements and exact needs. Make sure the software company you are working with has the ability to meet your time frame, budget and can streamline manual processes.



STEP 8 |

Hire the right team of Software & Experts
It is critical to have a team of software experts to work alongside you as a partnership! It is important to set your business up for success as you shift your entire organization onto a new platform and customize it to meet your growing complex needs. These software experts can walk you through every phase of the journey.

From demonstrations to purchasing, licensing, implementation, customization and services. Many companies have different teams that assist only with part of the process. Learn the benefits of working with a software partner. Learn about the many benefits of partners.
STEP 9 |

Implementation, Training, Customization & Ongoing Support



The entire implementation strategy usually consists of planning and preparation, configuration and data migration, testing and training for your go-live date. Once you are up and running make sure your project manager can walk you through the system, train your staff, and support your business. Depending on the size of your company, a, ERP implementation can potentially become a full-time job for someone. Learn more about the steps to plan for an Implementation.
By recognizing your top business needs and requirements, budget range, evaluating vendors and the system, businesses can make a knowledgeable decision that benefits your business for future success.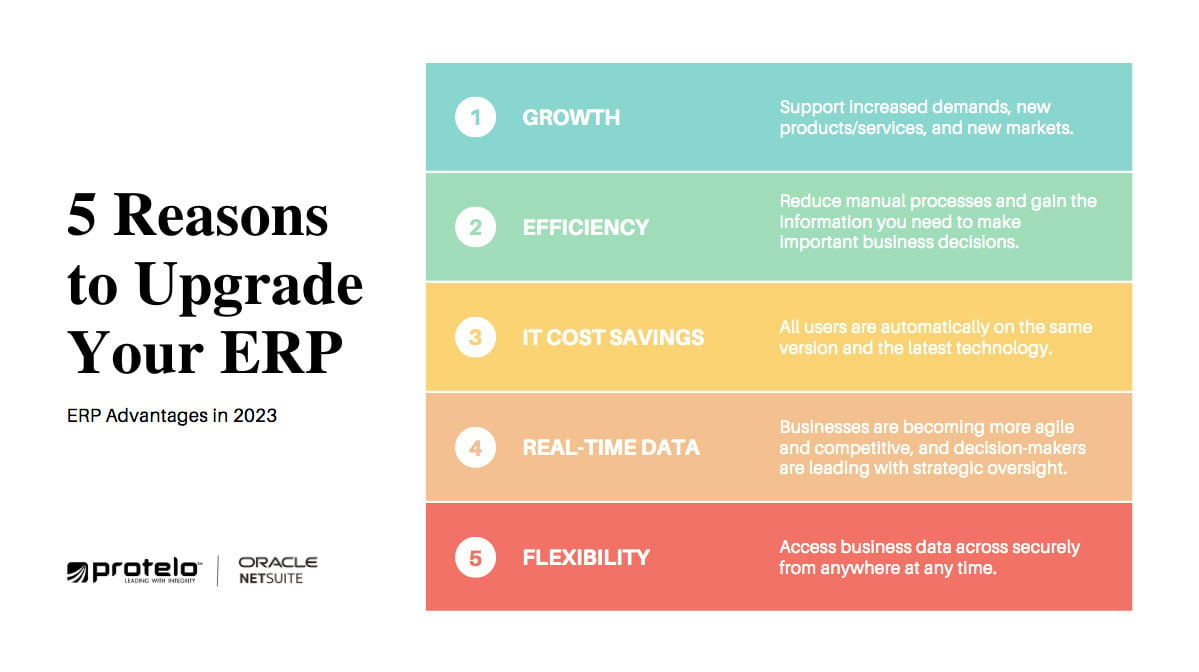 How does NetSuite stand out from its ERP competitors?
Oracle NetSuite is the #1 cloud-based ERP on the market that offers a wide range of features and benefits that set it apart from its competitors in the ERP market. Here are some key ways in which NetSuite ERP stands out:
Extensive functionality: NetSuite ERP is a single, integrated platform that allows businesses to manage all aspects of their organization. NetSuite offers top-notch features and modules, including financial management, order management, inventory and supply chain management, human resources, CRM, e-commerce, and more.


Cloud-Based Benefits: NetSuite was built in the cloud, which means it's scalable, agile, and grants the ability to tailor the software to meet your exact business needs for growth. NetSuite can be accessed from anywhere, anytime with an internet connection allowing decision makers to make up-to-the-minute business decisions and workforces with the access they need while on the go.


Powerful analytics and real-time reporting: NetSuite provides powerful insight into your business data with up-to-the-minute reporting, analytics capabilities, data visualization, customizable dashboards, and the ability to create reports quickly.


Flexibility & Scalability: NetSuite was created to scale and adapt as your business grows. From small businesses to large enterprises, NetSuite supports businesses of all sizes as they change, increase requirements, and expand over time. Learn the benefits of NetSuite.
Extensive Customizations: NetSuite provides the capabilities for businesses to tailor the system to meet their specific needs. Customizations are created by adding custom fields, workflows, scripts, and easily integrate with third-party applications. NetSuite allows for further personalization beyond the standard functionality by utilizing NetSuite Add-on Modules.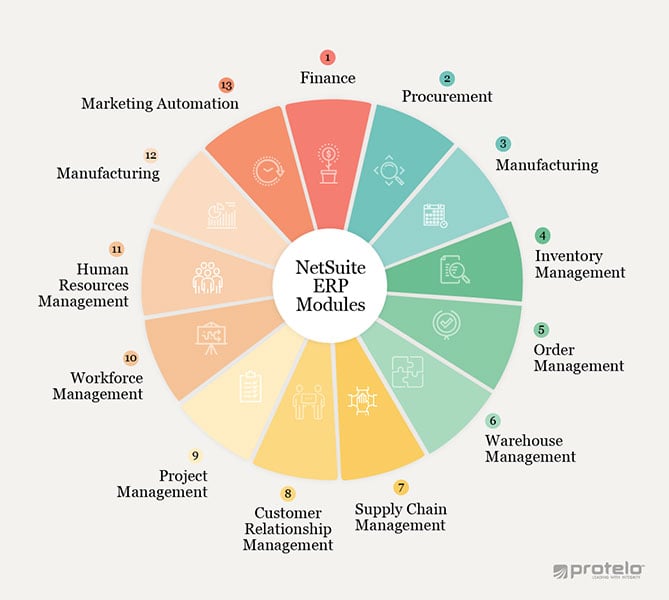 Industry-specific solutions: NetSuite offers a range of industry-specific solutions, including software for manufacturing, retail, e-commerce, and more. From improved data integration and supply chain visibility solutions to warehouse management system benefits, NetSuite's cloud platform provides newfound efficiency and insight into every facet of your business.
Overall, Oracle NetSuite ERP is a strong contender in the ERP market due to its features, flexibility, and scalability. Interested in learning more? Our NetSuite experts will discuss your requirements, address your business needs, answer your questions and provide a FREE product demo tailored to your business.

We want the licensing purchasing process, implementation, customization and training process to be seamless and collaborative with direct access to our knowledgeable team. We are here to make your business even better with the #1 cloud ERP software on the market.

GET 2023 NETSUITE PRICING | REQUEST A DEMONSTRATION | EVALUATE NETSUITE




Why work with an award-winning NetSuite Solution Provider to learn more about NetSuite?
Protelo, Inc. provides Oracle NetSuite services, support, training, design and development that is matched by top-notch customer service. Check out our client page for more featured customers and learn about the 10 reasons why companies like to work with our team of NetSuite experts. Our NetSuite team has assisted hundreds of small, mid-market and enterprise companies in achieving their business goals.