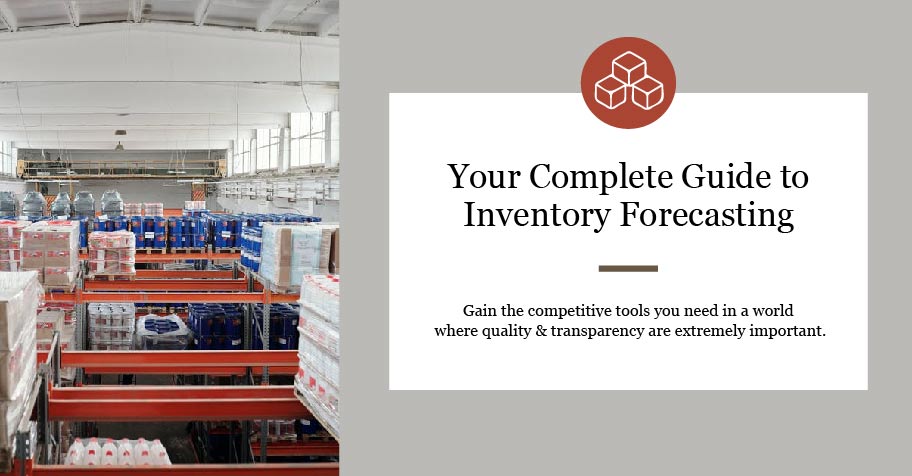 The Beginners Guide to Inventory Forecasting
Benefits, best practices, and business trends involved with Inventory Forecasting
What is inventory forecasting & how does it help? Inventory forecasting is a critical business planning function. At its core, it is predictive analytics that attempts to predict customer demand and optimize supply decisions. Highly accurate forecasts generate innovative demand plans that enable better decision making, increase profitability, efficiency, and customer satisfaction. It also allows companies to reach their revenue goals, monitor demand, and allows teams to make data-informed predictions with statistical insights.
As technologies continuously improve, forecasting allows businesses to predict and develop solutions tailored directly to their business. Learn the latest forecasting tips and trends to improve business visibility and efficiency and a list of expert steps to get started.
According to a Mckinsey survey of global supply chain, 85% of their survey respondents over the last year said that they struggled with insufficient digital forecasting technologies in the supply chain.
Get what you need, when you need it, and control costs along the way.
Sophisticated businesses are utilizing inventory forecasting not just for planning but for better process improvement, optimization, and analysis. By utilizing reliable business data, Inventory forecasting allows businesses to balance profitability and unsold goods to better align stock levels towards business goals. Having accurate inventory levels increases supplier and customer satisfaction and allows popular items to be on the shelves when you need them.
NetSuite Inventory Planning Overview & Demonstration: Demonstrating the power of inventory planning in terms of how to set it up, establish a time-phased replenishment, create lead time, safety stock levels by location, and supply planning for ordering and submitting orders.

Inventory Management Challenges
Managing your inventory impacts every part of your business as it proposes a large list of challenges.
Inconsistent Visibility: Manual inventory tracking procedures are time-consuming and susceptible to error, especially if it connects different software applications and spreadsheets. If your inventory is difficult to locate, it creates shipments that are mismanaged, postponed, or insufficient. As consumer demands and supply chains continue to change expeditiously, it has never been more important to have the right combination of business data and insights to forecast your business correctly.
Unreliable Business Data: Inventory levels need to be accurate, on-demand, real-time and available at the drop of a hat. Having a centralized inventory tracking system is vital for a successful warehouse and the only way to create a positive customer experience. Accuracy, visibility, and tracking are three especially crucial factors to having the right stock levels in your warehouse.
Accurate Customer Demand: Customer demand continues to morph daily. It is important to keep the perfect amount of inventory on hand that you can sell, while knowing how much you will need to fulfill with projected upcoming customer orders. Having the right business software in place can help your business create a plan to change with demand.
Emerging Competition: Over the past 30 years, supply chains have become increasingly global due to the raw materials and that are tradable and more affordable. Global supply chains are faced with economic shifts that unpredictably impact their competition for materials and involve increasing prices, high demand, and balancing inventory. Emerging and maturing supply chain technology is a major source of competitive advantage.
By 2024, 50% of supply chain organizations will invest in applications that support artificial intelligence and advanced analytics capabilities. Gartner Report

The Advantages of Inventory Forecasting
Accuracy: Improve your business with less manual labor and an increase in automation with trend analysis, out-of-stock item forecasting, and potential trends to maintain and predict the supply chain.
Cost Savings: Maintain the right amount of stock on hand when you need it, and less money tied up in the stock that is stuck on the shelves. Learn more about our inventory planning integration.
Profitability: Reach your goals but aligning stock levels, increasing profits, and reach accuracy with data reporting.
Quality & Satisfaction levels: – Having the right forecasting practice enables customers and suppliers the satisfaction you need for success, growth, and resupply.
Inventory Management & Tracking: Gain the information you need to control your inventory, monitor the status of your products, automate processes, and gain real-time visibility of your stock levels.
Inventory Control & Optimization: Inventory control is vital in supply chain management and provides tools to organize stock by various categories of information like product type and serial number. Inventory control also allows users to generate detailed reports to look at products, create audits, and view locations.
Inventory Forecasting Guide:

Learn the common Inventory management challenges that businesses are facing and how better forecasting helps businesses succeed in today's competitive marketplace.
NetSuite Supply Chain & Inventory Management Benefits:
Global ERP designed for a future-facing business.
#1 Cloud platform in the industry.
A unified data model that eliminates integration hassles and disconnected point solutions.
React swiftly with changes and challenges — NetSuite replaces complexity with a single software suite that prevents errors and delays.
Remain informed about your business – Receive actionable insights on every aspect of your operation at any time.
NetSuite provides the competitive tools businesses need in a world where quality and transparency are extremely important.
What is Inventory Planning? Inventory planning is a strategic advantage that is often overlooked. Finding an inventory balance can create true success for your business. With the right tools in place, business owners can plan inventory adequately and efficiently. With NetSuite demand planning, NetSuite provides the tools for managing stock, cycle counts, forecasting, and ordering in multiple locations.
By embracing the NetSuite cloud as part of a digital inventory management strategy, companies are not only positioned for today's fast-paced, highly competitive environment but are positioned to significantly improve their business with better visibility.
Imagine the business potential when your supply chain and inventory are efficient and no longer being held back by obsolete systems. NetSuite is the #1 cloud ERP system on the market for accounting, inventory management, human resources, and customer relationship management, financials, ecommerce, and the solution to more than 31,000 customers. ERP gives a global, real-time view of data, reporting, BI, and visibility across the business.

Why work with an award-winning NetSuite partner like Protelo to buy NetSuite?
THE PROTELO DIFFERENCE: One of the main reasons NetSuite Partners are so beneficial is because they are independent businesses not bound by corporate sales quotas or directives. NetSuite has a customer service team, but because of the volume of customers serviced, you can't always get an instant answer or talk to a live, United States-based representative.
As a full-service NetSuite partner and reseller, Protelo takes pride in building quality customer relationships. As an experienced NetSuite partner, Protelo ensures its customers can maximize the return they realize from investments in technology.
Learn More About NetSuite Get A NetSuite Price Quote Today
RELATED NETSUITE PAGES