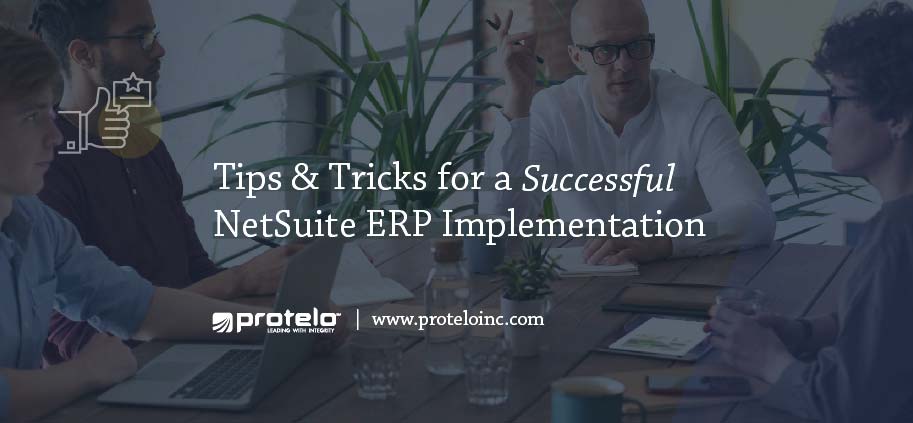 Guide for a Successful ERP Software Implementation
Implementing a comprehensive cloud-based Enterprise Resource Planning (ERP) system, can be a transformative experience for your business. It can streamline operations, improve efficiency, and provide valuable insights into your organization's performance.
The success of your implementation depends on careful planning and execution. In this blog, we will provide you with essential tips for a successful ERP implementation. We have put together a few tips that will help make your NetSuite implementation smooth, cost-effective and efficient to your individual business needs.

Before you begin the implementation process, it's crucial to clearly define your objectives. What do you want to achieve with the software? Whether it's improving financial management, enhancing customer relationship management, or streamlining inventory management, having well-defined goals will guide your implementation strategy.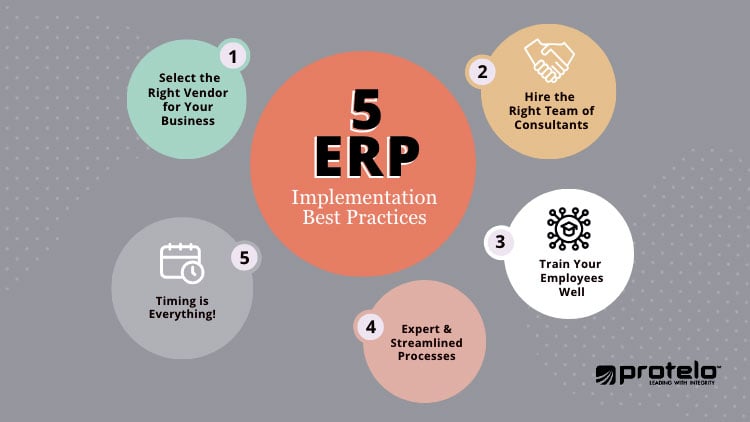 What are the 5
ERP Implementation Best Practices?




1. Selecting the right vendor for your business
Choosing the right ERP vendor is a very important first step. With so many companies out there pushing their own versions of ERP software, how are you supposed to sort through your options to know what's best for your business? In the face of such a daunting task, a little research about the companies and their software becomes key.
After scouring the internet, you'll find that NetSuite is one of the most highly regarded business solutions consisting of ERP software. As a unified business management suite, NetSuite has been the solution to the eCommerce, customer relationship management, and ERP selection process for thousands of customers.
A recent IDC Marketscape study named NetSuite the worldwide leader in Saas and Cloud-Enabled Midmarket ERP. As global adoption of the cloud is accelerating, NetSuite continues its success in delivering the best cloud ERP/financials suites to businesses around the world enabling them to lower IT costs significantly while simultaneously increasing productivity.
2. Hiring the right team of consultants
The implementation process itself is tricky business. Companies that don't already have experts on staff to head up such projects (which boils down to the vast majority of businesses) most often need to rely on outside sources to help and make sure things are done right. Hiring the right consultants for the job is vital. You need people who are qualified and know what they're doing, have integrity and imagination, care about their work, and are upfront and honest at all times. Protelo's consultants have experience—an average of 15+ years each—across industries and verticals such as wholesale distribution, manufacturing, services and more. We strive to become a trusted extension of your company and are invested in your success.
3. Train your employees well
Throwing your employees into a new software system blindly doesn't work. No kidding. And unfortunately, gently introducing a new system to your "I hate change" employees can easily result in similar chaos.
The best way to ensure that the workers don't throw tantrums and/or reject the software is to make them aware of the proposed changes and to train, train, train! Increasing their familiarity with the new project allows for smoother adaptation and, hopefully, less grumbling and more learning. The quicker the new system is familiarized by the users, the higher the chances of an overall successful implementation. Protelo is committed to our customers' success above all else. We provide NetSuite services, support, training, design and development that is matched by top-notch customer service. Check out our client page for more featured customers.
4. Expert and streamlined processes
ERP implementation is a process carefully and methodically executed in segments. Assuming you've chosen your implementation team with much thought and strategy, you can feel comfortable that those hand-picked consultants will do everything possible to ensure that each step of implementation is successful and smooth. This doesn't let you off the hook though. Companies need to be vigilant and play their roles in the completion of each part of the process.
Selecting an ERP system that can conform to your business is great, but let's not pretend that some elements of your business processes won't need to bend as well. I mean, if you're looking to change things up in the first place, then clearly not everything has been running perfectly. One of the most difficult tasks a transitioning company will undertake is deciding when to change a business process to adapt to new ERP requirements.
Data cleansing is vital to the success of an ERP implementation project. Since data is stored differently in different software products, backups should be created and some data may need to be imported on a database. Don't overlook or underestimate this step.
The implementation process is interactive, requiring active problem solving and solution discovery. This is why having a highly qualified, creative implementation team on your side is so valuable. The best way to promote a successful ERP implementation is through effectively educating the users. Ensuring that everyone gains fluency of your new ERP system and gains the knowledge and ability to execute transactions by themselves…that's where success is found.
5. Timing is everything!
If your sales team doesn't have insight into real-time inventory, your marketing department can't send out awesome CRM emails, or your finance team doesn't have multi-currency options and audit trail accountability, it's time to upgrade your operations.

A successful NetSuite implementation can be a game-changer for your organization, but it requires careful planning, a dedicated team, and a commitment to ongoing improvement. By following these tips and maintaining a strategic approach, you can maximize the benefits of NetSuite and position your business for long-term success.

Protelo is a NetSuite reseller, and we're passionate about making sure our clients get the best NetSuite implementation possible! From purchasing a NetSuite license, to fully customizing the platform for you, we can help your company pick and choose which features you need most.
Our NetSuite experts are here to help guide you through the NetSuite implementation process. Please feel free to contact us if you'd like to know more information about us as NetSuite implementation partner.

RELATED NETSUITE PAGES
Why work with Protelo to Purchase & Implement NetSuite?
Businesses choose to work with a NetSuite partner to get personalized guidance, one-on-one support, financing plans, and direct to expert access any time you need it.
Our experience and passion for all things IT-related are unmatched. As an organization, we aim to provide strong, dependable leadership that customers can trust and believe in. Feel free to contact us, so we can figure out together how to better streamline your growing business operations. Want to purchase NetSuite and get started on the NetSuite platform? Need a customized quote for your business? Contact Protelo's experts today.
Get NetSuite Implementation Pricing Today
Learn more about worlds #1 cloud ERP solution
Follow Protelo on Social for NetSuite tips, tricks, and ERP fun:
YouTube, LinkedIn, Twitter, Pinterest, Instagram, and Facebook