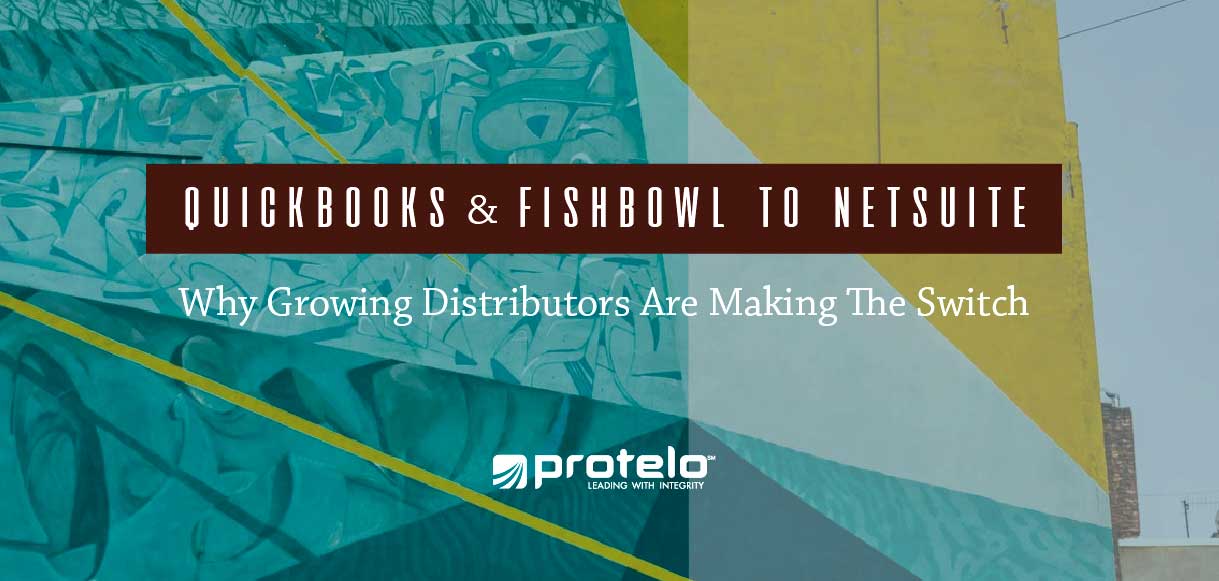 QuickBooks & Fishbowl to NetSuite: Why Distributors Choose NetSuite
Chances are, if you own or help operate a business – you have heard of QuickBooks.
QuickBooks is a small business solution for accounting and finance. As companies achieve their growth and expansion goals, many find that they need a more robust solution than just QuickBooks for inventory. Enter inventory startup Fishbowl, which touts that it is the most "asked for" inventory solution to bolt-on to QuickBooks.
As a starter system, QuickBooks makes financial sense for companies hovering around five to ten employees and operating at one to three million in revenue per year. It provides basic functionality to run a business and helps companies get organized. When distribution companies grow, their business processes get more complex and their inventory management needs are more complicated. Business owners then need to decide: should I add on to my starter system with another starter system — or do I begin looking at a system that will grow with my business for years?
QuickBooks vs NetSuite – Which is Right for You? NetSuite offers a complete financial management solution that increases efficiency, reduces cost, and is designed to scale with growing businesses. NetSuite comes with pre-configured KPIs, workflows, reminders, and customizable dashboards that show exactly how operations and accounting processes align and what needs to get done. NetSuite encompasses an entire suite of business solutions beyond accounting in the cloud, in real-time, to connect the entire business: CRM, ecommerce, HR management software (HRMS), professional services automation and more.
QuickBooks focuses on accounting software for small businesses, so supporting additional complexities requires layering additional systems and applications. Inadequate business management tools can hold your finance team back! An upgrade from QuickBooks can alleviate your finance team's pain and help set up your business with the proper systems to support your growing and expanding business.
If your company suffers due to a lack of real-time visibility or hours wasted on manual processes, you should consider a change.
• Legacy vs On-Premise ERP Overview
• What is NetSuite
• What is Cloud ERP Software
• Get NetSuite Pricing

Why Businesses Choose Cloud ERP
Fishbowl and QuickBooks Versus ERP
Fishbowl is similar to QuickBooks in that it is a cheaper solution for small businesses than an Enterprise Resource Planning platform. Adding a "band-aid" like Fishbowl inventory to QuickBooks may work in the short term, but in the long term, you are left with multiple systems where critical information resides disparately. These systems do not talk to each other or may transfer limited data through an integration—not in real-time. When visibility and insight are affected negatively, the entire business is affected.
If you can relate to 4-8 of these bullet points, QuickBooks and Fishbowl might be failing your distribution business:
It's too hard to find out what's happening across your organization in real-time.
Limited visibility into key metrics.

Limited functionality won't keep pace with modern requirements.

Inability to scale as you expand to multiple locations.
Inventory levels are inaccurate and frequent stockouts and overstocks occur.
Frequent and time-consuming IT support required for system updates and QuickBooks integration.
Reporting is limited and not in real-time.
Inability to customize the system to your business model.
No supply chain forecasting or budgeting capabilities.
What's the next step?
If the above business challenges sound familiar, it may be time for an ERP that is a total integrated business management system. When looking for mid-market ERP systems, there is no doubt that NetSuite is a market leader. More than 33,000 companies run NetSuite, and it is the most deployed cloud ERP in the entire world.
Get A NetSuite Price Quote Today
Switching from QuickBooks or Fishbowl to NetSuite is hassle free.
It's time to make a change to better your business future.
Want to learn more about the #1 Cloud ERP software on the market? Contact our experts today.

Protelo's award-winning NetSuite team here for your business. At Protelo, we are dedicated to helping companies run their businesses more efficiently for optimal revenue growth. As a top-tier NetSuite ERP Solution Provider and NetSuite reseller, Protelo provides businesses of all size and industry with a single source of expertise to implement, customize, integrate, and refine processes. We bring expertise and deep product knowledge to companies interested in exploring the power of the NetSuite application.
CONTACT US TODAY FOR A FREE NETSUITE TRIAL