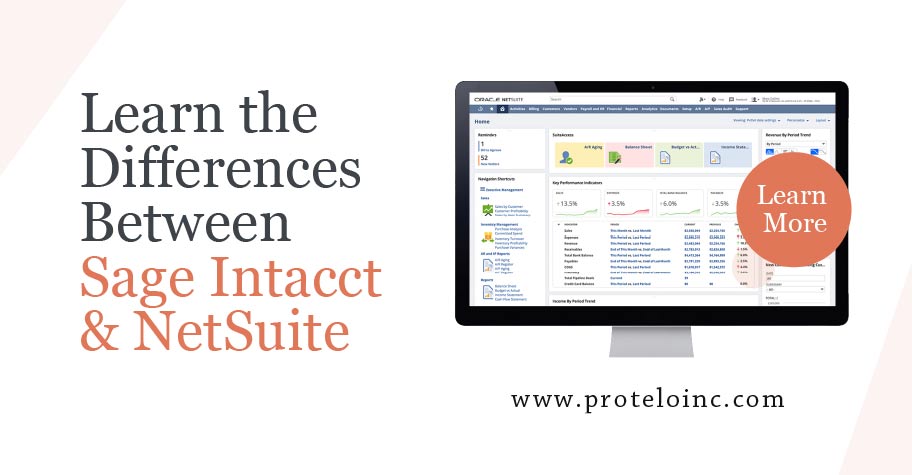 NetSuite vs. Intacct: Comparison Guide
NetSuite and Intacct are two of the top leading cloud ERP platforms in the market today.
As they both claim that they are built for the modern business with advanced functionality, it is critical to understand the MAJOR differences separating the two.
Finding the right software to fit your business can be the key factor to growing and thriving your business in 2023. Considering the amount of comparison information throughout the web, here is a quick overview highlighting the key differences between these two popular platforms and the reason why fast-growing companies choose NetSuite over Sage Intacct.

NETSUITE is a modern accounting system with a single database that allows companies to grow, become more complex and manage key business processes in a single system. NetSuite is engineered to scale with businesses as they grow. NetSuite eliminates the need for separate applications for critical business functions and seamlessly connects information across the business in one single unified source. NetSuite's "born in the cloud" suite delivers finance, accounting, billing, revenue recognition, governance, risk and compliance, global financial consolidation and more.
With NetSuite, your company can say goodbye to hardware, upfront license fees, maintenance fees, and complex setups. NetSuite has a proven track record for growth and offers a dedicated team to manage your account from the initial phase, the implementation, go-live and beyond. With two planned releases every year, NetSuite customers are automatically on the latest version with instant features and updated functionality. Start with best-in-class accounting software, then layer in other capabilities as needed.
According to Journal of Accountancy, 90% of accountants report a noticeable benefit in using a cloud-based software. Learn more about NetSuite's true cloud platform.
NetSuite Highlights
• 37,000+ customers
• 203 countries
• 27 supported languages
• 190 different currencies
• 24/7 support | Live courses
• SuiteSuccess Implementation
• A proven track record for growth
• Real-time information
• Implementation and customization ease
Get A NetSuite Price Quote Today
Is your growing organization looking to upgrade beyond entry-level accounting systems?

NetSuite and Intacct are often two of the vendors on the shortlist. On side-by-side comparisons, one ranks higher above the other in many significant ways. Learn which software is best for your organization today.

INTACCT is one of the leading accounting software companies up against NetSuite. Sage Intacct is primarily an accounting solution, with no out-of-the-box capabilities, or suite offerings. Intacct is not a complete suite. Additional functionality is offered in a modular format with an added cost. Simply put, Intacct does not scale as the customer grows. Intacct has most of its experience with small and outsourced accounting operations, has a limited presence with mid-sized and international companies, and offers restricted customer support.
Targeting customers of all sizes, Intacct markets itself as a modern system even though some aspects of the system leverage legacy architecture with separate sub-ledgers for accounts receivable and payable. Intacct's accounting system requires a host of integrated applications to even stand close to what NetSuite ERP provides right out of the box.
Intacct Highlights:
• 12,000 customers
• 21 public companies
• Supports the English language only
• US-focused
• Limited support hours 6am-6pm
• Post go live DIY manual
OUT OF THE BOX USEABILITY
NETSUITE SuiteSuccess is easy to use right out of the box and designed with industry leading best practices to maximize your ROI. NetSuite comes pre-configured with reports, real-time dashboards, alerts, and KPIs for your specific needs from day one. No matter the job function, every member of your team can hit the ground running with NetSuite's intuitive SuiteSuccess solution.
Intacct is dependent on its implementation partners to create and customize an effective package for a company's ultimate use. Dashboards and visuals shown during the initial sales cycle are put forward only as suggestions for your final product and completely dependent on the partner implementing. Since every business is different, Intacct proudly markets that its highly customizable features can be tailored to meet your individual business needs. But all of that comes with a huge price tag.
According to PCMAG.COM, "Intacct is equally compared to NetSuite OneWorld…it looks, feels and operates very similarly to NetSuite overall as it was also designed from the get-go as a cloud-based, Saas application." Don't believe everything you read.
DEMONSTRATION: Watch this webinar to see why Bisnow Media, a multi-platform digital media company specializing in commercial real estate news and events, upgraded from Intacct to NetSuite to accelerate growth.
NetSuite vs Sage Intacct direct comparison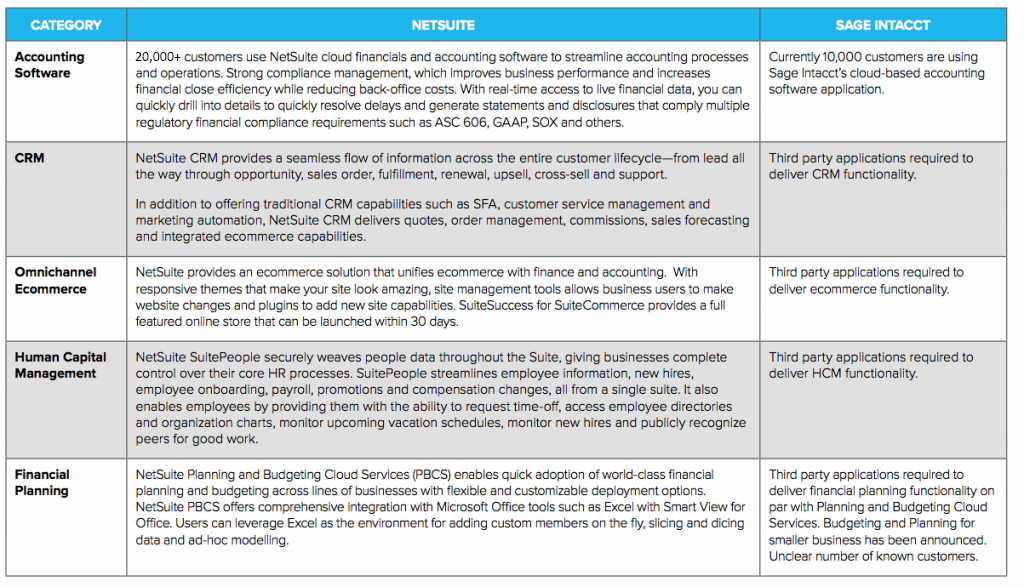 ACCOUNTING / FINANCIAL COMPARISON KEY DIFFERENTIATORS: Intacct: Relies on batch consolidation.
Multi Tax / Currency / Location / Language:
NetSuite: Capabilities are included in the Suite
Intacct: Being US focused and written in English, Intacct requires separate books for additional languages and currencies by purchasing an additional module.
Project Management:
NetSuite: Capabilities are included in the Suite. NetSuite PSA helps you accurately plan, track and execute projects.
Intacct: Offers a PSA-Lite solution with limited capabilities that cannot stand-alone as a true "solution".
Transform your business with NetSuite, the #1 cloud ERP system on the market.
NetSuite has achieved many awards for being the leader in ERP, helping some of the most innovative, fast-growing companies in the business world today! NetSuite continues to improve and strengthen its software with every update and is the #1 Cloud ERP business management suite on the market. NetSuite is 10 times larger than the next largest competitor in the ERP market.
Get A Free NetSuite Consultation

RELATED NETSUITE PAGES

Why are fast-growing businesses selecting NetSuite ERP?
Fast-growing businesses in every industry need a system that scales by design and is engineered for rapid growth. Whether you are experiencing rapid domestic growth or expanding internationally, your software must be able to adapt to the dynamics of the marketplace. To achieve this adaptability, fast-growing companies turn to NetSuite to streamline financial and business processes to sustain growth. NetSuite provides businesses with a solution that fits their needs at every step of the way.
Here are a few reasons why NetSuite stands out:
1. Best in class financial solution: NetSuite delivers a suite that was "born in the cloud" with complete finance and accounting, billing, revenue recognition, governance, risk and compliance (GRC), global financial consolidation, and more.


2. NetSuite is engineered to scale with your business as you grow: NetSuite ERP gives companies the tools they need to accelerate growth and drive innovation.


3. Insight and automation: NetSuite provides the clarity your business needs for business performance with All of the data and metrics that exist in NetSuite's unified data model, accessible from anywhere, anytime, on any device.


4. NetSuite is Secure and compliant creating higher business performance: NetSuite is committed to achieving GRC objectives for your business by delivering audit-ready financial solutions and robust IT controls to run with more transparency in risk-savvy organizations.


5. NetSuite is the #1 platform for business growth: NetSuite's fast-growing popularity is not just limited to a certain region or industry, but it has a global reach with thousands of companies utilizing its cloud-based ERP system. This vast customer base includes companies of all sizes, from small startups to large enterprises, across 203 countries and supporting 27 languages, making it a truly global solution. NetSuite has become a trusted partner for companies in diverse industries such as retail, manufacturing, services, and more, helping them accelerate growth, streamline operations, and achieve better business performance. With NetSuite, businesses have the flexibility to expand their operations globally without worrying about the limitations of their software.


6. NetSuite is simple and easy to use on day one: SuiteSuccess was created with more than 20 years of industry experience placed right into the system. SuiteSuccess offers pre-defined roles, KPIs, reports, alerts, and value-driven dashboards.



Protelo and NetSuite Partnership
Providing unparalleled service as a top-tier NetSuite Solutions Provider, Protelo implements business technology solutions and services that drive efficiency and solve the challenges modern businesses face. Protelo's NetSuite team of technology experts have assisted hundreds of small, mid-market and enterprise companies across diverse industries and verticals in achieving their business goals.
Through tailored business software development, implementation, services, and management, we have helped our clients streamline business processes and the flow of critical information. From the planning stages to managed services, Protelo is an end-to-end provider of business software expertise.
Request A Personalized NetSuite Price Quote Contact Us For More Information