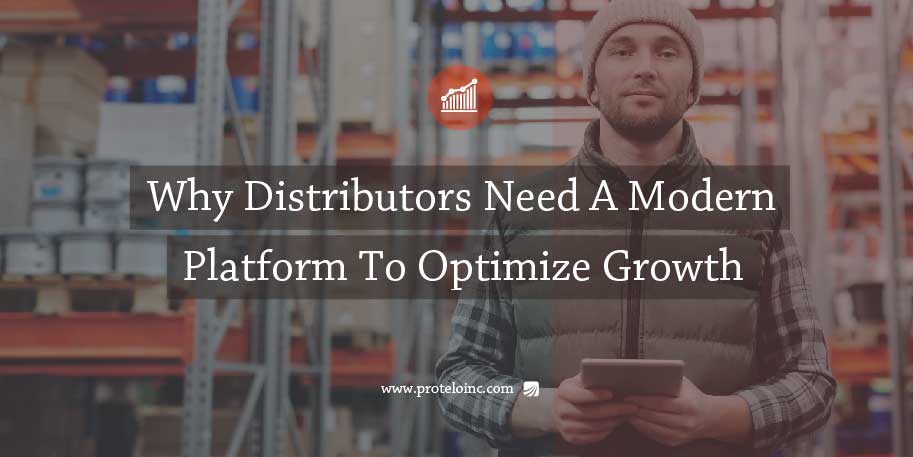 Why Distribution Companies Need a Modern Platform To Optimize Growth
To be successful in an omnichannel world, your wholesale distribution business must have united core business systems.
With the pace of change moving at an unprecedented rate, businesses today face a one-in-three chance of not successfully surviving the next five years. It has never been more important for modern businesses to match their vision and road map with a rapidly changing marketplace. The good news is that there are vast solutions available to businesses of all types and sizes that want to pivot quickly and adapt their business models. Companies that run on a modern technology platform hold the greatest advantage and are equipped to move at the pace of their boldest ideas.
Distributors that have connected the operations of their supply chain, CRM, retail channels, inventory, and other processes will have an edge up on the competition. The fastest-growing companies today run their distribution business on a modern cloud platform. NetSuite provides a superior cloud-based ERP/financial suite for wholesale distributors, allowing you to manage every part of your business through a single platform. All of your business data is connected.
ERP Benefits for Wholesale Distributors:
• The Amazon Effect on Wholesale Distributors
• How to Choose the Right ERP for your Wholesale Distribution Business
• 2023 Distribution Industry Outlook
• Why Distributors Need A Modern System to Optimize Growth
Meet the demands of 21st-century consumers while improving your efficiency and adding to your bottom line.
NetSuite cloud business platform is enabling fast-growing companies to optimize growth through:
Quick and affordable deployment.
Ability to scale in support of future growth.
Ease of administration and management.
High flexibility and built-in intelligence.
Unified view across business.
NetSuite Solutions To Fit Your Unique Distribution Needs
Try NetSuite for Yourself! Learn why thousands of customers move to NetSuite every year – get a free product tour.
Leverage NetSuite's experience with over 34,000+ customers and Protelo's industry-specific expertise to get up and running on NetSuite with less cost, less time and more return-on-investment.

We are Protelo: NetSuite Experts Here For Your Business. We Can Help!
Providing unparalleled service as a top-tier NetSuite Solutions Provider, Protelo implements business technology solutions and services that drive efficiency and solve the challenges modern businesses face. Whatever industry you are in, our NetSuite team understands your business challenges and the solutions you need to succeed.
Protelo's technology experts has assisted hundreds of small, midmarket and enterprise companies across diverse industries and verticals in achieving their business goals. Through tailored business software development, implementation, services and management, we have helped our clients streamline business processes and the flow of critical information.
Are you ready to grow with NetSuite ERP? Contact our award-winning NetSuite team to see if your business is a good fit. Get immediate NetSuite assistance today.
Contact our expert NetSuite team today!