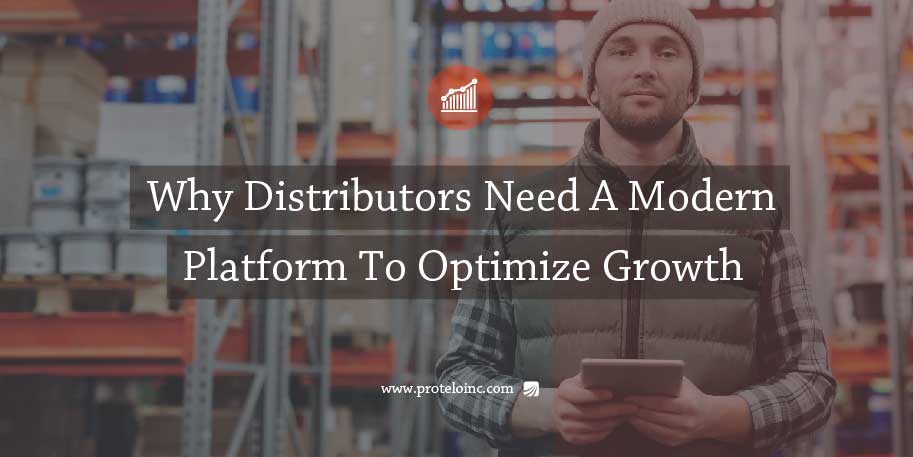 Why Distribution Companies Need a Modern Platform To Optimize Growth
To be successful in an omnichannel world, your wholesale distribution business must have united core business systems.
As the business landscape evolves, wholesale distribution companies must adapt to meet the rising expectations of customers who demand efficient, accurate, and timely services. To thrive in this competitive market, distributors must leverage the latest software tools, such as modern ERP (Enterprise Resource Planning) platforms, to streamline their operations and gain a competitive advantage. These software solutions help distributors to automate their routine tasks, reduce costs, and enhance customer satisfaction. By staying ahead of the curve and leveraging the latest technology, distributors can ensure their continued growth and success in today's fast-paced business environment.
An ERP platform is a suite of integrated software applications that automate and streamline business processes, including finance, supply chain, inventory management, sales, and customer service. By implementing a modern ERP platform, distribution companies can optimize their operations, reduce costs, and enhance customer satisfaction.



How distribution companies are benefitting from a modern ERP software platform:

1. Streamlining Operations & Automating Processes:
Distributors are benefitting from automating routine tasks like inventory tracking, invoicing and order management. Automation increases efficiency, reduces error, and allows distributors to process more orders in less time.

2. Real-Time Visibility Across the Entire Business:
Modern ERP platforms provide distributors with the most current business information, when they need it. NetSuite ERP provides real-time visibility into inventory levels, sales data, and customer orders to help decision makers make informed decisions about which products to stock, how much to order, and where to allocate resources.

3. Operational Cost Reduction:
Modern ERP software helps distribution companies reduce costs associated with labor, inventory management, and other operational expenses.
4. Customer Services Levels:
Distributors are improving customer service levels, building customer loyalty and satisfaction by providing real-time information about product availability, order status, and delivery tracking.
5. Business Growth & Scalability:
As distributors grow, they need a software platform that can grow and change with them. A modern ERP, like NetSuite, can accommodate new business processes, additional users, and increased transaction volumes without sacrificing performance.
With the pace of change moving at an unprecedented rate, businesses today face a one-in-three chance of not successfully surviving the next five years. It has never been more important for modern businesses to match their vision and road map with a rapidly changing marketplace. The good news is that there are vast solutions available to businesses of all types and sizes that want to pivot quickly and adapt their business models. Companies that run on a modern technology platform hold the greatest advantage and are equipped to move at the pace of their boldest ideas.
Distributors that have connected the operations of their supply chain, CRM, retail channels, inventory, and other processes will have an edge up on the competition. The fastest-growing companies today run their distribution business on a modern cloud platform. NetSuite provides a superior cloud-based ERP/financial suite for wholesale distributors, allowing you to manage every part of your business through a single platform. All of your business data is connected.
ERP Benefits for Wholesale Distributors:
• The Amazon Effect on Wholesale Distributors
• How to Choose the Right ERP for your Wholesale Distribution Business
• 2023 Distribution Industry Outlook
• Why Distributors Need A Modern System to Optimize Growth
Meet the demands of 21st-century consumers while improving your efficiency and adding to your bottom line.
In today's fast-paced business environment, meeting the demands of consumers is critical to the success. For wholesale distributors, this means providing a seamless omnichannel experience that caters to the needs of today's tech-savvy consumers. NetSuite's cloud business platform provides a solution to this challenge by enabling fast-growing companies to optimize growth through streamlined operations, real-time visibility, and improved customer service levels. By leveraging the latest technologies, wholesale distributors can boost their efficiency and add to their bottom line, all while delivering exceptional customer experiences. With NetSuite, the possibilities for growth and success are endless.
NetSuite cloud business platform is enabling fast-growing companies to optimize growth through:
Quick and affordable deployment.
Ability to scale in support of future growth.
Ease of administration and management.
High flexibility and built-in intelligence.
Unified view across business.
NetSuite Solutions To Fit Your Unique Distribution Needs
By harnessing the power of modern ERP software, like NetSuite, distribution companies can effectively streamline their operations, cut costs, and improve customer satisfaction. With access to cutting-edge technologies, distributors can stay ahead of the competition and flourish in a dynamic business environment.
Try NetSuite for Yourself! Learn why thousands of customers move to NetSuite every year – get a free product tour.
Take advantage of NetSuite's vast experience with over 36,000 satisfied customers and Protelo's distribution expertise to swiftly and cost-effectively implement NetSuite. Get more value for your investment and start experiencing the benefits of a modern ERP system today.

We are Protelo: NetSuite Experts Here For Your Business. We Can Help!
As a top-tier NetSuite Solutions Provider, Protelo takes pride in providing unparalleled service and implementing business technology solutions and services that drive efficiency and solve the challenges modern businesses face. We understand the unique challenges that your business may face, regardless of the industry. That's why our NetSuite team is committed to providing tailored solutions to help your business succeed.
We at Protelo have had the privilege of assisting numerous small, midmarket, and enterprise companies across diverse industries and verticals in achieving their business goals. Our technology experts provide tailored business software development, implementation, services, and management that help our clients streamline their business processes and the flow of critical information. We are committed to helping businesses succeed and thrive in a rapidly changing business environment.
Are you ready to grow with NetSuite ERP? Contact our award-winning NetSuite team to see if your business is a good fit. Get immediate NetSuite assistance today.
Contact our expert NetSuite team today!