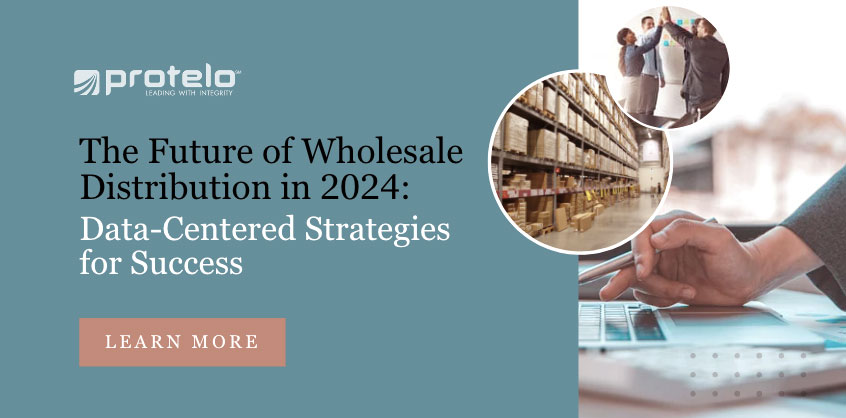 The Future of Wholesale Distribution: Strategies for 2024
The journey toward achieving growth and success in wholesale distribution is constantly evolving.
True "success" isn't just about keeping up – it requires staying ahead, foreseeing trends, and truly understanding your target market. As we approach 2024, the competitive market demands fresh new strategies and the latest innovations to maintain a competitive edge, presenting both challenges and new opportunities.

Explore the key strategies that not only ensure your distribution business survives but thrives, through a data-centric, technology-focused approach. Learn how Cloud ERP technology can make a true difference in capitalizing on industry trends, offering improved visibility for sustainable growth. If you're looking for helpful strategies and insights for distribution success, this blog is for you!



What have we learned

about the distribution industry this year?
The past year has underscored a critical lesson for distributors: the significance of adaptability. Change is happening faster than ever before, with technology and consumer preferences evolving rapidly. Integrating advanced technology is central to success. Distributors who invest in streamlined platforms can optimize their operations and gain real-time insights into the entire business. A data-driven approach drives distributors in the right direction quickly and adjust their strategies based on actual market demand.


How can Distributors rapidly adapt to change?
Fueled by the pandemic, distributors are transitioning from traditional on-premises structures to more collaborative, cloud-based setups, morphing the way they work to provide data visibility across the business. This adaptability is evident in the integration of data analytics, digital tools, and organizational flexibility, fostering quick decision-making and innovation. As the business landscape reshapes, distributors are strategically leveraging change to create competitive advantages, reinforcing their commitment to customer needs and staying ahead of the curve. Here are some steps distributors can take to adapt their business quickly:

Stay Informed:

Monitor industry trends and tech advancements.

Embrace Technology:

Use digital solutions for efficiency.

Data-Driven Decisions:

Analyze data for insights.

Collaborative Supply Chain:

Build strong partnerships with partners and suppliers.

Scenario Planning:

Prepare for unexpected scenarios to minimize disruption.

Risk Management:

Identify and mitigate potential risks.

Lean Operations:

Streamline processes for efficiency.

Continuous Learning:

Foster a culture of ongoing improvement and learning.

According to Modern Distribution Management, the #1 thing for distribution success in 2024 is projected to be the emphasis of managing rapid adaptation to change by cultivating agility and fostering innovation to outperform competitors.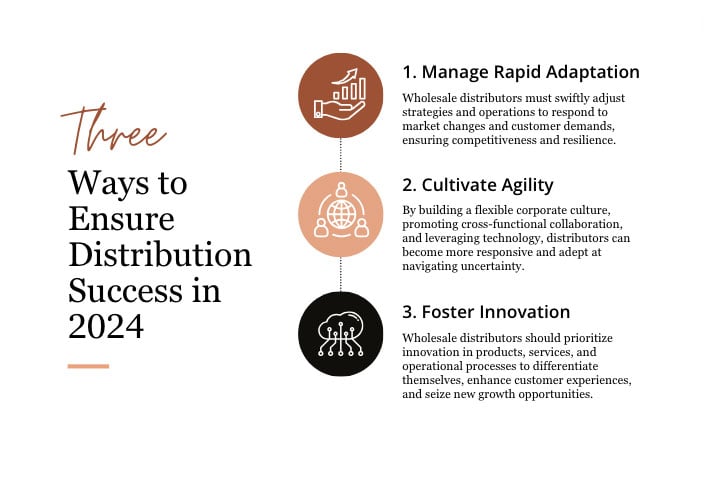 Leaders in distribution are at a very critical moment in a time of disruption. The landscape of business, markets, the economies, industries, customer dynamics, and the very technology we rely on is undergoing rapid transformation.

Learn Why Business are Moving to Cloud ERP

The Importance of Differentiation
The success and sustainability of a business is dependent on their ability to understand, meet, and exceed the needs and preferences of its target customers. Moving into 2024, projected trends highlight the importance of differentiation. As customer preferences evolve, distributors ought to consider broadening their product portfolios to align with changing demands. This might involve introducing complementary products or items to existing offerings, enabling tailored solutions for specific customer needs, and venturing into new markets.

This approach helps distributors adapt to market changes, foster innovation, and ultimately strengthen overall customer engagement because of a unique value. By expanding revenue streams and reducing dependency on single products or suppliers, distributors effectively mitigate risks associated with market fluctuations and supply disruptions. This is what creates a competitive advantage that sets a distributor apart.
Supply Chain Efficiency
One of the most important aspects of an efficient supply chain is having the flexibility and agility to adapt quickly to changes in the market in the face of unexpected challenges. Resiliency empowers businesses to thrive with shifts in consumer preferences, changes in demand, and supply shortages. Learn the common Inventory management challenges that businesses are facing and how better forecasting helps businesses succeed in today's competitive marketplace.



In a recent Gartner survey, only 21% of the respondents said that they have the visibility and agility to shift sourcing, manufacturing, and distribution activities around rapidly. Gartner also found that more than half of the businesses anticipated being highly resilient within two to three years. This implies the huge priority shift for businesses to increase resilience as many emerge from the Covid crisis, economic downturn and beyond. Important indicators your business needs Cloud ERP



How are businesses improving supply chain management with NetSuite?
NetSuite Cloud Enterprise Resource Planning software streamlines processes by providing real-time visibility into inventory, orders, and demand, enabling businesses to make informed decisions quickly. It integrates data across all departments in a single system, improving collaboration and efficiency. Advanced analytics help in demand forecasting, optimizing inventory levels, and reducing excess stock.

As supply chains become more complex and expectations continue to drive innovation, businesses need the proper flexibility and control across the business. Your brand and your reputation are balancing on the dependability, quality, cost, and speed of your supply chain. Here are some major ways that NetSuite unlocks supply chain excellence:
End-to-End Real-Time Visibility

Inventory Management and Optimization

Demand Planning and Forecasting Tools

Supplier Collaboration and Communication

Seamless Integration With ERP and Multi-Channel Platforms

Order Fulfillment, Tracking, Processing, and Accuracy
Cost Control and Quality Control


Learn More About NetSuite Inventory Management

Why is an omnichannel strategy important to wholesale distributors?

Embracing an multichannel strategy is vital for reaching a diverse customer base. Today's consumers expect the ability to purchase and receive orders quickly and efficiently from a variety of channels. In a recent survey, 90% of consumers expect brands to offer multi shopping platforms.

And if that wasn't enough, Google found that omnichannel customers have a 30% higher value than those who shop using a single channel. It has never been more critical for businesses to have up-to-date, real-time access to the business information they need to keep track of the complexity of supply, demand, and customer data throughout the omnichannel journey.


How does
NetSuite
provide
an
om
nichannel advantage
?
NetSuite cloud ERP enables distributors to enhance their omnichannel initiatives by centralizing operations into a single system, spanning from managing inventory to order processing, across all channels. NetSuite provides real-time visibility into inventory levels, demand patterns, and customer interactions, enabling efficient order fulfillment and stock levels. NetSuite real-time analytics offer insights for strategic decision-making, while streamlined processes enhance customer experiences and operational efficiency throughout the cross-channel journey.

Why is sustainability vital for wholesale distributors?
Distributors can take several strategic steps to incorporate sustainability into their products and operations by:

• Packaging & Products: Distributors are optimizing packaging efficiency for reduced environmental impact and improved supply chain efficiency. This comprehensive shift reflects a commitment to both ecological responsibility and business effectiveness.

• Energy efficient operations and waste reduction: By optimizing energy usage, educating their workforce, and embracing a circular economy to recycle and reuse products, distributors can foster operational resilience and differentiation in an environmentally conscious market.

• Regulatory Changes & Awareness: Wholesale distributors need to continuously stay informed about regulatory changes to ensure compliance and prevent operational setbacks. Staying informed about industry regulations is vital for sustainability and will protect against unforeseen challenges that could hinder progress. Being proactive gives a competitive edge, optimizes resources, and bolsters supply chain resilience. Protelo has helped hundreds of companies harness the power of NetSuite.
Why is Cloud-Based ERP Important for Distributors?
A modern cloud-based ERP system enables distributors to eliminate disconnected legacy applications and consolidate the entire business within a unified integrated suite. This ERP software streamlines workflows, automates processes, and delivers advanced efficiencies across the entire business. Modern Cloud ERP technology plays a pivotal role in the success of distributors, offering a range of advantages that significantly enhance their operations:
Scalability & Efficiency: Cloud technology provides flexibility and scalability that allows distributors to easily adjust their resources based on demand, without the need for substantial upfront investments. Cloud software solutions drive cost savings and increase efficiency, sparing distributors the burden of maintaining in-house IT infrastructures and expenses.

Increased Collaboration & Data centralization:
Access your business data from anywhere, anytime, across the entire business! Cloud ERP provides the capability for real-time visibility, collaboration and remote data access across the workforce. Distributors can seamlessly access drill down actionable insights into their operations, customer behaviors, and market trends. It provides the ability to seamlessly connect with partners, suppliers and customers regardless of location. This real-time information empowers data-driven decision making and responsiveness.

Automation & Innovation:
Cloud-based ERP systems automate repetitive tasks and reduce manual errors to boost efficiency and productivity. They enable real-time tracking of inventory, orders, and shipments, enhancing decision-making and reducing response delays. Cloud technology provides a foundation for adopting the most up to date technologies such as Internet of Things (IoT), artificial intelligence (AI), and machine learning (ML), which can optimize various aspects of distribution operations.



Cloud ERP technology provides the competitive tools distributors need in a world where quality and transparency are extremely important.
Technology is always changing and providing growth challenges and opportunities for distributors every year. Ensure your business is up to date with the latest technology trends and innovations to keep up with your competitors and customers as we quickly move into 2024.

By embracing cloud ERP as part of a digital inventory and warehouse management strategy, distribution companies are not only prepared for today's fast-paced, highly competitive environment, but are positioned to significantly improve their business with better visibility.


POPULAR WHOLESALE DISTRIBUTION RESOURCES
1. How crossover businesses survive and thrive in a competitive market.
2. Supply Chain Management: An Overview Guide
3. How to pick an Inventory Management Solution
4. How Inventory Control Can Improve Your Business
5. Why Distributors Need Modern Software


6. Important indicators your business needs Cloud ERP
7. What is NetSuite Advanced Inventory
8. Is your business falling behind with technology?
9. QuickBooks & Fishbowl to NetSuite: Why Distributors choose NetSuite
10. NetSuite vs Competitors: ERP Comparison Guide



NetSuite is the #1 cloud ERP system on the market that can help distributors run more efficiently and cost-effectively. To learn more about NetSuite for your business, contact Protelo for a complimentary demonstration, competitive resources, or get custom NetSuite pricing today, obligation free.
Contact NetSuite Experts to Learn More Calculate NetSuite Pricing
Follow us on Social for NetSuite tips, tricks, and ERP fun:
YouTube, LinkedIn, Twitter, Pinterest, Instagram, and Facebook