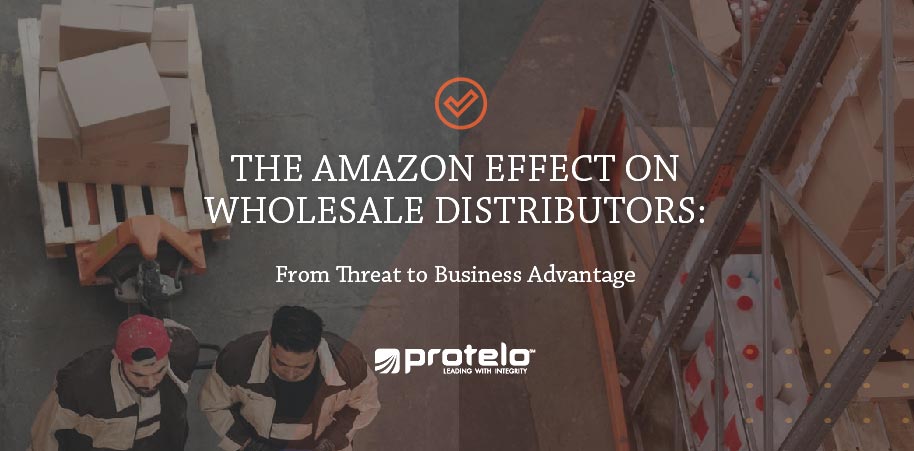 The Amazon Effect on Wholesalers: From threat to business advantage
Amazon has completely changed the shopping experience and the expectations of the customer with its extensive catalog, incredible shipping options, same-day delivery, and the most competitive retail pricing on the market. Amazon continues to think ahead, seize new opportunities, and act quickly as one of the most substantial online retailers on the market.
Amazon's market capitalization has gained over $570 billion during the pandemic. Even with the threat of the "Amazon Effect" in the industry, the majority of fast-growing distributors remain fueled with focus, optimism, and a vision for the future. According to Modern Distribution Research Survey, 62% of distributors anticipate growth, 30% are undecided, and only 3% are expected to remain the same or decrease.
Expectations for normalcy and growth are at an all-time high due to the Coronavirus' business impact and the need for an evolving business perspective. American distributors are expecting to see a rebound year-over-year to indubitably impact future growth and advancements.
For the first time in history distributors are starting to look at Amazon differently, leverage its success, and tap into the power of a multi-channel distribution strategy to expand their business.
Thinking outside the box: The Amazon Advantage
Establishing a powerful ecommerce presence through third-party sales is one of the most effective ways to grow a distribution business. Interestingly enough, Amazon's #1 marketplace offers the most revenue-boosting, profit-making B2B channel opportunities with instant accessibility to millions of customers.
More and more businesses are leveraging Amazon's infrastructure by selling specific items, testing products, gaining visibility, and directing millions of customers to targeted websites.
With this in mind, startup distributors can invest in their brand and focus on strengthening their products, instead of managing complex ecommerce websites or warehouse locations. Businesses are utilizing Amazon to expand into different distribution channels, diversify products and point customers to a specific website as a marketing strategy. Seasoned distributors test products in Amazon before launching it on an internal website to monitor product popularity and sell older items without taking up warehouse space.
"Selling on Amazon has been huge for Yedi Houseware," said Bobby Djavaheri, Director of Sales & Development, Yedi Houseware. "Since we began listing products on Amazon 12 years ago, our business has skyrocketed and we now have 12 full-time employees and plan to hire more this year. Amazon allows us to reach new customers across the U.S. and even worldwide, which enabled our business to grow 126% just last year!" – Amazon press release
If your distribution business isn't selling on Amazon, you're competing against them.

Forrester research has forecasted that ecommerce will constitute 13.1% of all US B2B sales, with an annual growth rate of 7.4% by the beginning of 2023. Since Amazon is growing expeditiously every year in traction, and becoming a one-stop shop for 30+ million consumers, your customers might look to Amazon first when they need to order. Customers shop on Amazon because of convenience, competitive pricing, and accessibility. Distributors need to be thinking ahead, planning new business strategies and learning from Amazon's successes to make purchasing easy and stand out from the chaos of other brands.
Grow and scale your business with NetSuite's #1 cloud-based ERP for Wholesale Distributors
Investing in the proper ERP software is crucial to building a successful business with Amazon B2B sales channel or competing against them in the future. No matter how great your products are, working with a reliable business management software like NetSuite to run your business is vital.
| | |
| --- | --- |
| Actionable Business Insights | + 50% to 80% |
| Gross Margin Performance | + 1% to 5% |
| Revenue Performance | + 2% to 10% |
| Inventory Costs | -20% to 30% |
| Obsolete Inventory Carrying Costs | -20% to 40% |
| Customer Backorders | -60% to 80% |
| IT Resource Costs | -50% to 75% |
| Disaster Recovery Costs | -50% to 75% |
*Source: NetSuite
Between changing market conditions, evolving competitors, and modern customer expectations, businesses need an ERP system that can keep up and stay ahead of your biggest competitors.
Learn more about NetSuite today.

Protelo and NetSuite Partnership
Providing unparalleled service as a top-tier NetSuite Solutions Provider, Protelo implements business technology solutions and services that drive efficiency and solve the challenges modern businesses face. The Protelo team of technology experts have assisted hundreds of small, midmarket and enterprise companies across diverse industries and verticals in achieving their business goals.
Through tailored business software development, implementation, services and management, we have helped our clients streamline business processes and the flow of critical information. From the planning stages to managed services, Protelo is an end-to-end provider of business software expertise.
Get NetSuite for Wholesale Distribution Pricing Fast