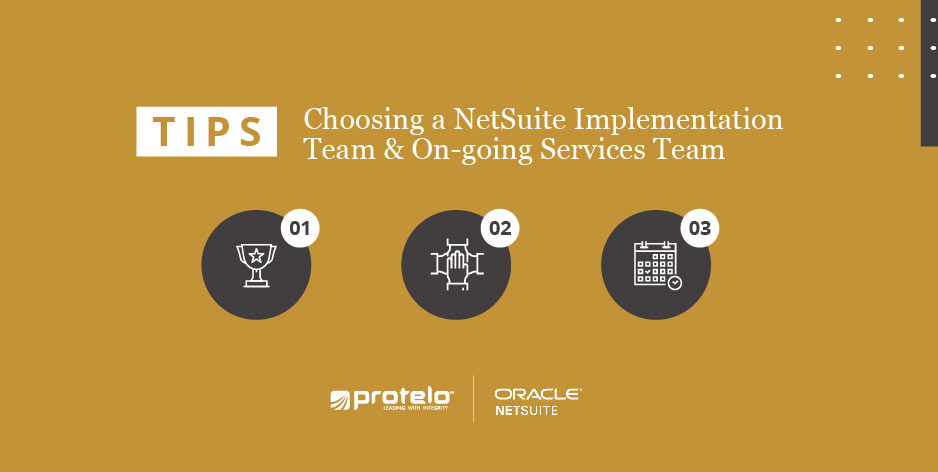 Choosing a NetSuite Implementation Team and On-going Services Team
How to choose the right NetSuite Implementation team & On-going NetSuite services team for your business
Buying and implementing an enterprise resource planning system such as NetSuite is a business-changing decision.
Consolidating and migrating data, implementing unique business processes, training staff on a new system and finally, the go-live—each step of the process is as important as the ones that come before and after it to ensure the business launches successfully on NetSuite.
After the sales process, in which NetSuite was purchased from NetSuite directly, or through the partner channel, there is an additional choice in implementation. No matter the point of purchase for NetSuite ERP, the implementation is another sales cycle—and choosing the right implementation team is critical to the success of the go-live and achieving return on investment sooner.
What to Look For
With more than a multitude of successful companies running their business on NetSuite, more NetSuite "job shops" in the United States and overseas, as well as NetSuite direct, are taking on large number of NetSuite implementations. Some of these consultants may be operating with knowledge of basic code and the basic functionalities of the system, but without the proper business acumen or understanding of best practices for NetSuite and general business processes.
Whether the NetSuite implementation is done in-house, by a partner, or a combination of both—an understanding of your business requirements as it relates to the NetSuite platform is key.
Many NetSuite customers choose to work with a partner because they are not the Sofware publisher—an independent expert can often save you time and money if a reputable partner is chosen. When working with a partner, it's important to work with seasoned, senior associates from the pre-sales cycle, to the project plan and implementation, through the go-live. Why? A "green" salesperson, or a salesperson that puts adding extra modules, users, and cost above what's best for the business, can cause issues for a NetSuite implementation from the start.
Signing onto the wrong package, having too many modules or incorrect modules and poorly planned implementation timeframe are all common mistakes that can cost a business time and money in the long-run. Be wary of claims to implement a complex ERP platform in just a few weeks or for a few thousand dollars to "activate"; it could result in a failed go-live.

Ten Most Common Reasons for an Incomplete or Failed NetSuite Go-live:
1. Project is over budget or over timeline.


2. End-user acceptance is low, or users are not trained properly.


3. Go-live was pushed prematurely or without proper processes in place.


4. Gap analysis and pre-project work sessions were not done.


5. Best practices for configuration and set-up were not followed.


6. The wrong package or modules were selected in the sales cycle.


7. The project team in-house, or hired, is not implementing properly.


8. Code, integrations, development, and customizations were botched.


9. Lack of communication between key departments like finance, warehouse, and sales.


10. Data cleanup and other administrative preparation was not performed before migration.

NetSuite Experts Here For Your Business
Protelo business consultants have deep experience—an average of 15+ years each—across industries and verticals such as wholesale distribution, manufacturing, services, and more. We strive to become a trusted extension of your company and invested in your success.
On-Demand NetSuite Services List

RELATED NETSUITE PAGES
Our team is committed to your business success!
Protelo is a top NetSuite partner and reseller, passionate about delivering the best NetSuite implementation and services possible! Our highly trained team is here to help guide you through the entire NetSuite implementation process. Please feel free to contact us to learn more about our services, solutions, and NetSuite expertise.
Contact Protelo's Expert NetSuite Team Today
Follow us on Social for NetSuite tips, tricks, and ERP fun:
YouTube, LinkedIn, Twitter, Pinterest, Instagram, and Facebook