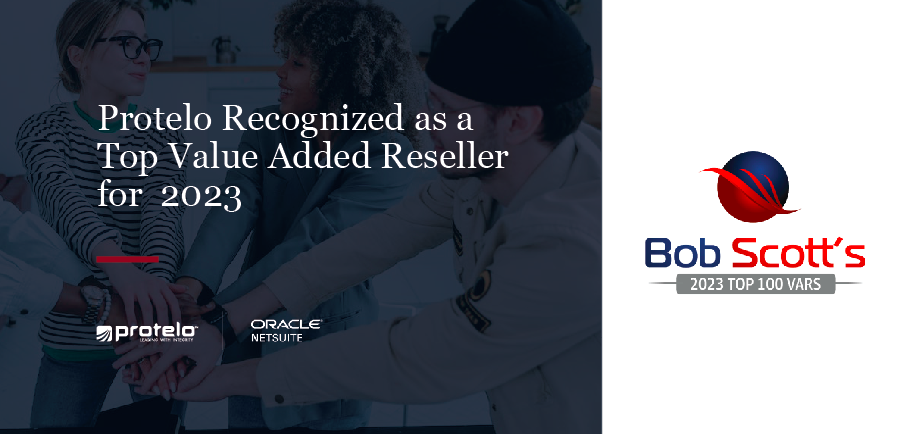 PROTELO RANKED A TOP VALUE ADDED RESELLER FOR 2023
June 14th, 2023
PROTELO, INC – A top Oracle NetSuite partner, is proud to announce its placement for the third consecutive year on Bob Scott's Top 100 Cloud VARs list. This distinguished list recognizes the top-performing resellers and implementors of ERP and accounting solutions, based on their annual revenue.
Protelo's consistent placement on this esteemed list reflects our unwavering commitment to excellence and customer satisfaction. We are proud to be recognized among the industry's best, showcasing our expertise and dedication to helping businesses thrive in the ever-evolving digital landscape. It is our goal to continue to leverage our knowledge and experience to provide outstanding service and innovative custom NetSuite solutions to our valued clients.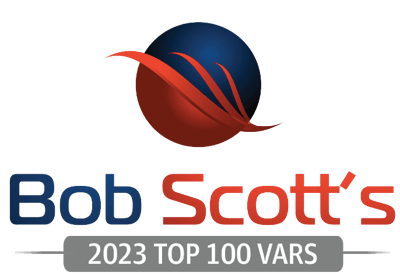 The Growth and Importance of Cloud ERP
The importance of Cloud ERP continues to rapidly grow year over year, as businesses worldwide recognize its immense value to stay ahead. Take a deep dive into the unique benefits offered by NetSuite ERP and discover why forward-thinking organizations are gaining a competitive edge through enhanced efficiency, heightened visibility, and propelling their success in today's dynamic business landscape. NetSuite represents the forefront of modern business management, paving the way for future success.
Who is Bob Scott
For the past 32 years, Bob Scott has been a trusted source of information and entertainment for the mid-market financial software community. He initially served as the technology editor of Accounting Today and later assumed the role of Editor of Accounting Technology from 1997 to 2009. Throughout this time, he has also dedicated his expertise to covering the traditional tax and accounting profession, ensuring comprehensive coverage across various sectors of the industry. Download the 2023 VAR LIST
About Protelo
Protelo is a trusted NetSuite partner and reseller known for their expertise in implementing, optimizing, integrating, and customizing NetSuite solutions. The team takes pride in helping clients streamline their business processes by providing them with top-notch ERP business tools and unparalleled expertise.
With a top-notch staff of highly trained NetSuite experts, Protelo brings an impressive track record of serving 250+ satisfied NetSuite customers and delivering over 250,000+ hours of consulting. To learn more about Protelo and our extensive range of technology solutions, please visit our services and support list. It is our goal to be a trusted extension of your team, invested in your success.


Related Pages:
• Contact Protelo Today
• Customer Testimonials & Quotes
• What is NetSuite?
• Why NetSuite?
• Calculate NetSuite Pricing
• NetSuite Services Overview