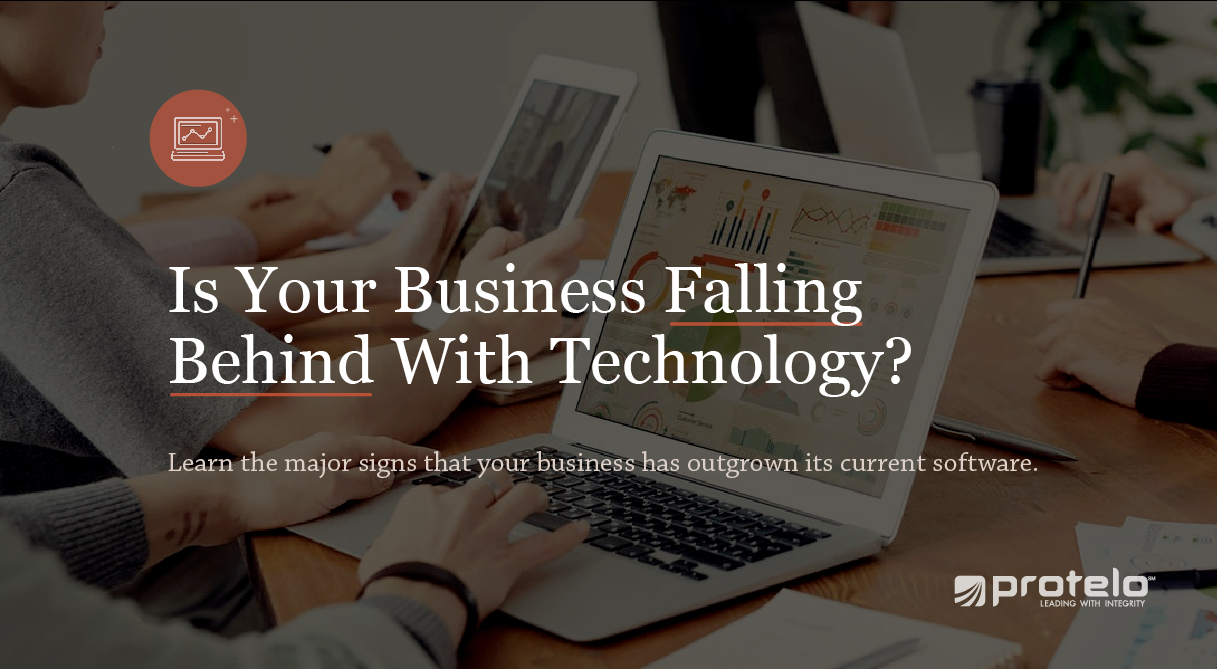 Important Signs That Your Business is Ready to Upgrade to Cloud ERP
Does your organization depend on a basic accounting system to operate your business?
Are you relying on manual data entry? Are you struggling with a system that is completely disconnected? Does it take a long period of time to pull reporting and real-time business information?
No matter how unique your business is, every fast-growing business strives to exceed their goals year after year. As business complexity heightens, disparate front-and-back-end systems suppress business potential, generate inadequacies, and create an adverse impact on the bottom line. Rather than bolting on complexities and connecting patchwork software to a fruitless system, learn how cloud-based ERP technology is paving the way for businesses to respond to growth and change rapidly in a competitive business world.
According to a recent press release by Markets and Markets, cloud ERP is projected to grow to 37.7 billion by 2024 and continues to be a key player in the ways that successful companies run their business. Organizations of all sizes, complexities, and industries are shifting from on-premise systems to the cloud to enhance operational efficiency, lower costs, improve productivity, create overall transparency, and manage their entire business from a single system. Increased competition has almost forced organizations to adopt an Enterprise Resource Planning system in order to stay competitive across every industry.
How to Choose the Right ERP for your Business

What are the major signs that your business has outgrown its current software?
Check out a few of the most common issues that businesses encounter without a proper ERP system in place. Do these business pain points sound familiar?
DISCONNECTED SOFTWARE SYSTEMS
Managing, integrating, and maintaining multiple systems across the business can become extremely complex. Software upgrades and customizations often turn into expensive, time-consuming projects that compel businesses to run on outdated versions of their business software for longer than they should. Instead of bolting on another "solution" or creating more complexity to an ineffectual system, consider a change to cloud-based ERP. NetSuite cuts the ties of on-premise, patchwork solutions and gives thriving businesses the flexibility to grow and operate their business as they see fit.
SCRAMBLING TO KEEP UP WITH COMPETITION
The business world is innovating at an extremely fast pace. Operating on a slowly upgraded on-premise ERP system is not sufficient enough to stay ahead and grow for the future. Version-lock and outdated technology that is too complex in terms of cost, resources and time should be a thing of the past. Businesses need a proven ERP solution like NetSuite that offers global financial functionality and enables streamlined business processes designed for a fast-growing, modern company. Don't fall behind your competitors by letting your current ERP system (or lack thereof) hold you back.
STRUGGLING CUSTOMER EXPERIENCES
It's never been more important to manage your customers effectively. According to Inc.com 84% of people trust online reviews as much as friends. Providing a successful customer experience involves the synergy of many working parts. When customer information, sales, and inventory are operating on separate systems, serious problems arise. Segmented customer data restrains the capability to discern different customer demands and provide outstanding service.
To effectively meet your customers' needs, your organization needs complete visibility of the business, automated workflows, and the ability to view real-time comprehensive customer data across every department. With the right ERP in place, your entire team is equipped with an integrated customer relationship tool to help improve lead generation and strategy.
LACK OF BUSINESS PERFORMANCE & EFFICIENCY
Are you getting the most out of your software? In order to get a legacy on-premise system up to speed with today's forward-thinking market, severe optimizations would need to be implemented. If you currently are operating your business on a legacy on-premise system, you're most likely struggling with the following:
Expensive maintenance costs for upgrades, updates and changes.
Limited versatility for new services or products.
Lack of scalability and agility for future business growth.
Outdated and consolidated real-time business information.
Future-proof your business with cloud ERP to improve flexibility and always be on the most current version to scale and innovate your business with ease. NetSuite makes it possible for businesses to customize and tailor the system to meet their individual requirements. Business intelligence is ingrained into the system with KPIs, a 360-degree single version of the truth, and commerce-ready capabilities delivering a seamless brand experience.
TIME CONSUMING MANUAL PROCESSES
Operating on manual spreadsheets, orders, and old data completely prevents business growth. Disparate applications lead to inaccurate, labor-intensive, error-prone processes that waste a large amount of time, resources and money. According to Gartner, 91% of IT staff time is spent on software maintenance rather than innovation. Needless to say, if you don't have a proper ERP system in place, you are going to fall behind. It is more critical than ever for companies to have a system that allows them to scale and support future business goals. Innovations in technology and your greatest competitors will not slow down. NetSuite ERP is leading the digital business shift and is supporting organizations as they scale, transform and grow on a critical and operational level.
Check out a 5 minute read, The Great Debate: One Integrated Business System vs Siloed Applications to dive deeper into the contrast of bolt-on systems vs the seamless integration of cloud ERP across the entire business.
How many years has it been since you upgraded your current ERP system? Not just a homegrown modification, connection, or a fix—but implemented a crucial upgrade that empowered real business deviation? Perhaps it's time to consider a change.

RELATED NETSUITE PAGES

Are you thinking about improving your ERP system in 2023?
Selecting the right ERP system is a key element to your success. Imagine your business potential when core systems are efficient, urging innovative change, driving activity, and no longer holding you back by obsolete systems. The significance of ERP far outweighs the cost. From startup to large enterprise, businesses of all sizes and industries have the ability to benefit from cloud ERP software.

NetSuite is transforming businesses with its fully integrated system that includes, ERP, CRM, financial management, accounting, inventory, eCommerce, and warehouse management. Leave behind outdated processes and move to the cloud for visibility and cohesion across the entire organization.

Get A NetSuite Price Quote Today

NetSuite is #1 in cloud ERP, financials, CRM and eCommerce and has been the fastest-growing companies across the globe. As a full-service NetSuite partner and reseller, Protelo takes pride in building quality customer relationships and ensuring our customers get the most out of NetSuite. Learn More about the worlds #1 ERP.

Contact The NetSuite Experts Today