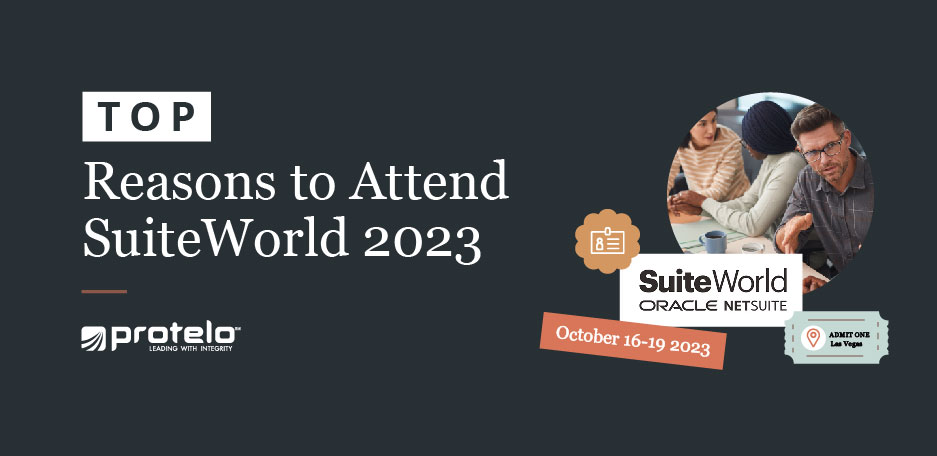 Top reasons to attend SuiteWorld 2023
S
uiteWorld 2023: The
M
ust-
A
ttend NetSuite
E
vent of the
Y
ear



SuiteWorld 2023 | CAESARS FORUM | October 16th – 30th, 2022, Las Vegas
Join us at SuiteWorld 2023,
the largest
NetSuite
event
of the year,
that
showcase
s
the latest
and greatest updates
and innovations in
NetSuite
cloud-based so
ftware
! Th
is
event brings together industry leaders, experts, and professionals in an exciting blend of innovation and knowledge sharing.
Will we see you there?

Top 5 H
ighlights of SuiteWorld
1. Be the First to Know About NetSuite's Cutting-Edge Technology:
SuiteWorld will unveil the latest advancements in cloud-based ERP, CRM, and ecommerce solutions. Discover how these technologies can transform your business operations. Stay informed with the latest updates and gain valuable insights into the latest trends and best practices in the industry.


2. Inspiring Keynote Speakers:
Be prepared to be inspired by visionary leaders, celebrities, and industry pioneers sharing their journey with NetSuite. Gain valuable insights and strategies for success in today's rapidly changing business market.


3. Tailored Industry Sessions & Workshops:
Dive deep into industry-specific sessions that cater to the unique needs of various businesses. Enhance your skills through hands-on workshops and training sessions. Learn from real-life case studies and best practices that can help you overcome challenges. Certified NetSuite professionals will be there to guide you.

4. Meet one-on-one with our NetSuite Consultants:
Our team of NetSuite experts work hard to provide the best services and solutions available. SuiteWorld is a great opportunity to meet with us! Our team of NetSuite experts will be available to provide personalized assistance and address any aspect of NetSuite with you in person. We are available to meet any time that's best for you during the event timeline. Reserve time on our calendar today.


5. Networking Opportunities:
Connect with like-minded individuals, partners, solution providers, and industry influencers. The SuiteWorld community offers excellent networking prospects and the resources to set your business up for success.
SuiteWorld Overview | Quick Recap of Last Year's SuiteWorld Event
How Can SuiteWorld Provide Value To Your Role?
Professional Services Automation:
For consultants, project managers, SuiteProjects and OpenAir users, these sessions focus on simplifying project management to enhance service delivery and drive project profitability.

Finance:
For those who manage and/or support the finance and accounting functions of an organization (CFOs, CPAs, accountants, controllers and business analysts).

Developer:
For software developers, DevOps and technical users who build, manage and test applications and customizations that extend the functionality of the suite.

Sales / Commerce:
Learn best practices to help drive sales and improve customer relationships.

NetSuite Administrator:
For the administrator whose day-to-day duties involve configuring and maintaining their NetSuite account.

Operations:
From sourcing and production to fulfillment and shipping, these sessions will help teams efficiently manage operational processes.

NetSuite is offering Early Bird Registration:
Take advantage of NetSuite's Early Bird Registration now! Secure your spot today to enjoy the exclusive Early Bird rate and save $300. Hurry, as there are only a limited number of Early Bird passes available. Don't miss out!
How to register to SuiteWorld


Who is headed to SuiteWorld From Protelo?
Tom Victor
President

Aimee Aguilar
Chief Financial Officer



Karah Finan
Director of Business Development
Lynnette Falls
Account Manager

Eddie Atter
Senior Technology Consultant

Travis Perkins
Senior Business Consultant
NetSuite Experts Here for you!
Protelo is an award-winning, full-service NetSuite partner and reseller that can help you to implement, service, and support NetSuite today. With the exciting advancements in NetSuite this year, you may be realizing you could use additional support. Whether you are looking for customizations, optimization, industry expertise, or just simple answers to your questions, Protelo can help. Let's meet up at SuiteWorld and talk all things NetSuite! Can't wait until September? Check out Protelo's recap of our 2022 SuiteWorld experience!
Protelo is Hiring NetSuite Experts:
We're expanding and hiring NetSuite professionals. Our employees are our top priority at Protelo. We're looking for skilled individuals to join our growing NetSuite consulting team. Quality is fundamental to everything we do, reflected in our experienced staff, strong customer relationships, daily interactions, and flexible work environment. Come be a part of our success story!
Why Protelo?
8 Reasons to work at Protelo?
Hiring Now: Open NetSuite Positions
Meet the Protelo Team
Let's connect at the Event! Join Protelo at SuiteWorld 23!
Mark your calendars and be sure to join us at SuiteWorld 2023! Let's embark on a journey of innovation, learning, and growth together. See you there!
Book a time to meet with Protelo at SuiteWorld
Get NetSuite Services Support Today