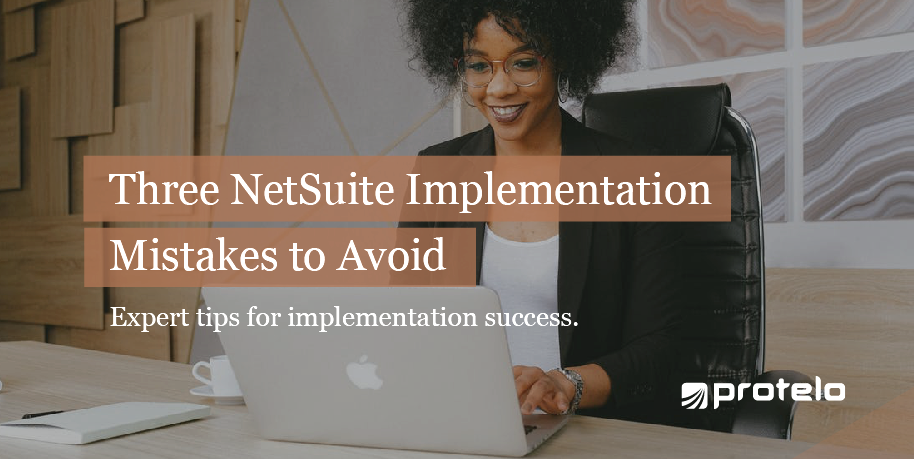 NetSuite Implementation: Three Mistakes to Avoid
According to analyst firm Gartner, more than 75% of all ERP implementation projects fail, due to a lack of industry knowledge, clarity of cost, time-scale, functionality, training and resource issues. Knowing this, it would only make sense to appoint a strong team of NetSuite experts.

Mistake #1:
Not choosing the right partner
Selecting the right NetSuite implementation partner is just as important as selecting the right software for your business. For midsize companies, ERP is one of the most important investments businesses make, so it's crucial for partners to implement the tools successfully.
When you are looking for a NetSuite partner, ask questions and request references to find out first-hand how their transition went. Select a partner who has experience with companies of your size, scope, and industry to ensure that their capabilities are sufficient enough to fulfill your specific business needs. Check to see if the company has case studies of successful implementations. Do they have the necessary resources to handle an implementation of your size? If you're a global company, have they handled global ERP implementations before? All of this is important to know.
A successful NetSuite partner doesn't stop after the software is installed, so look for a partner that fosters long-term client relationships. Long-term support will not only ensure that your organization fully realizes the benefits of NetSuite's ERP system, but also that you are aware of emerging trends to make the best decisions for immediate and long-term growth.
Get NetSuite Services Today
Questions to ask NetSuite Partners:
Do you offer post go-live support?
What are your NetSuite billing rates?
Do you have experience in my industry?
Can I contact any of your clients for a reference?
What are your certifications?
How long have you worked in the software industry?
What NetSuite services do you offer?
What issues have you helped clients overcome?
Will you provide training for my staff?
Is NetSuite your specialty?


Mistake #2:
Not having an on-hand partner when working in-house or with SuiteSuccess
NetSuite's product is incredibly advanced, offering infinite features and functionality, but implementing it is not always simple. Most companies have complex business needs that don't align with the built-in, off-the-shelf configurations. Implementation is just the starting point of optimizing an ERP solution. Customizations, additional integrations, and basic training are an out-of-scope cost. There are many different variables that go into implementation projects and it is important that your company has an on-hand team of experts as a safety net to help further customization and provide NetSuite services on an as-needed basis.
When NetSuite customers run into an issue or need help, they are often driven to forums, online user groups, user guides, or forced to submit a waitlist support ticket for assistance. By bringing a NetSuite partner to the project team, your company will have direct access to experienced NetSuite experts with the ability to augment your team when implementing in-house or with NetSuite direct.
Whether it's an integration that isn't quite working, a lack of training, or answers to your questions, on-hand partners are a one-stop-shop. They are certified to assist in the evaluation, implementation, configuration, customization, and services of NetSuite solutions to minimize the impact of downtime on your business.

Mistake #3:
Not preparing for the implementation by cleaning up bad data
Companies encounter huge issues when attempting to migrate data to their NetSuite system if the information is disorganized. A recent survey of executives, reports that data management and integrity are some of the top issues businesses face.
When a company grows large enough to need ERP, a common issue is data spread across multiple applications and locations. Data can be mapped and mass imported into NetSuite during implementation easily, but prepping for import with a cleanup is critical. Bad data affects departments across the enterprise, billing, account management, marketing, and customer service.
Bad data can cause more issues than just internal confusion. If there are duplicate, inaccurate or incomplete records, problems can arise. Emails may be sent twice—a marketing nightmare. Or accounting may not have the correct address to send an invoice. NetSuite CRM has safeguards against many of these common data problems, but starting with your information in order can avoid this issue in the first place.
Cultivating good data management practices before implementation, with the built-in data safeguards of NetSuite, can ensure quality across the organization after your NetSuite go-live.
Additional NetSuite Resources:
Our 5-Star NetSuite team has put together a list of our helpful guides to assist you in your software evaluation, research and explain why organizations choose Protelo as their NetSuite partner of choice.
2. NetSuite SuiteSuccess Guide
5. Guide for a Successful NetSuite Implementation
9. NetSuite Administrator Tips & Tricks
10. NetSuite Blog

The Protelo Difference
Protelo is a 5-Star NetSuite Solution Provider and reseller that provides extensive services to ensure clients get the most out of their software. We are one-stop-shop assisting in the evaluation, implementation, configuration, customization and services of NetSuite solutions. We provide support, administration and process optimization to ensure organizations get a return on their investment.
Whether you are looking for assistance with implementation, customization, or simply need answers to your questions, our NetSuite consultants are experts on adapting the product to meet your specific business needs.
Get NetSuite Services Today Get A NetSuite Price Quote Today
Subscribe to our blog for weekly tips, tricks, and NetSuite how-to posts from our experts!