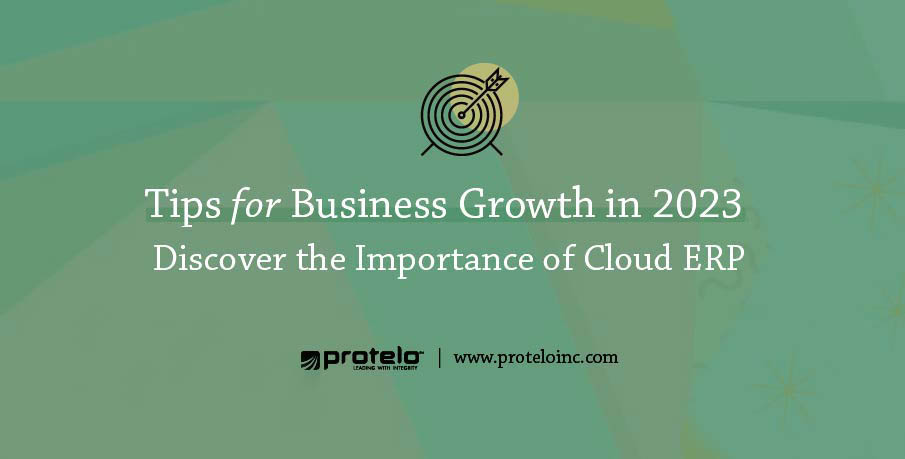 Tips for Business Growth in 2023 | The importance of ERP
Successful business leaders are creating and altering business plans for 2023, to keep up with an unprecedented year and the morphing ways business is and will be conducted.
With uncertainty still present, businesses are compelled, more than ever, to implement systems to handle remote employees, react to supply chain delays, and increase the visibility of data to increase agility.
Rather than bolting on complexities and connecting patchwork software to add to an outdated system, cloud-based ERP technology is paving the way for businesses to respond to growth and change in a competitive business world. Learn the reasons why fast-growing businesses are moving to the NetSuite ERP over other competing software choices to transform their business and get out of the world of outdated, disconnected, legacy systems.
A few questions to ask yourself:
Does your organization depend on a basic accounting system to operate your business?


Are you relying on manual data entry?


Are you struggling with a system that is completely disconnected?


Does it take a long period of time to pull reporting and real-time business information?


Do you have up-to-the-minute visibility over your employees, your projects, and your processes?


Have you outgrown your current system?
According to Forbes, Cloud ERP spending is up 59% and the market will reach more than $258 billion by the end of 2022.
Cloud ERP software is at the top of many business owners' minds. With a 59% increase in cloud spending in the past year alone, businesses are forced to push traditional boundaries and become even more competitive in these critical times. Companies running on old technologies are facing outgrowth, drive inefficiencies, and are struggling to keep up with manual processing across the entire business. Real-time analytics, KPIs, and reports are incredibly important for businesses to make informed decisions.
NetSuite is the world's #1 cloud-based software helping companies manage core business processes with a single, fully integrated system from ERP, Financials, CRM, Ecommerce, Professional Services Automation, inventory and more. NetSuite grows with you from the office in your basement to the office on the top floor, a software you will never outgrow.
NetSuite ERP vs Legacy On-Premise ERP Comparison: When it comes to the difference between cloud ERP and on-premise solutions it's important to look to future growth. Based on recent Forrester research, "Approximately half of ERP customers are on releases that are two versions behind the current release, which may be four or more years old or more." Think beyond your disconnected, patched, bolted-on, on-premise ERP system and consider a change to a true cloud ERP that grows and scales with your business.
More than 53% of decision-makers in a recent survey noted that the investment in Cloud ERP and CRM was a major priority. It is imperative for businesses to implement software that allows for optimization, agility, flexibility, and scalability across the entire business to thrive in the new year.
Check out a 5-minute read, The Great Debate: One Integrated Business System vs Siloed Applications to dive deeper into the contrast of bolt-on systems vs the seamless integration of cloud ERP across the entire business.
NetSuite Comparison Guides

Why Businesses Choose Cloud ERP

Business Tips for growth in 2023
No matter the size of your business or what industry you are in, these can-do strategies are great examples to help expand your business in the face of uncertainty.
Lower the cost of IT.


Make data-driven business decisions.

Strong SEO and digital strategy – 93% of buyer experiences start with a search engine.


Brainstorm new ways to expand and diversify your brand.


Transition to moving your business online.


Offer a personalized customer experience with marketing automation.


Elevate company culture with a virtual work environment.


Improve workforce productivity with anytime, anywhere access in the cloud.


Focus on your business not your software.
Considering A Software Change in 2023?
With over 33,000+ customers and subsidiaries in 200 countries, NetSuite is 10 times larger than the nearest competitor with 10 times the resources. Built from the ground up for the cloud, NetSuite is optimized for fast-growing emerging businesses with proven results for more than a decade. With seamless integrations and the ability to easily customize the software to fit individual consumer needs, it's tough to find a competitor that can offer a superior product. Learn more about NetSuite today.
NetSuite has future-facing features for modern businesses that can:
Enhance the order-to-cash process by 50%.
Lower financial close by over 50%.
Create informed decision-making with real-time data.
Lower cost of ownership by eliminating upfront IT expenditures and delivering automatic product upgrades.
Take your organization to the next level with NetSuite.
Become more competitive, lower costs, streamline business processes, and increase efficiency with NetSuite's #1 Cloud business software.

Why work with a Top-Tier Partner to learn more about NetSuite? Take advantage of our flexible service offerings, and benefit from an in-depth knowledge of business applications to ensure you get the solution, licenses, services, and support that's right for you. For more information about NetSuite, a Free Product Tour, or NetSuite custom pricing, contact Protelo today!
Out of the many options your business has online, NetSuite customers choose to work with our 5-star NetSuite team because of the personalized business guidance and one-on-one support. Whatever industry or sector you are in, our highly skilled NetSuite team at Protelo understands your business challenges and the solutions you need to succeed. Our team has assisted hundreds of small, midmarket, and enterprise companies in achieving their business goals.
Get NetSuite Pricing Contact Our NetSuite Team Today

Follow us on Social for NetSuite tips, tricks, and ERP fun:
YouTube, LinkedIn, Twitter, Pinterest, Instagram, and Facebook