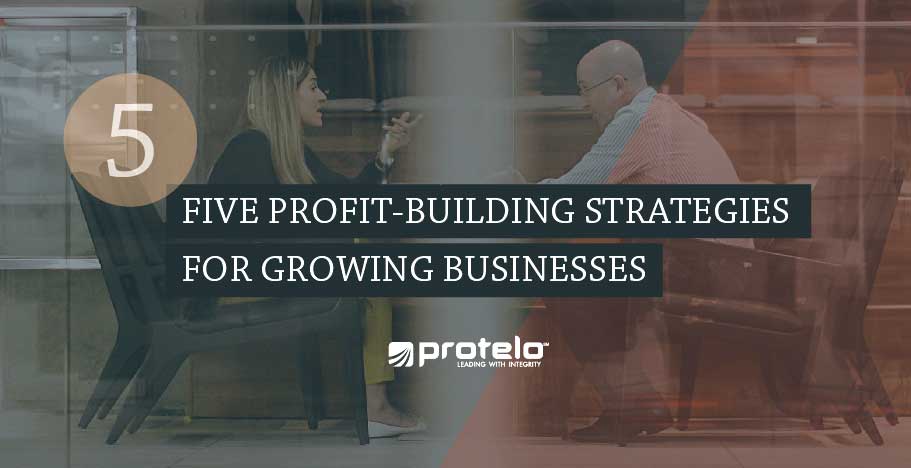 Five Profit-Building Strategies For Growing Businesses
Key strategies successful businesses are using to grow net profits, and improve business processes.
Amid today's vacillating economy, it's never been more important to examine all areas of your business to:
Increase visibility of your entire organization
Optimize operations and lower costs
Grow and sell into new channels
Locate new revenue streams
In this post, we will dive into the top 5 strategies businesses are using to lower costs, increase profits, refine business processes and boost results in 2023.
Strategy 1 – Visibility of Your Entire Business
Develop a clear view of your business operations by capturing results across all departments (internal and external) to recognize patterns of successes, interruptions, and results. With a 360 view, you can identify areas that need attention and create an action plan for change or improvement. Use strategic planning to outline goals, highlight each their importance and align your company's operational drivers.
If you are in charge of managing profits and cash flow, you must know your customers. Identifying your most profitable customers is essential to success, as 20% of your customer base makes up 80% of your profits.
To identify your most profitable customers ask yourself questions like…
What are your most profitable products?
Who are your most fruitful customers / least profitable customers?
What are the costs associated with profitable / unprofitable customers?
To gain higher profits, focus in on your customers first. It is important to know if different types of customers share similar traits. You can utilize this same approach with projects, marketing, product development, and employees. Who are your top performers? Are employees performing below standard? Do they share identifiable characteristics?
Visibility of your company's perception and reputation are very important amongst customers. Are you asking for feedback? How can you improve? What's working? How are you comparing and differentiating from your competitors?
Gaining a 360 view of your business isn't easy but it starts with an integrated business system. To keep your business growing at a rapid rate you can plan for, it is essential to have your business software applications integrated around a single database, codebase, and business process. Real-time visibility is important in making timely decisions. Information can be accessed anywhere, without wasting resources, and employees are better informed. Companies can also upsell and cross-sell to their existing customers because of the improved visibility they obtain. Integrated software suites are transforming how companies run and taking them to the next level of profitable growth.
Strategy 2 – Optimize Operations & Lower Costs
Businesses of all sizes are using business software that is "intended" to help drive growth but struggle with a lack of efficiency due to disjointed, bolted-on, functional systems. According to Gartner Analyst and CIO John Roberts, "Cost optimization in the age of digital business means that organizations must use a mix of IT and business cost optimization for increased business performance through wise technology investments. The key to effective enterprise cost optimization is to have proactive processes in place as part of business and technology strategy development to continually explore new opportunities."
Streamlined, integrated platforms help companies grow, enhance overall profitability and help your business avoid costly traps like:
• Loss of productivity with time-consuming manual processes and data entry.
• Lack of real-time visibility across the organization resulting in slow inaccurate decisions.
• Wasted time and money maintaining, integrating, and upgrading to new versions of applications.
• Failure to retain customers due to competitors meeting your customers' needs more efficiently.
An investment in the right technology may help your business grow, enhance profitability, and ensure your customer experience is well integrated so it works together as one.
Strategy 3 – Grow & Sell into New Channels
In order to have a growing business in today's competitive market you have to sell online, offline, wholesale and direct to build out a healthy customer pipeline. Selling on multiple channels allows you to leverage customer data when creating campaigns, learn more about your target markets and increase your product reach.
Targeting customers at their specific stage of the Buyer's Journey has a positive effect on new customers. According to a Demand Metric Benchmark Report, 60% of marketers agree that it is important to influence buyers early on in the journey and 74% of purchases are made with the first company to provide insight.
The buyers journey is made up of three main stages:
1. Top funnel: The Awareness stage – looking for opinions, education, and answers.
2. Middle funnel: The Consideration stage – heavy research to see if your product is a good fit.
3. Bottom of the funnel: The Decision stage – figuring out what it takes to purchase from your company.
Creating targeted marketing efforts towards all three of these different stages will require you to know the differences between each type of potential customer, where someone may discover your product, and how you stand out from the competition. In order to achieve a successful multi-channel approach, automation tools must be in place to develop a consistent experience for your customers across all channels.

Strategy 4 – Locate New Revenue Streams
Have you ever thought about creating new revenue streams for your business? Would you like to earn money around the clock? Most people do. As your company, products, features and services become more complex, help your business scale while staying competitive and profitable with a new revenue channel. Rather, reproduce what you already know, to a new set of clients, in a new way.
A great example of a brand that successfully introduced a new revenue stream is Uber, with Uber Freight and UberEats as it has ventured into different networks and demographics. Amazon has also taken its brand beyond its online store and morphed it into retail, digital services, distribution, robotics, grocery and much more.
To ensure potential revenue streams could be applicable to your client base
ask yourself these questions:
1. Is the company focused enough on the right moneymaking products?

2. How can you earn more revenue from what you're already doing?

3. Do we have the expertise and capabilities across all departments to fulfill these needs?

4. Will we be able to scale quickly with this new revenue stream?

5. What are customers asking for?

6. How will this quickly help increase company profits?
Too often, businesses are caught up in the daily issues of survival and have little time to step back. This endeavor can require a large investment of time, capital, and resources to build out this service line or product. Map out this entire path of what it would take from research to testing, marketing, selling, fulfilling and validate your assumptions before building. If you are a creative entrepreneur, you will have no problem succeeding! Start small, test different things and you will not lose anything.
Strategy 5 – Expanding Global / New Markets
Start planning on global expansion now as this growth potential cannot be ignored. Exporting for all-size businesses offers a huge increase of profits for growing companies. By expanding globally your business can:
• Release new products that are not applicable to U.S.customers.

• Grow profits as the seasons change and differ on a global level.

• Let go of U.S. dependence.
Global expansion does require a large undertaking on market research, cultural, social, and legal documentation as well as currency and tax differences. Modern automation tools can accommodate many of these business imperatives and scale with you to meet your new international company's growth needs.
Achieving enhanced visibility of your daily business, lowering costs, targeting customers and expanding into global markets, as summarized in this blog, may grant revenue-boosting opportunities. Adding an efficient, modern, world-class technology platform can set your company up for future success. Learn more about NetSuite today.
NetSuite is the #1 rated Cloud ERP system on the market today that helps businesses run more efficiently, cost-effectively, and scales with your company.
Get A NetSuite Price Quote Today
RELATED NETSUITE PAGES