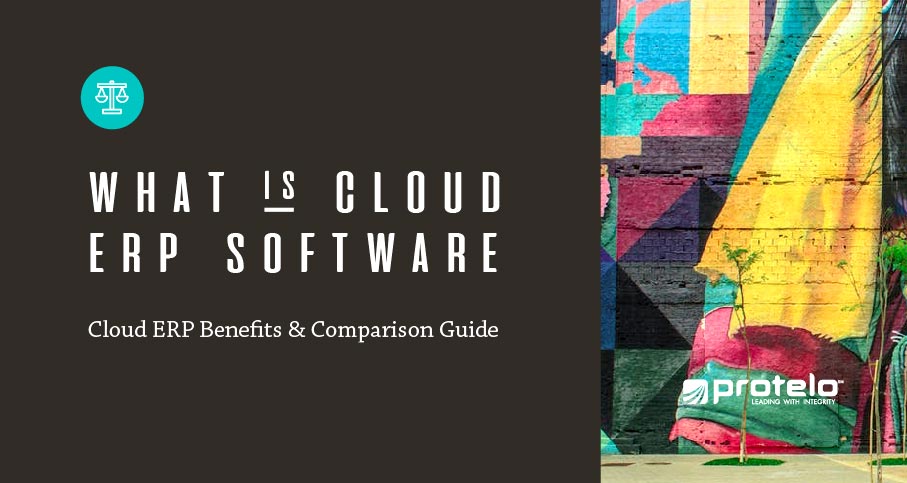 What is Cloud ERP Software?
Enterprise Resource Planning is impacting the business world on a daily basis through improved business insights, increased levels of efficiency, larger levels of collaboration, and a substantial reduction in operational costs.
ERP software helps business owners highlight business process improvements, analyze scenarios, unify processes, gain better visibility of employee productivity and streamline technology throughout the business.
Advantages and Benefits of ERP Software Solutions
ERP provides businesses the ability to:
• Access business data from anywhere at any time: With ERP based in the cloud, real-time business information is available on any device on vacation, in the warehouse, or working from home.
• Real-time information: Cloud ERP software updates immediately providing up-to-the-minute data across all departments.
• Reduce manual processes: ERP offers the functionality your organization needs to improve efficiencies, reduce costs and get more done by eliminating time-consuming, error-prone manual processes and point solutions by automating and streamlining day-to-day accounting and financial operations.
• Enhance Business Decisions: With a single version of business information, businesses are becoming more agile and competitive, and decision-makers are leading with strategic oversight, planning, and forecasting.
In its latest report, IDC said "demand for cloud-based ERP systems continues to grow because of their ability to access and analyze massive amounts of data in near real-time." That means real-time inventory insights to sales teams, freeing finance teams to keep a close eye on cash runway, and the ability to quickly respond to audits or other calls for performance data.
What is an ERP system used for? ERP software integrates all functions and departments into a single system to streamline information, synchronize reporting and provide automation across the entire organization. It also enhances day-to-day business activities such as compliance, accounting, supply chain, procurement, manufacturing, project management and helps to plan, predict, budget, and report important financial results. ERP enables real-time business information to flow through many different business processes and provide a single version of the truth.

What kinds of businesses and industries use cloud ERP technology?
Businesses of every size, vertical, and industry are altering the way they do business and utilizing the flexibility of ERP to keep up with ever-changing demands and requirements. The widespread growth of ERP exemplifies its immense importance to successful businesses. According to a report from Panorama Consulting, 95% of the companies that implemented an ERP system noted immediate business process improvement.
Major industries that benefit most from ERP Software:
Unless organizations have a disaster recovery and business continuity plan, on-premises ERP solutions come with the risk of catastrophic data loss in the case of hardware or software failure or a natural disaster, fire or break-in. Cloud providers typically offer enterprise-grade security and end-to-end encryption of data between the vendor and the organization. Note that companies are responsible for identity and access management of cloud ERP users and securing devices, like PCs or smartphones.
Learn More About NetSuite ERP
Why Are Companies Moving to Cloud ERP?
NetSuite ERP vs Legacy On-Premise ERP Comparison
True Cloud Multi-Tenant Saas
Accelerated time to value, see value from day one
Non-technical, user-friendly configuration for the entire team
Low involvement from IT
Integrated data support
Pay per month, per user
Always up to date with the latest upgrades and features
Safe, accessible and Secure business information
Creates new opportunities for growth and scale
Hosted Single Tenant Saas
Moderate implantation size
Customizations are troublesome and take time
Mandatory for IT resources to be involved
Pay per month, per user
Upgrades and customization are expensive
Requires separate database for each tenant
Integrations are limited
On-premise ERP
Implementations and upgrades are expensive and lengthy
IT resources are required
Disconnected data framework
Version lock
Not secure – requires additional software
Large investment with additional hardware costs
NetSuite – The #1 SaaS ERP Software Suite & Cloud ERP Solution
Businesses are embracing the importance of a cloud-based ERP system and feeling the urgency to modernize. NetSuite is the world's leading provider of cloud-based business management software helping companies manage core business processes with a single, fully integrated system from global ERP, Financials, Customer Relationship Management (CRM), Ecommerce, Professional Services Automation, inventory and more. NetSuite can be fast to deploy, easy to use and flexible enough to support all aspects of your business.
Important Indicators For A New ERP

Why work with a top-tier Partner to learn more about NetSuite?
Take advantage of our flexible service offerings, and benefit from an in-depth knowledge of business applications that may ensure you get the solution, licenses, services, and support that's right for you. For more information about NetSuite, a Free Product Tour, or NetSuite custom pricing, contact Protelo today!
Why Protelo? Out of the many options your business has online, NetSuite customers choose to work with our award-winning NetSuite team because of the personalized business guidance and one-on-one support. Whatever industry or sector you are in, our highly skilled NetSuite team at Protelo understands your business challenges and the solutions you need to succeed. Our NetSuite team has assisted hundreds of small, midmarket and enterprise companies in achieving their business goals.
Get 2022 NetSuite Pricing Today

RELATED NETSUITE PAGES

NetSuite Comparison Guides
Follow us on Social for NetSuite tips, tricks and ERP fun:
YouTube, LinkedIn, Twitter, Pinterest, Instagram, and Facebook