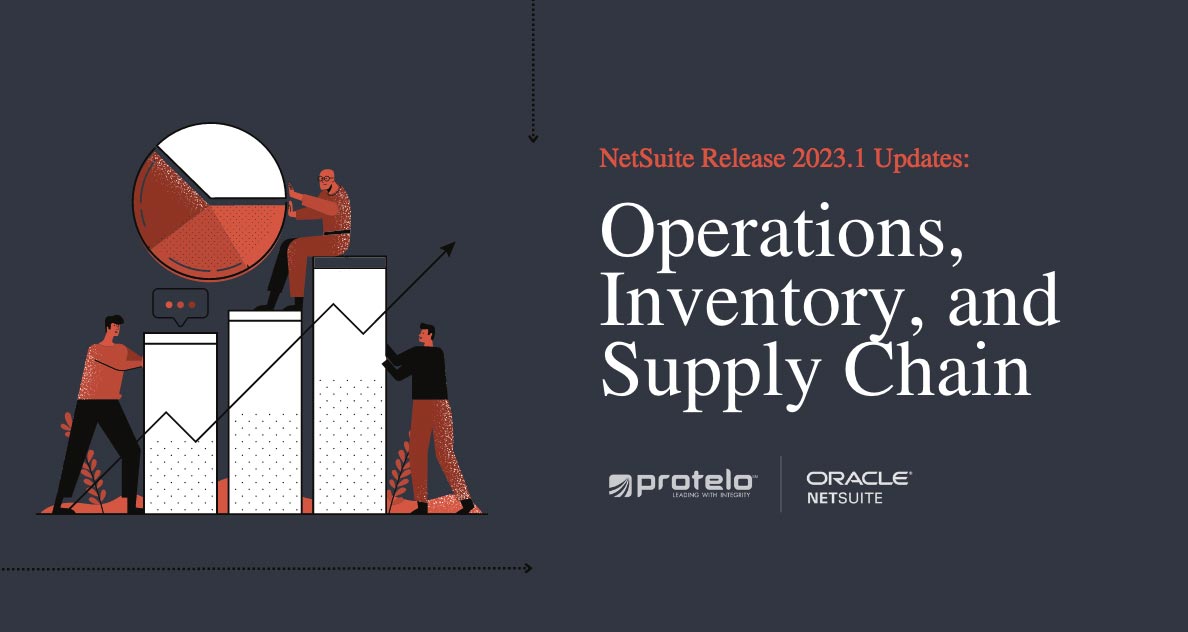 Oracle NetSuite Release 2023.1: Operations, Inventory and Supply Chain
Ship Central, Item 360, WMS Enhancements and Critical Information for Operations-Focused Professionals
The first NetSuite release of the year, 2023 Release 1, is rolled out with the aim of increasing visibility and detail across the organization. This new release offers a range of improvements across the suite in finance, operations, supply chain, accounting, and more— aimed at helping businesses to accomplish more tasks with ease. With this update, NetSuite continues to strive for delivering innovative solutions to streamline and automate key business processes, freeing up time for professionals in these areas to focus on tasks to further business growth.
Don't have time to read the release notes? Below is a list of highlighted enhancements for 2023.1 for COOs, Operations Professionals, Inventory Managers, and IT.
Oracle NetSuite 2023 Release 1: AP Automation, Fulfillment & Shipping Improvements,
Workforce Management & More



Ship Central
NetSuite Ship Central is now available in accounts that use Warehouse Management or Advanced Inventory Management.
On your kiosk or tablet device, Ship Central provides packing and shipping capabilities that enable the following functions:
Identify picked items across multiple orders for a customer and pack them at the same time

Pack items in cartons and transfer packed cartons onto pallets

Gain visibility into which items are packed across multiple cartons or pallets and shipped

Ship through carriers that you integrate from ShipEngine

Choose from a variety of shipping modes offered by a carrier: single or multi-package and domestic shipping

Access real-time rates and rerate a shipment

Print or reprint customizable labels, packing lists, and shipping documents through your device. Use printers that you set up in PrintNode, a third-party provider of hosted printing services

Void a shipping label
NetSuite Ship Central requires specific installation instructions and currently does not support international shipping and LTL ship methods. Contact your Protelo Project Manager for more information on the implementation and configuration of this feature.
Item 360
The Item 360 dashboard streamlines inventory planning and management by presenting the relevant information about an item in a single, convenient location. This dashboard goes beyond simple information and provides users with a comprehensive view of their inventory, including key performance indicators, current inventory count, projected stock levels, and notifications for any potential shortages or surplus. Previously, this information was scattered throughout NetSuite, but with the introduction of the Item 360 dashboard, it has been consolidated for easier access and use.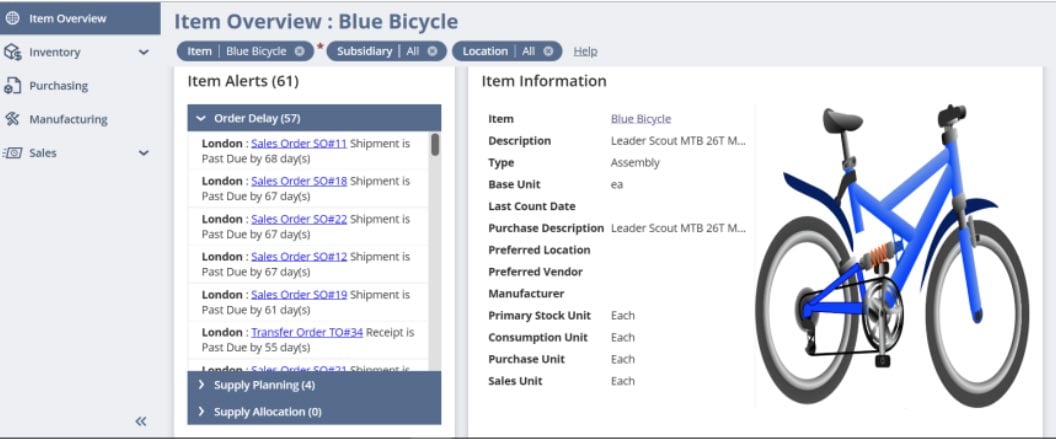 Photo source: netsuite.com


The Item 360 dashboard drills down to item transaction details from the following focus pages:
Item Overview Page

Inventory Page

Purchasing Page

Manufacturing Page

Sales Page
Contact your Protelo Project Manager to get started on configuring Item 360 across your inventory operations.



AI-Enhanced Item Recommendations
Buy Again and Alternative Items are two new intelligent recommendation types that are now available in NetSuite. These recommendations make it easier to upsell, cross-sell and increase your customers' overall order value.
Buy Again – these are specific to each customer and are based on whether items are bought previously or regularly by the customer. If a customer bought an item once, recommendations are based on whether the item is bought regularly by other customers. For example, if other customers buy an item every month, the Buy Again recommendation may recommend the same item for a customer a month after they bought it for the first time. Buy Again recommendations are available on sales orders, estimates, and opportunity records, as well as SuiteCommerce websites.
Alternative Items – these are specific to an item already selected and show intelligent recommendations of alternatives to the item based on similarity of item name, description, and category. For example, if a website shopper adds 10 small green shirts to an order, the Alternative Items functionality can recognize there are not 10 small green shirts in stock and may recommend a portion of those to be medium green shirts or small blue shirts. Alternative Items recommendations are available on sales orders, estimates, opportunity records, and SuiteCommerce websites.
Protelo can help you configure and set up Buy It Again and Alternative Items.
Oracle NetSuite WMS Enhancements
Lot and Serial Numbers on Labels — NetSuite WMS has introduced new label templates for lot and serialization. Users can now print pallet or item labels that show the lot and serial numbers of the item. Lot and serialization must be activated via the Advanced Inventory module to use this feature.
Protelo's experts have helped hundreds of companies harness the power of NetSuite.
With decades of business-process expertise and extensive product knowledge under our belt, our consultants provide a single source of expertise to implement, customize, integrate, and refine your back-end operations.
When working with Protelo you will receive:
• Top-Notch Customer Service
• Oracle NetSuite Expertise
• On-demand Service & Solutions
• United States-based Team
Get NetSuite Services Today NetSuite Services List
Follow us on Social for NetSuite tips, tricks, and ERP fun:
YouTube, LinkedIn, Twitter, Pinterest, Instagram, and Facebook