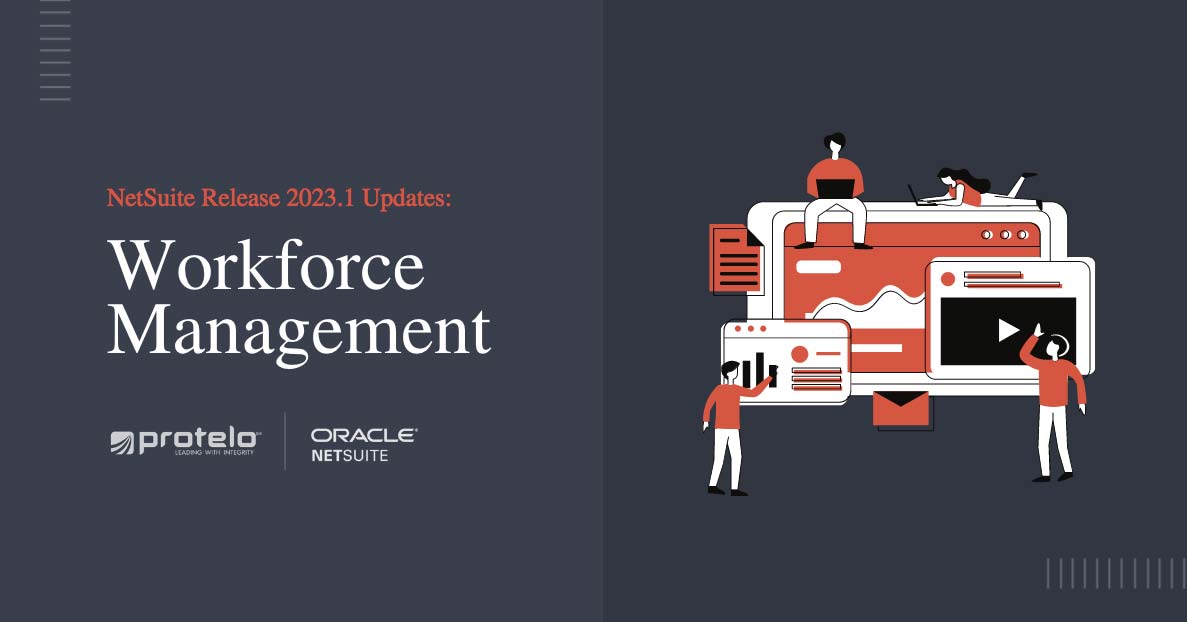 Oracle NetSuite Release 2023.1: Human Resources & Workforce Management
Time and Attendance, Payroll, and Critical Information for HR-Focused Professionals
The first NetSuite release of the year, 2023 Release 1, is rolled out with the aim of decreasing the manual time it takes for managing your workforce. This new release offers a range of improvements across the suite in finance, operations, supply chain, accounting and more— aimed at helping businesses to accomplish more tasks with ease. With this update, NetSuite continues to strive for delivering innovative solutions to streamline and automate key business processes, freeing up time for professionals in these areas to focus on tasks to further business growth.
Don't have time to read the release notes? Below is a list of highlighted enhancements for 2023.1 for CFOs, CEOs, accounting, and payroll managers.



NetSuite's ERP solution delivers automatic updates twice a year with all of the latest enhancements and features, for FREE. Learn how the release process works.
Workforce Management
What is workforce management? Workforce management is a crucial aspect of business operations. It encompasses all the systems and processes that help in effectively utilizing the time and talent of employees. It covers various aspects like time tracking and scheduling, pay code tracking, compliance with labor laws, and more. It is a part of the broader category of Human Capital Management (HCM) which deals with all core HR functions such as payroll, benefits administration, and talent acquisition.
The Oracle NetSuite Workforce Management module brings together various data points to improve a business's operations. It helps collect real-time data, manage field services, integrate HR information, track employee training, monitor performance, and plan recruitment efforts. Additionally, it helps in budgeting by considering historical trends and forecasting demand. The goal of workforce management is to optimize and streamline the workforce, keep employees engaged and productive, and ensure compliance with regulations.
Here are a few of the key features of the Oracle NetSuite Workforce Management module below. Interested? Contact your Protelo account manager for more information. Decided on the module? Protelo can help implement.
Scheduling
Create, edit, and reassign shifts in one place. The visual shift scheduling tool allows managers to use a combination of forecasts, employee schedule templates, and labor deployment models to optimize their workforce scheduling. Build a flexible labor model that tells you how many people you need, using sales and production data, and see where you may be under or over-staffed.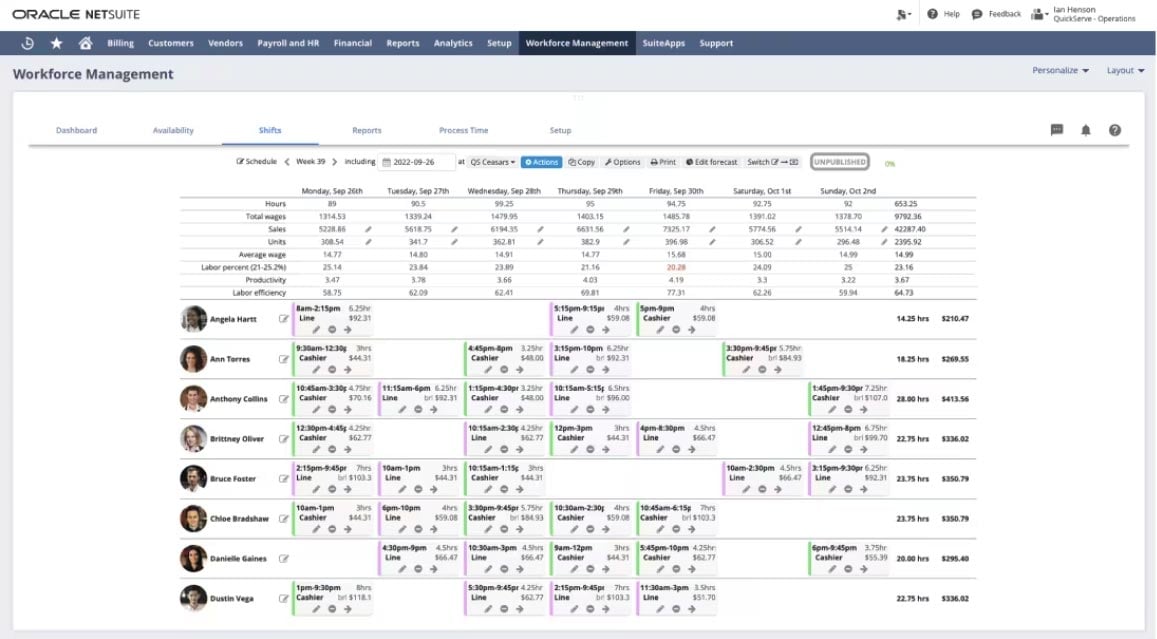 Photo source: netsuite.com


Time & Attendance
SuitePeople Time Clock allows employees to punch in and out on an Android or iOS mobile app with geo-tagging, or you can specify on-site Android or iOS tablets with a PIN. Optional photo capture and biometric fingerprint verification eliminate the risk of buddy clocking. Electronically record your employees' shift start, finish, and break times, and compare them against what was scheduled. At any time, managers can make needed changes by comparing staff schedules to the current environment. Filling a no-show or short shift is fast and easy.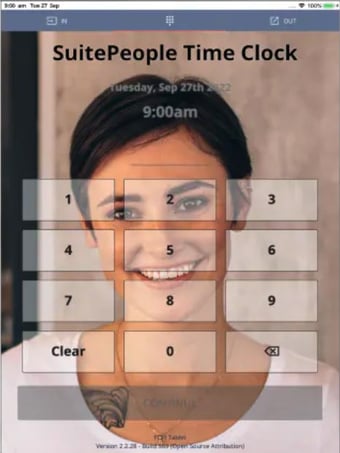 Photo source: netsuite.com
Wage Calculations
Automatically calculate hours, overtime, and holidays with the built-in wage rules engine. Apply unique company policies and rules and see them triggered as you build schedules and approve time worked. This allows you to consider the total labor cost of your schedules. Seamlessly send hours worked, in line with relevant rules and penalties, into SuitePeople Payroll or outside payrolls.
Mobile App
The mobile app allows managers and employees to access and interact with their schedules from anywhere, anytime. Employees can clock in and out with the mobile app to easily track their time, confirm they'll work the published shift schedule, and get reminders of upcoming shifts and breaks. They can ask to swap shifts, and managers can approve or deny requests. Managers are notified if an employee has not punched in or out. To fill a shift at short notice, managers no longer need to dig out a list of phone numbers. In the mobile app, they can easily see who's available and who will not affect labor targets with overtime.
Analytics
Customizable dashboards allow you to organize and monitor your most important data at any point throughout the day, without having to search in multiple places. Forecasts combined with labor coverage data show forecast sales against scheduled labor metrics, ensuring managers have profitability of the business top of their mind. Labor metrics are updated in real-time as you adjust the schedule. See daily and weekly stats including forecast sales, labor cost percentages, sales per labor hour, customer counts, and store or warehouse targets. With side-by-side comparisons of locations and KPIs, managers can see how they are tracking to their targets and make on-the-fly staffing adjustments.
Protelo's experts have helped hundreds of companies harness the power of NetSuite.
With decades of business-process expertise and extensive product knowledge under our belt, our consultants provide a single source of expertise to implement, customize, integrate, and refine your back-end operations.
When working with Protelo you will receive:
• Top-Notch Customer Service
• Oracle NetSuite Expertise
• On-demand Service & Solutions
• United States-based Team
Get NetSuite Services Today NetSuite Services List
Follow us on Social for NetSuite tips, tricks, and ERP fun:
YouTube, LinkedIn, Twitter, Pinterest, Instagram, and Facebook