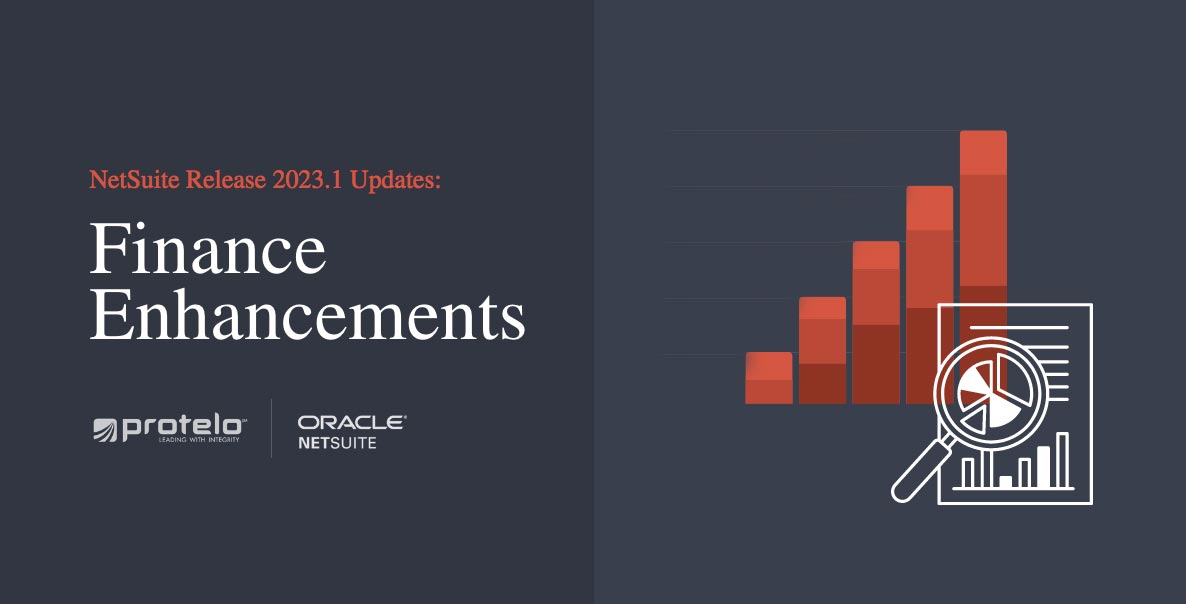 Oracle NetSuite Release 2023.1: Finance Enhancements
Expanded tax functionality, AP Automation, Budget Improvements and Critical Information for Finance-Focused Professionals
The first NetSuite release of the year, version 2023 Release 1, has been rolled out with the aim of increasing efficiency and productivity for businesses. This new release offers a range of improvements across the suite in finance, operations, supply chain, accounting, and more— aimed at helping businesses to accomplish more tasks with ease. With this update, NetSuite continues to strive for delivering innovative solutions to streamline and automate key business processes, freeing up time for professionals in these areas to focus on their core goals and strategic initiatives.
Don't have time to read the release notes? Below is a list of need-to-know enhancements for 2023.1 for CFOs, controllers, finance professionals, and accountants.
Nexus-Level Tax Exemption
Nexus-Level Tax Exemption allows NetSuite administrators to designate certain nexuses as tax-exempt, meaning that tax calculations will no longer be required for those nexuses in SuiteTax. This feature enables an administrator to bypass the tax engine selection and related configuration in NetSuite when your business does not need to report taxes, such as for a non-profit business or when doing eCommerce business in states that do not require sales tax nexus. Nexus-level tax exemptions in NetSuite help your business stay compliant with tax regulations by minimizing errors and costs associated with incorrect tax calculations.
The tax-exempt status of a nexus is displayed in the Tax Registrations subtab of the Subsidiary records. To learn more about the Nexus-Level Tax Exemption, you may refer to the SuiteAnswers topics: Enabling the SuiteTax Feature, Selecting a Tax Engine for Tax Registrations on Migrated Subsidiary Records, and Assigning Tax Registrations to a Subsidiary in SuiteTax.
Contact the Protelo team today to help you configure your accounting systems for this new feature.
AP Automation,

AI,

and

Bill Capture
The manual process of entering vendor bills in the accounts payable (AP) process can be inefficient and prone to human error. The impacts of mistakes in AP processing can result in increased overhead costs, missed savings, and a higher risk of fraud. To address these challenges, NetSuite has introduced the long-awaited AP automation feature and, in its 2023.1 release, added more enhancements.
This new feature allows companies to upload vendor bills simply by emailing them to NetSuite. The bills are then scanned using AI-based object detection and optical character recognition (OCR) to convert the relevant information, such as: vendor name, PO number, items, and pricing, into digital text and match them with the corresponding purchase order. With this feature, companies have the flexibility to edit details, adjust taxes and shipping costs, and swap lines between items and expenses.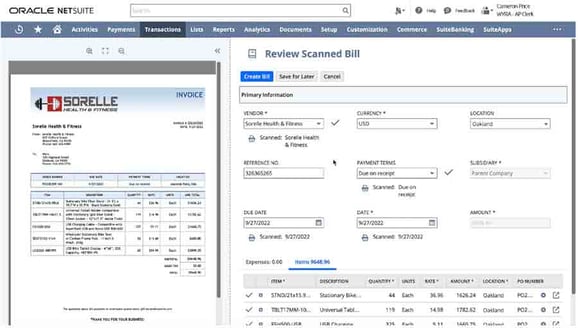 Photo source: netsuite.com

The new vendor approval routing feature is embedded in the payment automation of NetSuite to ensure the accuracy of vendor details and reduce the risk of fraud. Any changes made to existing vendor or bank records have the option to enter an approval process to ensure the information is correct. With these enhancements, companies can avoid missed or overdue payments and maintain good relationships with their vendors.
Talk to your account manager about the requirements to use the AP Automation Module in NetSuite.
Budget Validation Management
With enhancements to the Expense Commitments and Budget Validation SuiteApp you can now roll over unused budgets from the previous budget period to the current period.
In previous versions of the SuiteApp, monthly was the only supported budget method. From this version onward, the SuiteApp supports the following budget methods: quarterly, yearly and custom (you must enter the start date and end date manually.
For more information, see the SuiteAnswers topic Expense Commitments and Budget Validation SuiteApp or contact your Protelo consultant for help configuring and implementing this feature.




Protelo's experts have helped hundreds of companies harness the power of NetSuite.
With decades of business-process expertise and extensive product knowledge under our belt, our consultants provide a single source of expertise to implement, customize, integrate, and refine your back-end operations.
When working with Protelo you will receive:
• Top-Notch Customer Service
• Oracle NetSuite Expertise
• On-demand Service & Solutions
• United States-based Team
Get NetSuite Services Today NetSuite Services List
Follow us on Social for NetSuite tips, tricks, and ERP fun:
YouTube, LinkedIn, Twitter, Pinterest, Instagram, and Facebook