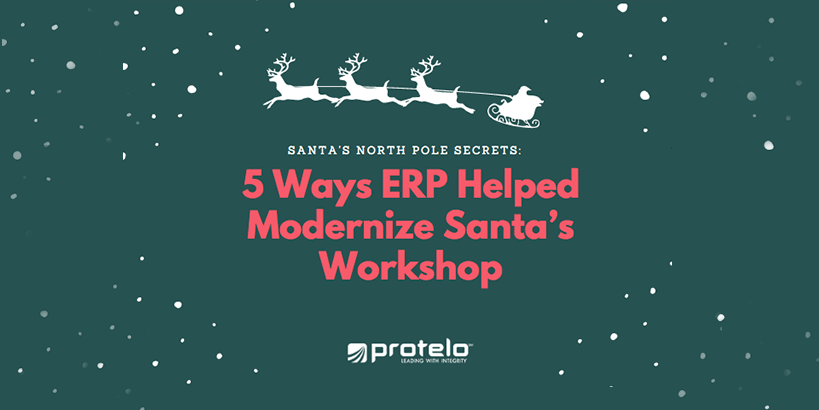 5 Ways ERP Has Helped to Modernize Santa's Workshop
How does Santa deliver presents to the entire world in one night?
Ho ho ho…It's all because of his cutting-edge business software. Santa's enormous list of logistical demands (not to mention his 5-star customer service rating) have us convinced that he's optimizing cloud ERP technology to bring more magic this holiday season. Discover how ERP has helped to improve Santa's business, streamline his global processes, manage his workforce, and help him prepare all year for success on his big day.
Santa's North Pole Secrets:
5 ways ERP improved Santa's workshop this year
Real-time, up-to-the-minute global view of wish lists, supplies, trends, and data across all departments using any device, and accessible anywhere.
Forget manual tasks to check his list twice, ERP provides the ability for Santa to improve efficiencies, reduce costs, and get more done by automating and eliminating time-consuming, error-prone, manual processes.
Just like Santa's elves have the best abilities to make the best toys, cloud ERP is fully tailored, configured, and customized to meet individual business needs that NetSuite customers can do themselves.
As the world population rate grows 81 million people per year, how has Santa continued to keep up? Cloud ERP has provided a way for Santa to grow and scale to meet his business needs from the beginning at the smallest workshop to his current global enterprise.
NetSuite ERP has allowed Santa to run his entire workshop on a single integrated solution.
Why NetSuite ERP

What's on your business Christmas wish list this year?
If you can check 4-8 of these boxes, consider ERP to make your business dreams come true:
Better insight into what's happening across your organization in real-time.
Increased visibility into key metrics and real-time reporting.
Enhanced functionality to keep pace with modern requirements.
The ability to scale as you expand to multiple locations
Obtain accurate inventory levels to avoid stock outs and overstocks.
Less time and resources spent on IT support required for system updates and integrations.
The capability to customize the system to your individual business model.
Insight into supply chain forecasting or budgeting capabilities.
4 key benefits of omnichannel order management for retailers
How Santa prepares for the holiday season
Investing in the right technology has allowed Santa and his entire team to focus on delivering consistent and engaging experiences to set himself up for success during the busiest time of the year.
With a single system and version of the truth for aspects of the business (CRM, ERP and inventory management, and more) all data is up to date for existing, future front-end, and customer-facing systems. Because Santa set the foundation properly before his busy season, he is now able to take on the excitement of Christmas. We wish you a wonderfully happy, safe, and restful holiday filled with joy!
Tips to prepare for the holiday season
---
Our team is here to bring you cheer all year.
Protelo's Direct-To-Expert Access: Contact us to learn if your company may be a good fit for NetSuite! It's time to deploy new business software quickly and cost-effectively, so it can grow with you as your business scales! Protelo is a NetSuite reseller, and a fully-staffed software consulting firm. We'd be happy to help you implement NetSuite for your desired go-live date.
Is your business considering NetSuite software in 2023?
Want to learn more about NetSuite? If you are looking for a one-stop-shop for NetSuite expertise, our top-tier NetSuite experts are here for your business from software evaluation, licensing, customizations, implementations, and services. Protelo provides tailored one-on-one support & are the premier implementation experts.
Get NetSuite Pricing – NetSuite Pricing Calculator Learn More About NetSuite

RELATED NETSUITE PAGES

Follow us on Social for NetSuite tips, tricks and ERP fun:
YouTube, LinkedIn, Twitter, Pinterest, Instagram, and Facebook