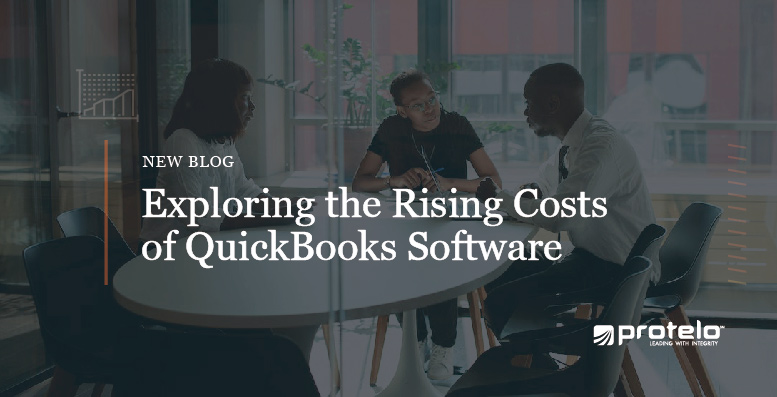 Exploring the Rising Costs of QuickBooks Software: A Guide
Basic accounting software, like QuickBooks, is often the preferred choice for businesses during their early stages due to its affordability and standard features.
As businesses grow and their needs surpass basic accounting functions, decision-makers often face a lack of obtaining crucial information that reaches beyond the fundamental capabilities of QuickBooks. To overcome limitations, many businesses create workarounds using spreadsheets and integrate other software systems resulting in an increase in financial costs, manual processes, missed opportunities, and the struggle of operating the business on a unified system.
Modern software should provide a way for businesses to streamline processes and achieve optimal efficiency. With a starter accounting system that lacks scalability and real-time insights, executives may struggle to get a clear picture of the business while team members waste valuable time updating spreadsheets. Fortunately, by adopting a more advanced accounting system, businesses are able to streamline workflows and optimize growth potential by easily adding sales channels, product lines, and revenue streams.
What are the increasing costs of QuickBooks Software?



Small and medium-sized businesses rely on QuickBooks accounting to manage their finances effectively. However, it's crucial to be aware of the potential growing costs associated with using QuickBooks. Do these growing costs sound familiar?

1. Subscription Fees: QuickBooks software is a subscription-based pricing model. To access its features and functionalities, businesses need to pay a monthly or annual fee, which can vary depending on the version of QuickBooks and the number of users.
2. Hidden Costs: QuickBooks offers various add-ons and integrations to enhance its functionality and help businesses manage their finances effectively that are not included in the purchase price. Maintenance, supplies, upgrades, and manual processes incur further costs that provide opportunity for error, lack of data accuracy, and the inability to support growth.
3. Training Costs: QuickBooks is known for its user-friendly interface, but like any software, it requires some learning to use it effectively. Businesses should keep in mind that investing in employee training is crucial to optimize the benefits of QuickBooks fully.
4. Customization Costs: QuickBooks templates for invoices, sales forms, estimates, and receipts can be customized to meet the specific needs of a business, but with limitations. QuickBooks support is free but if you need additional integrations or hands-on assistance, outsourcing this service will come with additional fees.

5. Data Migration: Migrating financial data from one accounting system to another can be a complex and time-consuming process, which can result in additional expenses if you need help.
6. Bolt-on Software Systems: Although QuickBooks is a popular accounting software for many businesses, it may not provide all the functionalities needed to run a business efficiently. Companies often require additional software systems, such as CRM, inventory management, E-commerce, project management, and more, to meet their specific needs. While integrating these software options with QuickBooks is essential, it can also come at the cost of complexity and disconnection between systems, leading to delayed decision-making.

When Does a Business Outgrow QuickBooks?
How do you when its time to make the switch to a new software solution? As a business grows and expands, its requirements change. Fast-growing small to medium size businesses often face limitations in QuickBooks, such as restrictions in functionality, capabilities, and customization options. In such cases, businesses may need to consider more advanced features beyond what QuickBooks can provide. These features could include complex inventory management, multi-currency support, and advanced forecasting and budgeting tools.

Today's trends are imposing new demands on businesses and their requirements to meet the needs of the consumer. Evaluating whether a business has outgrown its current software is essential to determine if they need to upgrade to a more advanced accounting software solution to meet their evolving needs.
Top Reasons Rapid Growth Companies Migrate From QuickBooks


Major Indicators Your Business Has Outgrown QuickBooks:
1. Difficulty managing data:
If a business is facing difficulty managing the volume and complexity of data, this may indicate a need for more advanced features and capabilities beyond what QuickBooks can offer.
2. Lack of scalability:
QuickBooks may not be able to accommodate the needs of a growing business based on its limitations with numbers of users, multiple locations, or entities to its accounting system.
3. Reporting capabilities:
Growing businesses require advanced reporting capabilities, such as customizable financial statements and detailed performance reports that reach beyond what QuickBooks insights can offer.



4. Need for customization:
QuickBooks is limited to basic accounting. If a business requires custom workflows or integrations with other software tools, QuickBooks may not be able to accommodate these requirements.
5. Time-consuming manual processes:
Spending a significant amount of time on manual accounting processes, such as data entry, reconciliations, or reporting, may be a sign to evaluate a cloud-based ERP system to streamline processes.
6. Lack of integration with other business systems:
If a company needs to integrate with additional software tools to operate at peak efficiency, such as CRM or ERP systems, QuickBooks may not be capable of offering the required connectivity. Consequently, many businesses resort to adding separate systems, resulting in increased complexity and reduced visibility.
If your business is experiencing one or more of these signs, it may be time to consider evaluating a robust ERP software system that can handle the increasing complexity of business requirements.



Is QuickBooks limiting your growth?
When is the right time to make a change?

Learn the most common issues that QuickBooks users face. For many businesses, QuickBooks can create time-intensive problems that add up to hours lost and opportunities missed. Now is the time to focus on increasing efficiency.
What

are

NetSuite's Cost-Saving Advantages Over QuickBooks




How can NetSuite Cloud ERP save a company time & money?
NetSuite and QuickBooks are both powerful accounting software tools that can help businesses manage their finances. However, there are several ways that NetSuite can save a company money as the business scales, adds complexity, and requirements.

NetSuite Promotes Business Growth
NetSuite is designed to handle the accounting needs of businesses of all sizes and can easily scale as the business grows. With NetSuite, businesses do not need to purchase additional software licenses or upgrade to a more advanced accounting system as their accounting needs become more complex. NetSuite is ideal for growing businesses that want to scale and grow due to its scalability, customization, integration, multi-currency support, cloud-based architecture, and regular upgrades.


Advanced Automation Tools
NetSuite provides various automation tools that enable businesses to streamline their accounting processes and minimize manual data entry. This can help businesses save time and reduce the risk of errors, ultimately leading to cost savings over time.

Limitless Integration Possibilities
NetSuite integrates with other business software tools beyond financials, including CRM, ERP, and eCommerce systems. Having a single system of connected information across the business can streamline their operations and reduce the need for duplicate data entry.


Customization
NetSuite is highly customizable, allowing businesses to tailor the software to their unique accounting and business needs. This can help businesses save money by eliminating the need to purchase additional software or hire developers to create custom solutions.


Advanced reporting & Insights
NetSuite offers advanced reporting capabilities that can help businesses gain insights into their financial performance and make data-driven decisions. This can help businesses save money by identifying areas where they can cut costs and increase revenue.


What is an ERP system used for? ERP software integrates all functions and departments into a single system to streamline information, synchronize reporting and provide automation across the entire organization. ERP enables real-time business information to flow through many different business processes and provide a single version of the truth.
ERP software helps business owners highlight business process improvements, analyze scenarios, unify processes, gain better visibility of employee productivity and streamline technology throughout the business.
Considering a software change?


Eliminate manual processes & gain real-time visibility with NetSuite ERP.
If your company suffers due to a lack of real-time visibility or hours wasted on manual processes, you should consider a change. NetSuite scales to meet your growing needs beyond financials. Continued reliance on spreadsheets means inefficient manual processes, high operational costs, and risk of error that limit your potential and hold back your growth. Instead of enduring another QuickBooks update, think about a new way to run your business finances. NetSuite makes it easy, and our consultants know how.

Request pricing or a complimentary demo to learn how NetSuite can:
• Eliminate manual data transfers across applications to speed processes.
• Enable informed decision-making with real-time financial and operational reporting.
• Improve productivity and operational efficiency with a single integrated cloud solution.
• Support global expansion across multiple locations and subsidiaries.
For more information about NetSuite, a Free Product Tour, or NetSuite custom pricing, contact Protelo today! Our highly skilled NetSuite team understands your business challenges and the solutions you need to succeed.
Why QuickBooks Users Switch to NetSuite Request More Information on NetSuite vs QuickBooks

RELATED NETSUITE PAGES