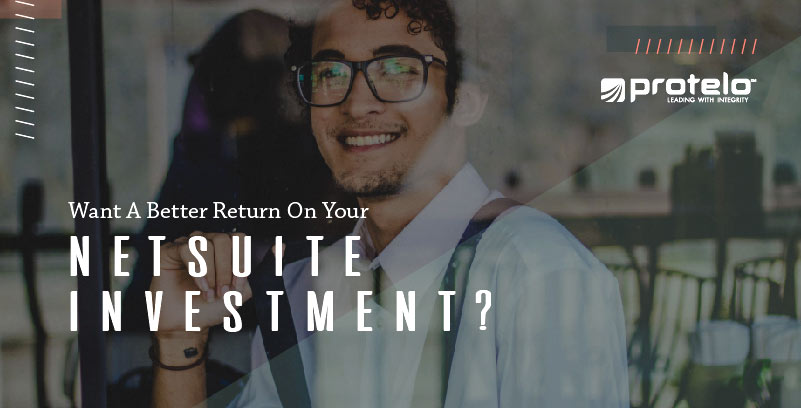 Want a Better Return on Your NetSuite Investment?
Let Protelo's NetSuite Team Take Your Business to a New Level!
Although NetSuite is powerful, odds are you've discovered a few gaps for your business. Our team of NetSuite experts are here to assist!
• Are you fully aware of all of NetSuite's capabilities?
• Are you trying to build something new?
• Do you need to integrate to other software?

Your business is unique and your NetSuite configuration should match.
Get NetSuite Services Today
How Can Protelo Help You?
NetSuite Implementation Best Practices


Expert Guidance, Troubleshooting and Support


Training


Assessment of System Configuration and Go-Live Readiness


System Health Checks and Audits


Technical Assistance for Saved Searches, Reports, Workflows & Scripting


Assistance for SuiteScript, SuiteFlow, SuiteTalk, SuiteCloud, SuiteBuilder, SuiteBundler, SuiteAnalytics
Assistance building CSS, HTML, JavaScript and Other Programming Languages



Need help with your NetSuite implementation?
Looking to make more of what you already have?
Protelo can help.
The highly-trained and certified NetSuite consultants at Protelo have both business-process expertise and extensive knowledge of legacy and new technologies. Our experts can help you take advantage of all that NetSuite has to offer with no disruption in your day-to-day business.
From early stages of research to implementation and everything in between, we're on-demand and ready to assist you in the short-term or long-term. No contracts, no minimums ever. We understand the critical nature of a successful ERP implementation from planning to go-live and we ensure best practices are followed at every point. New software implementations and upgrades are an important undertaking for any growing business.

To fully provide the scope of each project, we provide:
Evaluation of alternative approaches to integration options, retrofits, and new modifications.
Streamlined processes with direct access to our team of consultants.
A full team of business process and technical expertise in the United States.
Ready to implement NetSuite? Contact us for a personalized consultation.




We can provide the following support for current NetSuite users.
Troubleshooting of application and business process issues
Questions and answers regarding application functionality and/or business processes
Work sessions to refine or re-engineer business processes
Adjustments to existing system set-up and configuration
NetSuite administration assistance
Training (train the trainer or end-user training)
Customization – requirements, design, development, testing, approval, and installation
Integrations to other software solutions
Workarounds to bugs in the system
Go-live support
Post-go-live support
NetSuite Consulting
The expansive team of Consultants at Protelo has experts in every functional area of NetSuite.
We can provide the following support for current NetSuite users. Don't see what you need here? Contact us using the form on this page for a personalized consultation.
Software Issues?
Solve NetSuite application issues.
Enhance existing functionality through workflows and/or SuiteScripts.
Need Higher Levels of Automation?
Develop new features, functions, and systems.
Technical skills – SuiteScript, SuiteFlow, SuiteTalk, SuiteCloud IDE, SuiteBuilder, SuiteBundler, SuiteAnalytics, Java, Java Script, .Net, PHP, EDI, RPG, HTML, CSS.
Integrate other systems with NetSuite.
Website development and integration.
Protelo Development Expertise
From selection and integration to development and deployment, Protelo has experience working with a wide range of products. Protelo has development experience with the following products:
ERP
NetSuite
Cloud Solutions
Avalara
Ecommerce
Joomla
Customer Relationship Management (CRM)
NetSuite
Stand-Alone Development
SuiteScript, SuiteFlow, SuiteTalk, SuiteCloud IDE, SuiteBuilder, SuiteBundler, SuiteAnalytics, Java, Java Script, .Net, PHP, EDI, RPG, HTML, CSS
Open-Source Development & Integrations
Joomla, TikiWiki
PCI Compliance
CyberSource
NetSuite Solution Expertise
Protelo consultants have extensive experience in the following process and applications areas:
Sales
Ecommerce
Content Management
Payment – Credit Card / ACH
Security
Sales Tax Rates / Collection
Shipping Rates
Sales Reporting
Commissions
Collaboration / EDI
CRM
Activities (Tasks, Events, Phone Calls)
Contact Management
Case Management
Cross Functional
Sales Tax
Regulatory Compliance
Form Generation
Document Imaging
Mobile Computing
Rebates & Chargebacks
User Interfaces
Business Intelligence
Finance
Accounts Payable
EDI Invoices w/Auto PO Match
Cleared Checks Automation
Electronic Payment / Remittance
Interfaces (PCard, Amex, Concur)
Accounts Receivable
Credit Card
Lockbox
Direct Debit
General Ledger
Integration To Operations
Financial Reporting
Uploads from External Sources
Operations
Wholesale Distribution
Manufacturing & Light Assembly
Logistics
WMS – Warehouse Management
TMS – Transportation TMS
3PL – Third Party Logistics
Radio Frequency
Forecasting & Replenishment
Demand Plan
Supply Plan
Purchasing
Collaboration / EDI
Supply Chain Planning
Supply Chain Execution
Service Management
Professional Services
Projects
Time Tracking
---

NetSuite Health Check
Are you confident you're getting the most out of your system?
Do you ever wonder if there are underlying issues that could be hindering the efficiency and growth of your business?
Or maybe you're confident that problems exist. If you are already experiencing unpredictable results, system errors, or slow performance, unresolved data issues—We can help.
Protelo's NetSuite Health Check is an actionable roadmap to better performance and efficiency for your NetSuite System.
Our expansive experience with customers over the years has given us invaluable insight into common (and not-so-common) system problems and the best ways to resolve them. The NetSuite Health Check provides you with an in-depth report of your custom workflows and/or scripts. Our team then provides ways to make your solution work faster and more efficiently. Here are some of the high-level things we check:
Setup
Customization
Reports, Saved Searches, Custom Dashboards
Transaction Review
Potential Bottlenecks and Obstacles to Performance
---
Protelo's Pro Team
We Are Protelo. We Love NetSuite. We Can Help.
The Protelo team is comprised of seasoned technical and business process professionals with broad and deep experience. We work as trusted advisors with companies ranging from rapidly growing small businesses to large multi-national companies, from occasional consultations to comprehensive involvement. We don't pretend to be the right partner for everyone, but we could be the right NetSuite partner for you.

RELATED NETSUITE PAGES