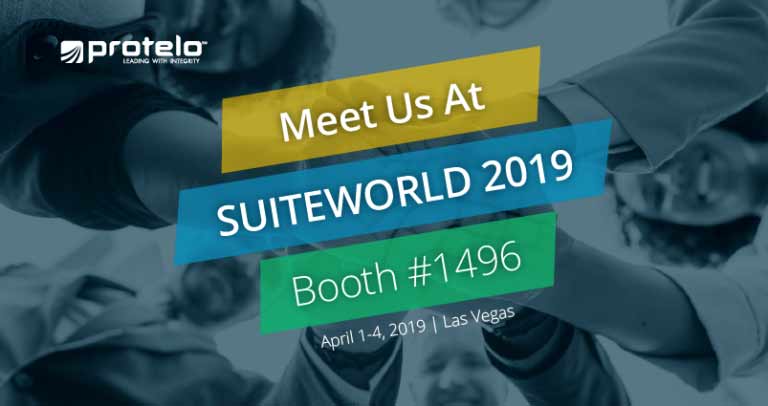 Meet us at SuiteWorld 2019
SuiteWorld 2019: The Industry's #1 Cloud ERP Event Of The Year!

SuiteWorld 2019 | April 1-4, Las Vegas
SuiteWorld is NetSuite's largest annual conference designed specifically for NetSuite customers, partners, prospects and developers. SuiteWorld gives attendees the opportunity to tap into the power of the NetSuite ecosystem, network face-to-face with thousands of IT professionals, choose from hundreds of breakout sessions, and learn about the latest tools to grow your bottom line. The event offers a comprehensive range of educational sessions, including workshops, keynote presentations, and panel discussions, covering the latest trends and best practices in cloud ERP, finance, ecommerce, and more.
For the first time in our company's history, Protelo is proud to be featured as a SuiteWorld exhibitor! We would love the opportunity to connect with you at booth #1496!
"The team at Protelo has been SuiteWorld participants for several years. We are thrilled to be sponsoring for the first time at SuiteWorld 19," said Tom Victor, COO of Protelo. "We always look forward to seeing many of our customers at the conference, learning new trends and networking."
Protelo is an award-winning NetSuite partner offering extensive services and solutions to meet your every need. With the exciting advancements in NetSuite this year, you may be realizing you could use additional support. Whether you are looking for customizations, optimization, industry expertise, or just simple answers to your questions, Protelo can help. If you are a Protelo customer, come by and see us! We will have Senior consultants at our booth happy to say hi and talk NetSuite.
SuiteWorld is designed to inspire attendees to think differently about their business and explore new opportunities for growth and innovation. From thought-provoking keynote speakers to innovative product demonstrations, the event provides a wealth of ideas and inspiration for businesses looking to stay ahead of the curve.
We simply cannot wait to attend this 4-day event packed full of training, powerful keynotes and the latest NetSuite features – view agenda here.
Join Protelo at SuiteWorld 19!