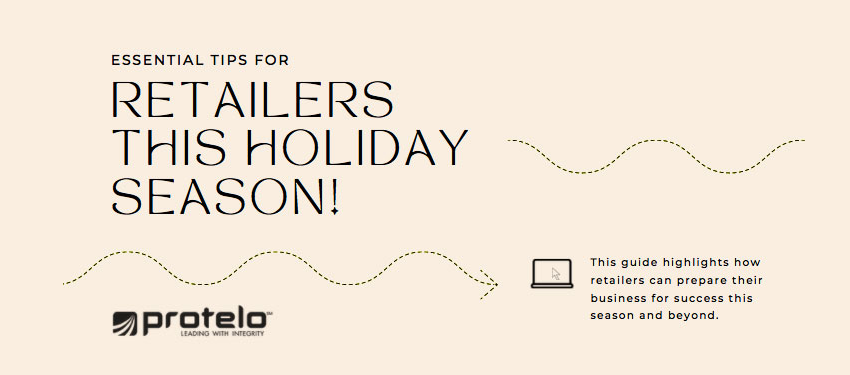 Essential Tips For Retailers This Holiday Season
Boo, Gobble Gobble, Ho Ho Ho! The holiday season is here, is your business prepared?
This time of the year is crucial for retailers with the greatest amount of traffic in stores on online. Like Santa, savvy retailers have spent the past year planning and preparing to address the needs of their shoppers by improving their customer experience, both online and instore. Companies are focusing on quality engagement, consistency, and reaching beyond the competition with unique user experiences. The most important retail trend this holiday season isn't just the latest product but having the right technology in place to provide the brand experience shoppers expect.
This guide highlights how retailers can prepare their business for success this 2022 holiday season and beyond.
To build a true omnichannel experience, retailers must have the right foundation in place, consolidating their core systems and initiating a single-system approach. NetSuite offers a true omnichannel experience for ERP, CRM, Order management and inventory management systems. Data is available in real-time and visible anywhere, anytime to all customer-facing systems. Retailers that have set themselves up with NetSuite's solid foundation are now ready for the busy excitement of customer interactions and holiday cheer.

Tip #1: Online Shopping – Mobile Commerce Is Key
The growth in mobile commerce continues to dominate the market as 83% of shoppers were likely to buy online and/or use curbside pickup during the 2020 holiday season. According to Digital Commerce, more than half of this year's holiday shopping will be purchased online or on a mobile device. More than ever, consumers expect everything to be available instantly with the push of a button. Companies need a deeper engagement with consumers offering more bells and whistles, better communication, offers and load times. Given the shift to an online mobile experience, retailers must simply focus on a mobile-first strategy that offers customers a fast and effective way to connect with the brand.
Tip #2: Delivering A Customer Experience
Forward-thinking businesses are adapting to the tech-savvy demand of a digital shopping experience online and are strengthening their in-store service with customer interactions. In order for retailers to provide a personal experience with their customers, it requires the need for a 360 degree view of the customer, personalization of tailored content, purchase history, targeted online offers and much more. On the other hand, having the right ERP software in place helps business owners highlight business process improvements, analyze scenarios, unify processes, gain better visibility of employee productivity, customer relationships, and streamline technology for agility and growth.
Tip #3: Make It Personal
As the tech-savvy millennial generation emerges, retailers need to reach customers beyond promotions, coupons, and ads. Customers are getting more selective with what they click on, how long they visit and how easy it is to navigate through a website. In order to grab the attention of customers, retailers need a targeted, individualized shopping experience to reel them in.
According to Retail Dive, 72% of millennials say it's important for retailers to personalize the shopping experience to their specific needs. 54% of customers used recommendations on their Christmas shopping list to purchase their gifts. With more than 2 billion users of social networks, brands have a huge opportunity to target customers with interests, likes, and reviews allowing the customer into the lifestyle of the brand.
Tip #4: Reaching the Omnichannel Customer
The Omnichannel experience is changing shopping behaviors and interactions with customers. As the industry shifts more and more to online shopping, the importance of a streamlined omnichannel buying process becomes even more crucial to customer retention and expectation. As 46% of US retailers plan to encourage customers to shop for holidays online rather than in-store, having a integrated, complete, and unified view of the entire business will help brands fulfill accurate supply and demand this season and beyond.
This holiday retailers must:
– Deliver an exclusive customer experience that stands out from the competition.
– Proceed beyond traditional ecommerce and adapt to the latest technology.
– Constantly adapt to meet customer expectations, trends and be forward thinking.
– Implement scalable platforms for growth and innovation.
Download: 4 Key Benefits of Omnichannel Order Management for Retailers
What will your holiday season look like based on these trends?
Without a solid software foundation, retailers will be at a complete disadvantage in the eyes of customer expectation and fall short amongst the competition. Investing in the right technology today will skyrocket your business for consistent brand experience and on the path to omnichannel functionality. Check out how NetSuite SuiteSuccess can get retailers up and running effectively and quickly on a modern platform.
---
Why Fast-Growing Retailers are Adopting Cloud Financials to Accelerate Growth.

Check out this summary of the many issues that growing companies typically face, and why businesses have decided to move to NetSuite—a modern, integrated, cloud-based solution that enables accelerated business growth.
---
Protelo's Direct-To-Expert Access
With Protelo, there are no call centers or chat lines to go through to access our NetSuite consultants. Whether you need an expert that's just a call away—or a NetSuite team to help you reach the go-live finish line smoothly: it's a fully on-demand service.
Contact us to learn if your company may be a good fit! It's time to deploy new business software quickly and cost-effectively, so it can grow with you as your business scales! Protelo is a NetSuite reseller, and a fully-staffed software consulting firm. We'd be happy to help you implement NetSuite for your desired go-live date.
Is your business considering NetSuite software in 2022?
Want to learn more about NetSuite? If you are looking for a one-stop-shop for NetSuite expertise, our top-tier NetSuite experts are here for your business from software evaluation, licensing, customizations, implementations, and services. Protelo provides tailored one-on-one support & are the premier implementation experts.
Get NetSuite Pricing – NetSuite Pricing Calculator Learn More About NetSuite

RELATED NETSUITE PAGES

Follow us on Social for NetSuite tips, tricks and ERP fun:
YouTube, LinkedIn, Twitter, Pinterest, Instagram, and Facebook