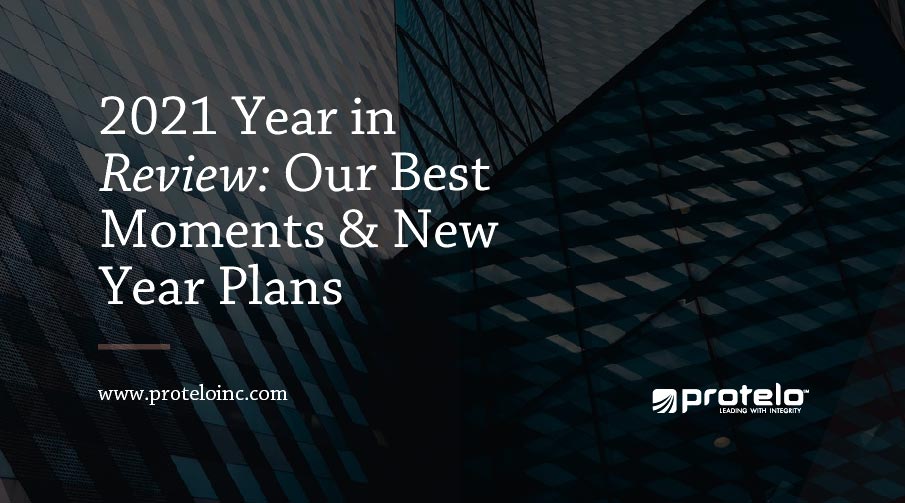 Protelo Year in Review: The Best Moments of 2021
Wow, what a year! I think we can all agree that 2021 was a year like no other.
Our team at Protelo found the year offered a unique opportunity to evaluate the resilience of our team and work together through extraordinary times.
The Protelo team has accomplished another year of strong results, as we expanded our NetSuite team and partnership, grew our customer base, and completed new certifications to broaden our NetSuite practice. Check out the list of our most popular 2021 company highlights and standout moments.
Protelo's Highlights
Protelo & NetSuite:
We have accomplished another year of top-ranking results with the expansion of our NetSuite partnership, increased our customer base, further developed SuiteApplications, achieved new awards, and ended December with the largest revenue year and team in our history. We are proud to have helped our customers transition to NetSuite's fully integrated cloud-based ERP technology and assisted to implement their software to exceed their business goals.
"Protelo prioritizes focused dedication to excellence in how we treat our NetSuite customers and projects—big or small." – Tom Victor, COO – Protelo, Inc.

"The 5-star achievement not only illustrates our team's high levels of performance, skill, and reliability. It is also an indicator as to the trust our customers and prospects have in our partnership."
– Christer Johansson, Founder & CEO – Protelo Inc.
SuiteWorld 2021 Exhibitor
Helping Oracle NetSuite Customers Power Their Growth Protelo was proud to be featured as a SuiteWorld exhibitor (booth 1026) at NetSuite's 10th annual SuiteWorld conference! Amongst 8,000+ attendees, partners, and NetSuite product experts, our team enjoyed speaking with many NetSuite users about their business needs and complexities.

Our team of experts is here to help your business grow beyond expected as NetSuite grows into new areas, with more scale and focus than ever before. Summarized from great keynotes, informative sessions, a huge expo hall, and the latest NetSuite updates, check out a small recap of this incredible event.
Team Growth & Employee Feedback
As we bring in the new year and celebrate our 14-year company anniversary, we couldn't be more thankful for how much we have accomplished. Our award-winning team continues to grow year-over-year with our NetSuite knowledge, certifications, SuiteApps, stellar reputation, and top-notch services.
We are growing faster than ever and continue to mindfully build and expand our team with the top NetSuite professionals to keep up with the growth of the companies we sell, support, and service. This year alone, we have increased our headcount by 25% by adding 10+ new employees. We love our team and we are proud of our growth.
Are you looking for an awesome place to work and grow your career? Our team is expanding and looking for NetSuite experts! Check out our open positions.

Get to know the new faces on our team
Happy Reviews from our Employees in 2021
"Protelo has a great work environment and a family atmosphere."
"This is a great company, with great people, and I plan to stay a long time."
"I love the daily opportunities that I get to work with extremely intelligent people."
"I believe in Protelo and our direction."
8 Reasons to Join Our NetSuite Team
Protelo Ranked Fastest-Growing Company in the Region for the 2nd Year Running

Protelo ranks #22 in Sacramento Business Journal 2021 Fastest Growing Companies. With impressive year-over-year growth in both revenue and headcount, we've shown ourselves to be a true contender, emerging leader, and a top solution provider in our competitive industry since 2009. This honor is a true testament to our terrific team, our customers, and the support of this community. Our company was founded in the Sacramento area and we are thankful to be a part of it.
Our most popular social posts of 2021
Twitter: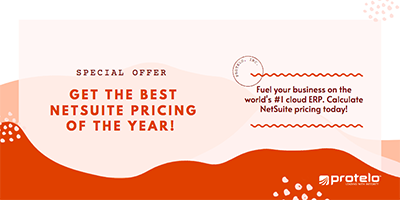 Post: Don't miss this very special #NetSuite offer! If buying and implementing ERP for 2021 is in your business plans—Protelo can help you get THE BEST NETSUITE PRICING OF THE YEAR! Check it out! #deal #oraclenetsuite #pricing #clouderp #offer @protelo
Instagram: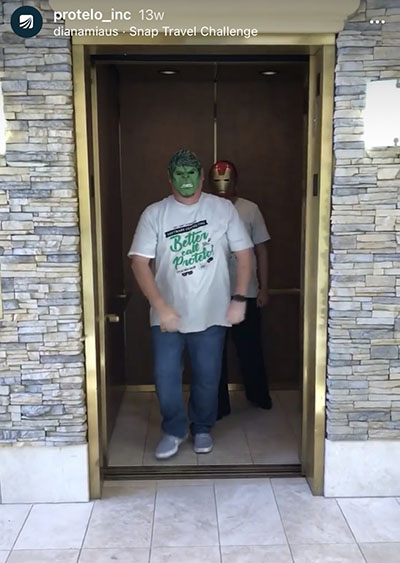 Reel: Quick snippets and highlights of what it's like to work at Protelo. We love people, we have fun, we love what we do, and we work hard to provide the best solutions to our customers.
If you are looking for a great place to work consider Protelo. We are currently hiring NetSuite experts. @protelo_inc
Facebook: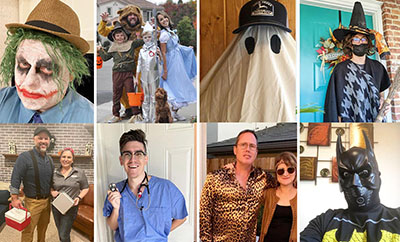 Post: Hi friends! We need your votes! It's Protelo's 4th Annual Halloween Costume Contest! This is always a fun holiday with the team. Check out who won! @proteloInc
#1 Claes the Joker 🃏
#2 Dorthy & the Oz Crew 👠
#3 Sean the Ghost 👻
#4 Witch Eddie
#5 Rosie the Riveter 💪🏼
#6 Dr. Graham 👨‍⚕️
#7 70's guy Jonathan 🕺
#8 Batman Roger…and more!
Slideshare: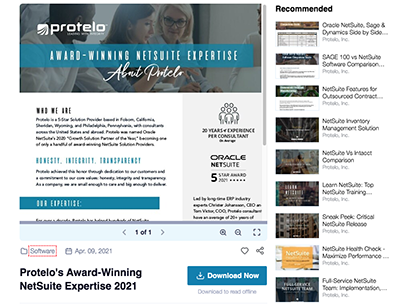 Post: WHAT SETS PROTELO APART? Protelo is more than just a software team; we are an extension of your business and committed to your growth and success with every interaction. The benefit of working with Protelo is that we are small enough to care yet big enough to deliver. Learn the core values that fuel our team daily and the reasons why customers choose to work with the Protelo team over competitors.
Pinterest: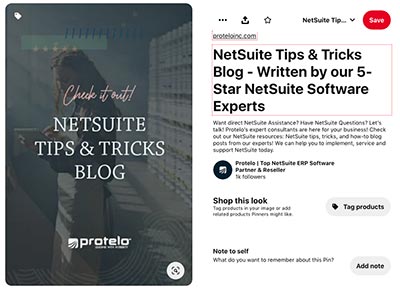 Post: NetSuite Tips & Tricks Blog – Written by our 5-Star NetSuite Software Experts. Want direct NetSuite Assistance? Have NetSuite Questions? Let's talk! Protelo's expert consultants are here for your business! Check out our NetSuite resources: NetSuite tips, tricks, and how-to blog posts from our experts! We can help you to implement, service and support NetSuite today. @ProteloInc
Youtube:
We're a NetSuite 5-Star global team of motivated business and technology professionals and a great place to grow your career. Learn what sets Protelo apart from the rest, not only as a united team, but as a 5-Star NetSuite partner & reseller. Protelo is fueled with talented, team-oriented, long-term employees that are committed to our customer's growth and success with every interaction.
LinkedIn: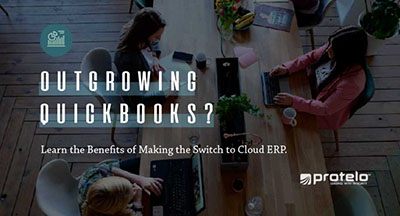 Post: Is QuickBooks limiting your growth? When is the right time to make a change? For many businesses, QuickBooks can create time-intensive problems that add up to hours lost and opportunities missed. And now, more than ever, is the time to focus on increasing efficiency in your operations. Learn the top reasons why rapid growth companies migrate from #QuickBooks. @protelo
Twitter: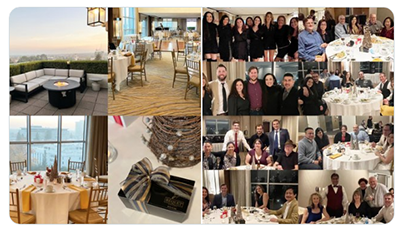 Post: We're fueled with holiday spirit as Protelo's #Christmas party came a little early this year. Starting with a week full of collaboration, meetings, axe throwing, bowling, eating out, happy hours, and ending with a fabulous #Christmasparty at the Hyatt Regency. #HappyHolidays2021 @protelo
Our most Popular blogs of 2021
1. Why Protelo
2. NetSuite Custom Fields
3. NetSuite Bank Feeds Integration
4. NetSuite vs Intacct
5. Beginners Guide to Inventory Forecasting
6. NetSuite vs Odoo
7. Profit Building Strategies for Growth
8. What is NetSuite
9. Add-on Modules
10. Why NetSuite
We Are Committed to Our Customers Growth and Success
A 5-star partner behind the NetSuite product. As our team expands into Portugal, Poland, California, Wyoming, Pennsylvania, Illinois, Ohio, Texas, and Maryland, Protelo is quickly making itself known as a top Oracle NetSuite partner. Our mission is to make businesses run better with NetSuite software through honesty, integrity, transparency and top-notch services and solutions. Protelo is more than just a software team; we are an extension of your business and committed to your growth and success with every interaction. The benefit of working with Protelo is that we are small enough to care yet big enough to deliver.
NetSuite Pricing Calculator Contact Us
Our goals for 2022
• Grow and invest time into NetSuite training, expertise and hiring.
• Make NetSuite Partner of the Year at SuiteWorld 2022. Check out our past award.
• Local User Group meetups and events in-person to expand our Solution Provider footprint to customers.
• Virtual events to teach and demonstrate the power of NetSuite.
• Launch and expand SuiteApps and NetSuite integrations.
We are extremely thankful, and proud of our growth this year and we look forward to exceeding our goals in 2022. There are many exciting things to come! Thank you for all your support, reading our blogs, and following along with us on social media!
-Your Friends at Protelo, Inc.