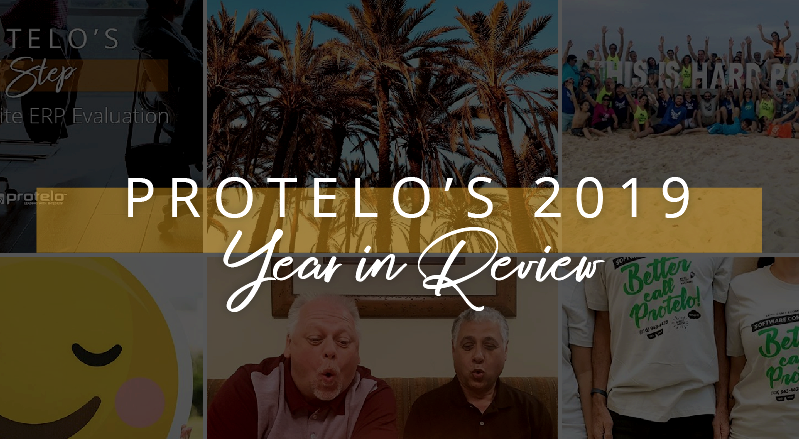 Protelo Year In Review: The Best Moments from 2019
As 2019 comes to a close, it's the perfect time to sit back and acknowledge the top moments at Protelo this year. Protelo is dedicated to our customers, employees and to making businesses better through our award-winning NetSuite services, solutions, integrations, and implementations.
Our team has accomplished another year of strong results, as we expanded our NetSuite team and partnership, grew our customer base, and completed new certifications to broaden our NetSuite practice. Check out our 2019 company highlights and recap of Oracle NetSuite's 2019 standout moments that you don't want to miss.
Protelo's 2019 Standout Moments
1. Protelo announces the official Certified SuiteApp launch of RingCentral for NetSuite – NOW AVAILABLE AT SUITEAPP.COM

RingCentral for NetSuite provides seamless integration with your RingCentral solution and your NetSuite system. Improve the process of managing customer account information before, during, and after a finished call without having to switch between multiple applications. Gain efficiency and productivity with all of your business communications in a single place. Learn more!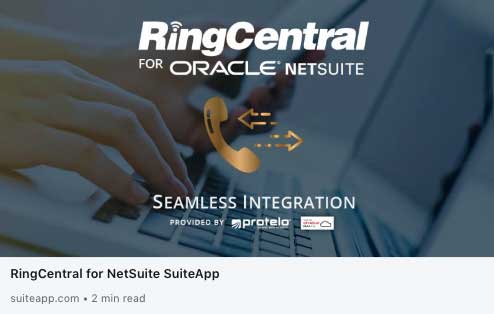 2. New Hire Roundup: Protelo multiplies with expertise
Approaching our 12-year mark January 1st 2020, we are very proud of our award-winning reputation, the strength of our team, and the drive we have as a company to continue to grow and deliver exceptional service on a daily basis. Through our mission of honesty, transparency, and integrity, our NetSuite solutions team is transforming companies nationwide with overlapping global time zones, collaboration and teamwork at its finest.
Protelo's employees are a part of every success and it reflects in the way we value and respect one another! Get to know the recent additions to our 2019 team. Check it out!
3. Protelo continues to grow the NorCal NetSuite User Group
Protelo's NetSuite user group seeks to provide a forum where users can share knowledge, ask questions, and gain solutions for the NetSuite system. Join our User Group Today!
4. SuiteWorld 2019 Emerging Partner Exhibitor
For the first time in Protelo history, our team was featured as a SuiteWorld Emerging Partner at booth 1496–amongst 7,000+ attendees, 125 partners, and NetSuite thousands of product experts. SuiteWorld 2019 recap.
OUR MOST POPULAR NETSUITE BLOGS OF 2019
OUR MOST POPULAR SOCIAL POSTS OF 2019
Twitter: Side by Side Comparison Guide: Learn the Key Differences between Intacct and NetSuite, and the reasons why fast-growing companies choose NetSuite.
Slideshare: 5,938 views–FULL SERVICE NETSUITE TEAM: Implementation, Integration, Training and Support.

Instagram: Throwing it back to our most ultimate family portrait.

The behind the scenes foundation of Protelo, Inc. Hard-working, talented, dedicated, individuals that provide top-notch service to our customers on a daily basis while managing to take care of family life, sports, cooking, planning, working out, juggling details and constantly having a smile on their face. Talk about SQUAD GOALS! We couldn't be more proud of our Protelo family.

Instagram: BETTER CALL PROTELO.

👊🏼⚡️💯Have no fear your #NetSuite experts are here! Not all superheros wear capes! With Protelo anything is possible.

Facebook: Halloween fun in the Protelo Folsom office.
Linkedin: Why Mid-Market Companies Choose NetSuite Software
Linkedin: NetSuite ERP for Finance and Accounting
Facebook: Protelo Christmas Party 2019–We had a holly jolly good time.
SlideShare: 2,447 views – NetSuite ERP Implementation Guide for Success

Facebook: We are Protelo Video

"At Protelo, we believe passionately in providing our clients with honest technology leadership. We understand our clients expect transparency and accountability in their relationships with us. Practicing openness and commitment ensures that our consultants meet our customer's expectations. In short, our clients trust us to say what we mean, and mean what we say." – CEO Christer Johansson

Oracle NetSuite 2019 Recap

1. NetSuite makes its "largest investment ever":

NetSuite makes its "largest investment ever" to revamp its channel training with SuiteLife–a set of resources, training and materials that enable new and existing partners to develop in NetSuite. Learn more

2. Oracle NetSuite growth:

NetSuite has grown more than 20 percent since the integration into the Oracle Cloud framework and is expected to increase its headcount by 2,000. Learn more

3. Version 2019 Release 2:

Providing broader insights and analytics with pre-built SuiteAnalytics workbooks, streamlined management of vendors and customers and effortlessly track employee information. Interested in learning more about NetSuite's latest release? Protelo has put together some of our favorite and noteworthy highlights.

4. Three years after NetSuite's acquisition:

19,000 customers–NetSuite business doing better than ever. Over the last year, NetSuite has ramped investments in training, customer retention, and provided more opportunities than ever with its move to operate on the Oracle Cloud Infrastructure. NetSuite is expanding opportunities for infinite scalability across the globe. Learn more

5. NetSuite + Nonprofits:

With more than 1,500 Nonprofit customers, the NetSuite Social Impact program has donated $100+ million in software and aids to help global enterprises increase their missions. Learn more

6. Unlocking NetSuite Potential

This year, NetSuite released 65 new features and enhancements to core business management capabilities to allow customers to achieve cloud benefits in 45 days.
Key updates include new analytics, supply chain, HR, distribution, advanced project budgets, financials, and commerce abilities. Learn More

Protelo's Goals for 2020

• A sponsorship and booth at SuiteWorld 2020.

• User Group meetups in multiple cities and expanding our Solution Provider footprint to customers.

• Launching more SuiteApps and creating new NetSuite integrations.

• Continuing to grow and invest in our talented NetSuite team…and so much more!

Protelo is beyond excited, thankful and proud of our growth this year and we look forward to exceeding our goals in 2020. There are many exciting things to come! Merry Christmas and have a Happy New Year! Thank you for all your support, reading our blogs, following us on social media, and we look forward to an incredible new decade!