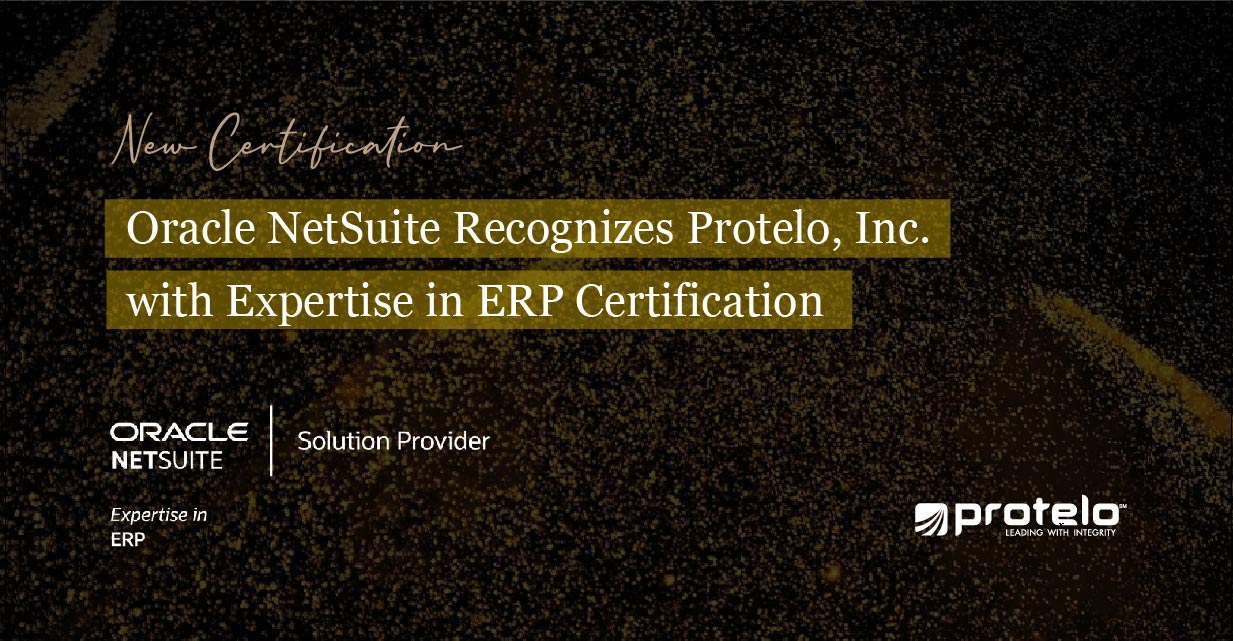 Oracle NetSuite Recognizes Protelo With Expertise in ERP Certification
Folsom, Calif., July 2022 — Protelo Inc., Oracle NetSuite Solution Provider, solidifies its position as a top-rated and highly skilled NetSuite Solution Provider with the achievement of the Oracle NetSuite Expertise in ERP. Oracle NetSuite Expertise in ERP certification is an exclusive designation only awarded to solution providers that achieve rigorous and thorough certifications across several NetSuite skill areas, such as ERP Foundations and Consulting, Advanced Revenue Management, and Multi-Book Accounting.
The Expertise badge signifies that the team at Protelo is fully trained and certified in NetSuite consulting best practices, from the pre-sales cycle through implementation and go-live, as well as on critical finance modules. Implementing NetSuite with a certified partner ensures that the ERP, CRM and/or eCommerce implementation is completed by a team that Oracle NetSuite recognizes as a qualified NetSuite provider and implementer.
"This designation is proof that our ongoing commitment to upholding the highest standards of consulting services for our NetSuite customers is and will continue to be our highest priority," says Protelo COO Tom Victor.

"Protelo is in a unique position as a NetSuite Solution Provider to be big enough to successfully deliver, and small enough to care about every one of our customers."
For over a decade, Protelo has helped hundreds of small, midmarket and enterprise companies increase efficiency and achieve their business goals with NetSuite. In 2020, Protelo was named the Oracle NetSuite's 2020 Growth Solution Partner of the Year and has achieved recognition through SuiteApp development and top-notch NetSuite services for 300+ NetSuite customers.
What is a NetSuite Partner?
This program is a worldwide partner ecosystem for reselling Oracle NetSuite products, solutions, customizations and services. Protelo's team can help implement, service and support NetSuite. The benefit of working with Protelo is that they are small enough to care yet big enough to deliver. Meet the team.
If you are looking for top-rated customer service and on-demand NetSuite help, Protelo can help. Protelo differentiators include direct access to their expert NetSuite consulting team, a fast-responding LiveChat for information, interactive NetSuite User Group, and a team that is fully focused on our client's business success.

About Protelo, Inc.
Protelo, Inc. (www.proteloinc.com) is a full-service NetSuite Solution Partner and reseller headquartered in Folsom, California, with consultants across the United States. From stellar customer service and talented NetSuite employees, Protelo has what it takes to earn your business and provide the top-quality NetSuite service you need for success in 2021 and beyond. For more information on our Services or a customized NetSuite quote, contact our team today — obligation free! Protelo's core values are the transparency, open communication and accountability we provide to each customer.