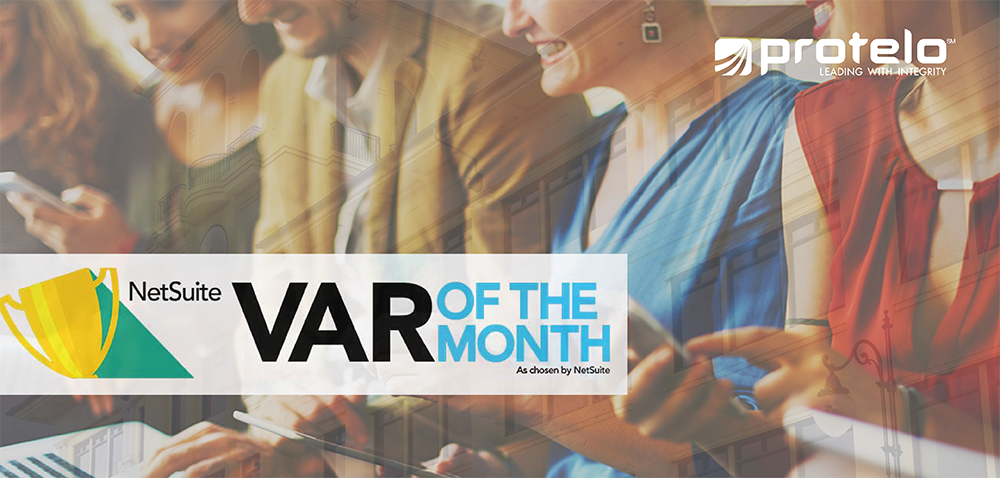 Protelo Named Oracle NetSuite's VAR of the Month
Protelo has been recognized as NetSuite's Value-Added Reseller for October
NetSuite's VAR of the Month program nationally recognizes the company's top performing cloud ERP resellers in a spotlight on Accounting Today.
Protelo has been recognized for the success of its NetSuite support, implementation, customization, integration and award-winning services. We have been listed as one of the fastest-growing companies by INC 5000 for the 2nd consecutive year and most recently became a NetSuite Commerce Agency Program (CAP) Commerce Partner.
Protelo is a seasoned software and business consultancy firm that provides extensive services to ensure organizations get the most out of their software. We have built a reputation on delivering exceptional service, quality, and expertise to our clients. Protelo is headquartered in California, with offices also in Wyoming, Washington, Idaho, Maryland and Texas, as well as in Portugal, and Poland. Visit www.proteloinc.com or contact us for more information.

What is NetSuite?
NetSuite the #1 cloud-based ERP business management software that helps businesses manage their key business processes an a single platform. NetSuite is an all-in-one business management solution that includes accounting, finance, inventory, supply chain, CRM, e-commerce, and much more that can be customized to meet the specific needs of each user.

What are the benefits of NetSuite?
NetSuite provides real-time visibility into key business metrics, allowing users to make informed decisions and improve their overall operational efficiency. Its cloud-based infrastructure enables users to access the software from anywhere and at any time, without the need for costly hardware or IT resources. NetSuite can help businesses streamline their operations and grow their bottom line. Learn more

Top Reasons Why Customers Choose to Work With Protelo:
Whether you are evaluating software for your business, interested in NetSuite ERP, or looking for an award-winning NetSuite partner to assist on a new project, our team is here for you. Learn the core values that fuel our team daily and the reasons why customers choose to work with the Protelo team over competitors.
See the Q&A with Christer Johansson, Founder and CEO: NetSuite VAR of the Month