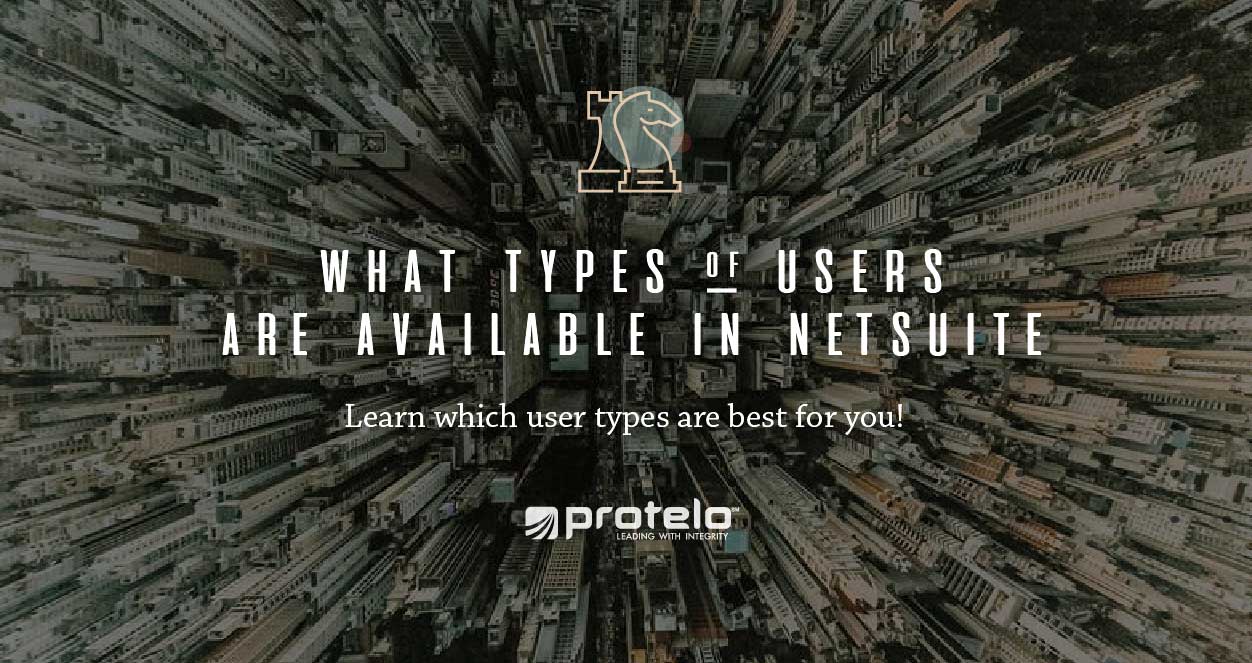 What types of users are available in NetSuite?
Is your business providing the right tools and technology your employees need for success?
According to a recent study, 3 out of 4 American employees believe they are not given access to the latest technology to do their jobs efficiently. NetSuite was built from the ground up in the cloud, providing users with real-time business information and the ability to scale, remain agile and work from anywhere at any time.
NetSuite provides a modern platform with the proper functional tools and role assignments for every user type available.
NetSuite's robust and customizable environment is jam-packed and full of modern features to set your team up for success. But, how do you decide which user types are best for your business? This guide will explain the user types available and highlight NetSuite's ability to tailor the user experience for every role to fit your business best.
General Access Users
This user type is a general user that has a role that requires named access and can only have one user signed on at a time.
A "user" is an individual who has access to a NetSuite account.
Generally, most users are employees, but vendors, partners, and customers can also be users.
Users need to be set up in the NetSuite system through the creation of employee, vendor, partner, or customer records. For users to access NetSuite, their records must include an email address (which serves as their user ID) and a password.
Each role includes a set of associated permissions that determine the data users can see and the tasks they can perform. For example, the "A/P Clerk" role lets users enter bills and vendor credits, pay bills and sales tax, and view A/P and inventory reports.
A user may be assigned multiple roles. In this case, the user has a default role used for login and can switch among roles by using the Change Roles icon in the NetSuite user interface.
Employee Center Users
The Employee Center generally provides employees with the ability to track and approve time, enter and approve expense reports, review and respond to cases and update personal information. This will typically be a user that does not transact in the system but may enter expenses or need to track their time.
Manufacturing Execution System User
The manufacturing execution user can be added to enable barcode and scanning in the warehouse. There is a minimum of 5 users. Installation of the manufacturing mobile bundle and/or advanced manufacturing is required.
Enables bar code scanning and supported use of wireless tablets
Automated Work Order Completions
Vendor and Customer Users
Vendors and customers can be added to the portal for free.
The Vendor Center provides vendors access to vendor records such as bills and bill payments, as well as their company information, such as address and phone number.
The Customer Center provides customers with access to estimates, sales orders, payments, support cases and their company information such as addresses and phone numbers.
Check out Protelo's Ultimate Guide to NetSuite Modules to learn more tailoring your NetSuite system to your exact business needs.
The Ultimate Guide to NetSuite Modules

RELATED NETSUITE PAGES

Are you interested in learning more about User types or need support with user type functionality?
Protelo is a top-tier NetSuite partner here to make your business better, save you time, money and give you direct access to NetSuite experts. Through tailored business software development, implementation, services and management, we help streamline business processes and the flow of critical information. From the planning stages to managed services, Protelo is an end-to-end provider of business software expertise.
Contact NetSuite Experts Today
Follow us on Social for NetSuite tips, tricks and ERP fun:
YouTube, LinkedIn, Twitter, Pinterest, Instagram, and Facebook