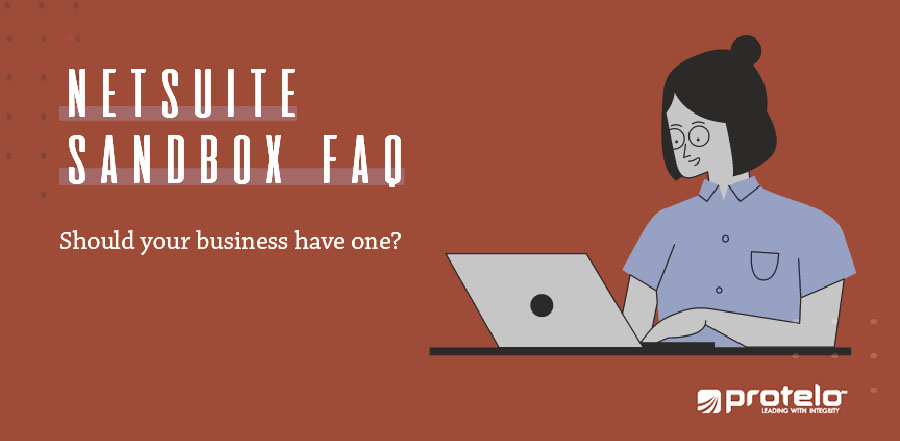 NetSuite Sandbox: Should you have one?
What is NetSuite Sandbox?
NetSuite's flexible and dynamic platform provides users with the convenience of creating customizations and building new functionalities to meet their exact business requirements. The NetSuite sandbox is a separate environment within NetSuite that allows users to test customizations and try out new features without their production account being affected.
Your business management software is extremely crucial as it contains your financial data, customer information, operations, and more. With that in mind, you want to be sure to avoid making changes that might disrupt the flow of your business processes. What better solution than testing your changes in a safe, virtual workshop? A NetSuite Sandbox environment provides a secure, isolated platform to experiment with creating or editing features while bypassing the risk of deploying faulty changes that could potentially complicate your live system.
What can you do with the Sandbox account?
Developers and administrators can benefit from the following capabilities in the Sandbox environment:
Experiment with new customizations before deploying them
Revise or fix existing features
Try out third-party applications
Alter searches, scripts, & forms
How to Access a NetSuite Sandbox Account
NetSuite users can login and access a Sandbox account from their production account. In order to be granted access contact a NetSuite administrator. An Administrator can set who has access to the sandbox account via: Setup > Company > Sandbox Accounts. To grant access to an individual user go to lists > Employees > Employees and click on the Employee record to grant access. Hit Save.
What does A NetSuite Sandbox cost?
To get NetSuite Sandbox pricing or calculate the cost for your business, contact our team to get a customized Sandbox quote.
The Three Types of Accounts

Sandbox Account
The Sandbox account is an identical model of your production account, containing the same data, configuration, and customization. Here, you can specify a date with which you'd like to work, refresh data from your live account, and experiment with features and customizations. You cannot, however, carry out outside transactions such as email campaigns or payments.

Development Account
The Development account contains your production account's SuiteApps and features, but none of your data or customizations. This way, you can let outside partners build and work on projects within the account without them gaining access to your business data. Although your data isn't automatically within this environment, you can bring in any data your team needs for testing purposes.

All of these platforms have their own benefits in providing a secure test atmosphere for working on customizations or new projects. The Development account focuses mainly on basic SuiteScript & SuiteFlow customization building while keeping your business data concealed. The single Sandbox account provides an environment for customization building as well but also includes all of your business data from your live account. In addition, you can purchase multiple Sandboxes, which is ideal for more complex projects as it allows developers to work with different datasets and test individual customizations.

LEARN MORE about the importance of a sandbox and the steps to creating, accessing, testing and working with a sandbox to meet your individual business needs.

READ MORE NETSUITE TIPS, TRICKS & HOW-TO'S
Need assistance with your NetSuite Sandbox environment?
Have questions about your NetSuite account? Protelo's experts are here to help!
We work on-demand when you need us. No long-term commitments or retainers. Whether you are looking for a one-stop-shop for all things NetSuite, or simply need answers to your questions, our NetSuite experts are here to make your business better. The Protelo team is all about NetSuite business software!