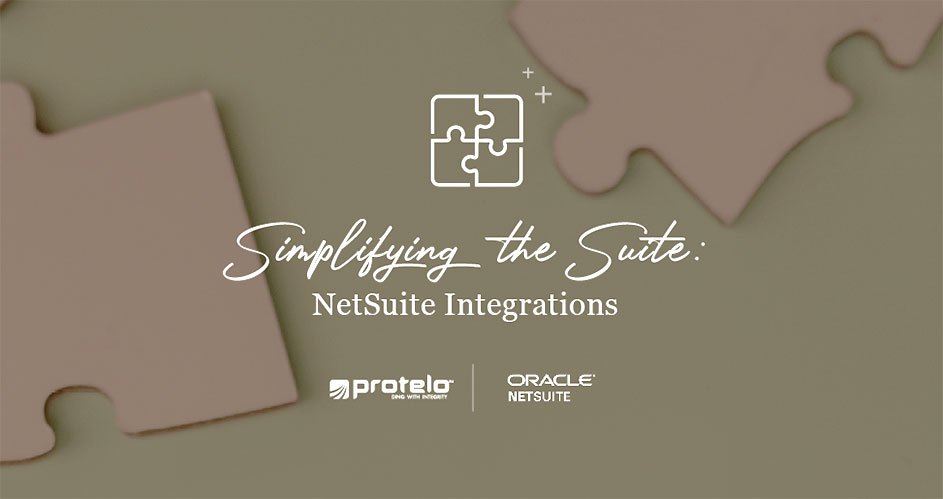 Simplifying the Suite: NetSuite Integrations
Is automating and simplifying your business processes a goal in 2023? With 33,000 customers and counting running on NetSuite ERP globally, it is no surprise that countless major players and platforms in the software and SaaS space are creating ways to connect NetSuite ERP with their products for seamless automation.
While NetSuite is a comprehensive suite for accounting/finance, operations, inventory, HR and more—the NetSuite integration ecosystem has proven invaluable in extending the capabilities of NetSuite across these areas.
Why integrate

into

NetSuite

?
NetSuite integration makes it easier to extend NetSuite's power and eliminate duplicate processes or manual entry. For example, a growing business may be okay with entering payroll and CRM data from other systems via .csv upload for now—but what about when the volume grows or the complexity of the information increases?

Whether integrating your systems into NetSuite is right for your business, ask yourself the following questions:
Do you need real-time data in NetSuite from outside systems?




Do you find .csv uploads cumbersome or time consuming for you or your staff?

Are processes manual or becoming duplicated due to lack of integration into NetSuite across the business?

If you answered yes to one or more of these questions, it may be time to simplify the Suite with NetSuite integrators, connectors, and data consolidation options.


NetSuite eCommerce Connectors
NetSuite eCommerce Connectors ensure that product data between multiple sales and distribution channels are synchronized. Connectors are available for eCommerce storefronts, online marketplaces and more. Syncing data between your inventory management system in NetSuite ERP and outside channels ensures that you are accurately tracking inventory, determining re-order points correctly and executing cycle counts.
NetSuite eCommerce Connectors are currently available for Amazon, Shopify, Magento, BigCommerce, WooCommerce, eBay and Walmart.
Feature List for the Premium eCommerce Connector
Order Sync

:

Orders are exported from commerce channels into NetSuite every 20 minutes

Coupon

Sync

: Coupons are included in the order sync

Gift Certificate Sync:

Gift certificates are included in the order sync
Fulfillment Sync: Once items are fulfilled in NetSuite, shipping data is exported from NetSuite into commerce channels every 90 minutes
Full Product Sync: All product information is exported from NetSuite into commerce channels every 60 minutes

Real-Time Price & Quantity Sync:

Product price and quantity information are

synced

every minute

Real-Time Order Sync: Orders are synced every minute
SuiteAnalytics Connect
NetSuite SuiteAnalytics provides real-time saved searches, reporting, key performance indicators (KPIs) dashboard and workbook features built into the NetSuite solution. Also on the SuiteAnalytics platform is SuiteAnalytics Connect.
NetSuite SuiteAnalytics Connect Service provides the ability to archive, analyze and report on NetSuite data using a third-party tool or any custom-built application on any type of device using Windows, Linux, or OS X operating system. NetSuite SuiteAnalytics Connect offers ODBC, JDBC and ADO. Dashboard SuiteAnalytics Connect NET drivers that enable connectivity to variety of applications, including Microsoft® Excel, BIRST, Adaptive and Oracle Analytics Cloud.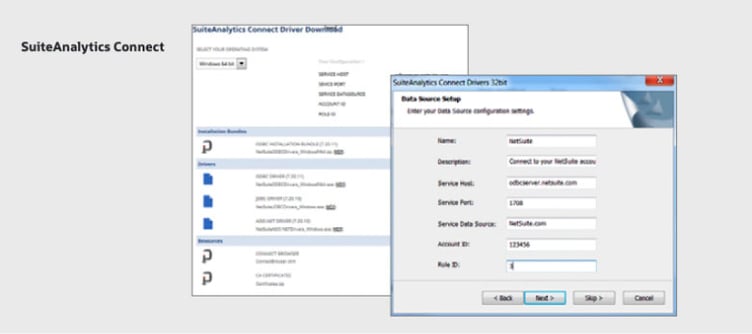 NetSuite Logistics Connectors
Connect NetSuite with your third-party logistics (3PL) provider to enable full round-trip order fulfillment processing for fast and efficient shipping. Designated orders are sent from NetSuite to your 3PL, and shipping and tracking information is transmitted back to NetSuite.
Amazon Supply Chain

ShipStation
Extending NetSuite Capabilities with SuiteApps
What are SuiteApps?
SuiteApps are applications or bundles that extend NetSuite for specific industry and business needs. They are developed by NetSuite or by members of the SuiteCloud Developer Network (SDN). SuiteApps include integrations to other platforms, iPaaS middleware, applications, and downloadable bundles.
SuiteApps go through rigorous biannual testing called "Built for NetSuite," meaning these SuiteApps achieve the same level of standards for security, data privacy and overall quality as the solutions offered by NetSuite.

NetSuite Integration Assistance
Want to learn more about integrating NetSuite with your existing applications and platforms? Let Protelo be your partner for NetSuite expertise with top-notch Protelo customer service, direct access to our experts, and on-demand NetSuite assistance focused on your business success.
When working with Protelo you will receive:
• Top-Notch Customer Service & NetSuite Expertise
• On-demand Service & Solutions
• Pay As You Go
• No Upfront Costs or Minimums
• United States-Based Team
Contact Protelo's NetSuite Experts Today