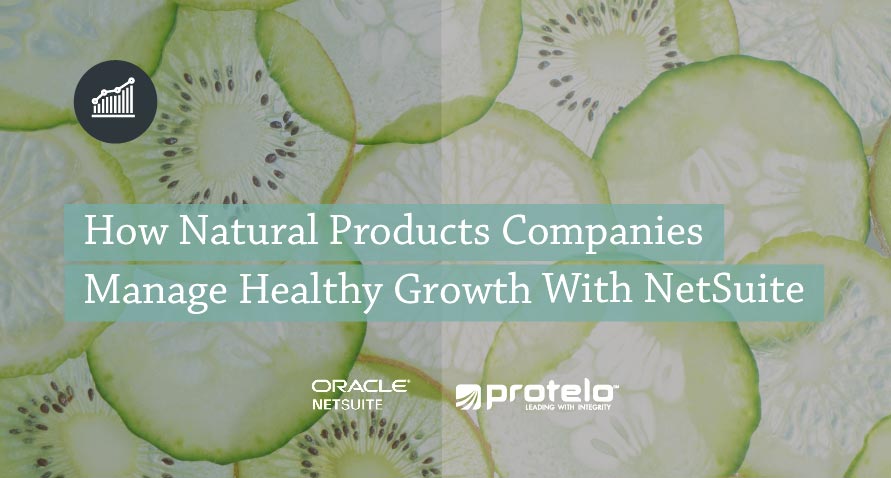 How Natural Companies Manage Healthy Growth
According to MarketWatch Research, Natural & Organic Products are expected to reach 29390 million USD by the end of 2026, with a predicted growth rate of 7.2% year-over-year. Companies in the natural products industry have priorities beyond managing complicated software. Their vision is bigger. Naturally, they want their business to be successful and to experience healthy growth, but they also value having a positive, powerful impact on the planet. Dealing with software that isn't working for you can be more of an unhealthy distraction than anything else. It's vital that you find durable, supportive software that frees you up and allows you to focus on your business and bigger goals for the environment.
Business Growth & Complexity
As natural products companies continue to expand, it becomes increasingly important for them to have a platform that can adapt to their growing needs. This requires a solution that is not only flexible and scalable, but also provides the advanced functionality necessary to support their growth. With NetSuite, natural products companies can benefit from a real-time, unified view of their business that allows them to make informed decisions and stay ahead of the competition.
NetSuite is designed to meet the unique needs of the natural products industry, with features like inventory management, sustainable sourcing tracking, and compliance with organic and non-GMO certifications. NetSuite analytics and reporting tools, provide companies with valuable insights to optimize operations, maximize sales, and maintain regulatory compliance, all while upholding their commitment to wholesome, sustainable, and healthy products.
Natural products companies like Navitas Naturals, Organic Spices Inc., and Eco-Bags Products have discovered healthy business growth by switching to NetSuite. Its scalable and flexible solution is tailored to meet your unique business requirements and evolving needs, ensuring that you can continue to make a positive impact on the planet as you grow and scale into the future.
Check Out Protelo's NetSuite Beginners Guide
why fast-growing businesses are SWITCHING FROM QUICKBOOKS
While QuickBooks may be suitable for a business in its early stages, it might not be the best option for those looking to sustain growth in the long run. Do you currently rely on QuickBooks to manage your expanding business? Are you experiencing the limitations and drawbacks of the software? You're not alone, and there is a better solution out there. Download this white paper to read about:
• Five clear signs that QuickBooks is failing your business.
• Greatest benefits of upgrading to cloud business management software.
• Case studies from top companies that moved from QuickBooks to NetSuite.
NetSuite Features
Order Management:
Take orders with confidence insuring the right price, best location and correct product to fit service level commitments. Lower inventory holding costs, speed up the order-to-cash process, and enable omnichannel operations by connecting sales, finance, order fulfillment to pricing, returns management and order management.
Supply Chain Management:
Gain visibility of your supply chain, streamline operations, understand bottom line costs, increase efficiencies, and maintain inventory across your entire business.
Streamlined Sales:
NetSuite offers a 360-degree omnichannel view of customer and inventory information to fulfill orders, drive efficiency, increase sales, connect with customers to provide a positive shopping experience.
CRM, Promotions & Marketing:
Gain a real-time view of customer communication, performance and incentives across all channels of the business, keeping customers coming back for more.
Planning and Scheduling:
Effectively manage your business ensuring maximum profitability and customer satisfaction levels. Naturally balance resources, optimize inventory, manage vendors, gain visibility with purchases and deliver the best delivery and price.
Product Data Management:
NetSuite supports product-based business with large capabilities to maintain all data you need to run your business: vendors, customers, partners, and items. Spend less time answering questions of status, revisions and design, and connect departments with a system designed for self-service answers and status across the organization.
Quality Management:
Carry the highest quality products with the lowest overhead. Easily set up inspection plans, track results, and evaluate vendors to ensure the best quality products on the market.
Shop Floor Control:
Quickly and accurately receive information from the manufacturing process with real-time updates and communication on NetSuite's shop floor application or traditional barcoding.
Inventory Management:
Achieve perfect product assortment and eliminate inventory silos between channels. Free up cash flow and prevent stock-outs with a unified instance of inventory data.
Production Control:
Gain real time visibility into every step of the production process for informed decisions with NetSuite's end-to-end manufacturing solution.
WMS:
Take control of your warehouse with NetSuite WMS. With industry-leading features such as mobile RF barcode scanning, wave planning, cartonization, kitting, and space management, NetSuite WMS increases efficiency, improves operational excellence, and lowers cost for warehouses of any size and complexity.
Move Beyond Siloed Applications
As businesses begin their journey, they tend to address problems in the most efficient and cost-effective ways possible. However, this can lead to a significant challenge for companies that are scaling up: relying on isolated business applications for different departments.

Download this white paper to discover how top organizations have broken down their information barriers by adopting a single, unified cloud-based platform. Learn from real-world examples of companies that have switched to a single system.
• Improve productivity, deliver real-time visibility, reduce IT costs, and complexity.
• Increase speed and precision of business processes.
• Provide scalability for rapid growth in new markets, products, and customers.

Transform Your Business With NetSuite
Protelo provides Natural Products companies with a single source of expertise to implement, customize, integrate, and refine your back-end operations.
Protelo's team of NetSuite experts possess extensive knowledge and experience in implementing, customizing, integrating, and refining back-end operations for natural products companies. With their deep understanding of business processes, they provide a single source of expertise to help businesses harness the power of NetSuite. Over the years, Protelo has helped hundreds of companies optimize their operations with NetSuite.
Our NetSuite experts at Protelo help businesses select, customize, and implement software to run their organization on one, integrated, cloud-based platform. Have Questions? Would you like a free trial or a demo? To learn more contact our team of NetSuite experts today! We are here to make your business even better.
Contact Us For A Customized Product Demo

RELATED NETSUITE PAGES